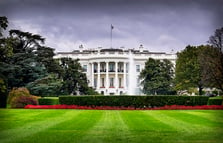 On February 12, the Trump Administration issued its budget proposal for federal Fiscal Year (FY) 2019 (October 1, 2018 through September 30, 2019), subtitled "An American Budget". The proposal included a 34% cut in the Environmental Protection Agency (EPA) budget, from $8.2 billion in FY 2016 (stable in FY 2017 and FY 2018 under a Continuing Budget Resolutions rather than a fully-new federal budget), to $5.4 billion for FY 2019, with corresponding personnel cuts from 15,408 full-time-equivalent employees (FTE) to 12,250. (these are numbers for EPA in the government-wide budget from the Office of Management and Budget (OMB); the stand-alone budget document on EPA's website cites $6.1 billion).
This proposal was very similar to EPA's FY 2018 request, which proposed a 31% cut in EPA's budget of $5.7 billion for FY 2018, and 11,611 FTE (I wrote about that proposal here). Although President Trump reluctantly agreed in March to scrap these cuts when he signed Congress's budget plan on March 23, its still useful to review where President Trump and EPA Administrator Pruitt are continuing to try to take the agency.
Overarching Policies
EPA's FY 2019 budget document offered three over-arching strategic goals for the agency:
"Goal 1 – Core Mission: Deliver real results to provide Americans with clean air, land, and water, and ensure chemical safety." [note: EPA proposed to reduce spending in this area by over $1.3B, or nearly 23%]

"Goal 2 – Cooperative Federalism: Rebalance the power between Washington and the states to create tangible environmental results for the American people." [note: EPA proposed to reduce spending in this area by over $100M, more than 31%]

"Goal 3 – Rule of Law and Process: Administer the law, as Congress intended, to refocus the Agency on its statutory obligations under the law." [note: EPA proposed to reduce spending in this area by over $272M, more than 14%]
Goals 2 and 3 are repeated from last year's proposal, while Goal 1 replaced "Public Participation." Note that EPA's proposed cuts did not spare its highest priorities.
EPA proposed to pursue these goals by emphasizing the following actions, and provided numerical goals for each for the fiscal year:
Improve air quality by implementing pollution control measures to reduce the number of nonattainment areas. By September 30, 2019, EPA, in close collaboration with states, will reduce the number of nonattainment areas to 138 from a baseline of 166.

Empower communities to leverage EPA water infrastructure investments. By September 30, 2019, EPA will increase by $16 billion the non-federal dollars leveraged by EPA water infrastructure finance programs (Clean Water and Drinking Water State Revolving Funds and the Water Infrastructure Finance and Innovation Act).

Accelerate the pace of cleanups and return sites to beneficial use in their communities. By September 30, 2019, EPA will make an additional 102 Superfund sites and 1,368 Brownfields sites ready for anticipated use (RAU).

Meet new statutory requirements to improve the safety of chemicals in commerce. By September 30, 2019, EPA will complete in accordance with statutory timelines (excluding statutorily-allowable extensions): 100% of required EPA-initiated Toxic Substances Control Act (TSCA) risk evaluations for existing chemicals; 100% of required TSCA risk management actions for existing chemicals; and 80% of TSCA pre-manufacture notice final determinations (I've discussed EPA's responsibilities under the 2016 amendments to TSCA here, here and here).

Increase environmental law compliance rate. Through September 30, 2019, EPA will increase compliance by reducing the percentage of Clean Water Act (CWA) National Pollutant Discharge Elimination System (NPDES) permittees in significant noncompliance with their permit limits to 21% from a baseline of 24%.

Accelerate permitting-related decisions. By September 30, 2019, EPA will reduce by 50% the number of permitting-related decisions that exceed six months.
I found the numerical goals interesting but mostly unattainable in 12 months – I'd love to be wrong.
Eliminated Programs
EPA identified 35 programs and projects, and 4 sub programs/projects for elimination. These were comparable to last year's proposal to eliminate 41 programs and 5 major sub-programs, and included many of the same targets. A number of state grant, cooperation and assistance programs are eliminated in order to "return responsibilities to states" which EPA pointed out could continue the efforts with state-only funding. Others cut activities now characterized as peripheral in order to focus EPA on "core" responsibilities. Some were absorbed by the regulatory programs with which they overlapped. For example:
Categorical grants – to states and tribes for certain regulatory programs including underground storage tanks, radon and lead; special-purpose programs including lead reduction, beach protection, nonpoint source control, pollution prevention.

Special programs – including environmental justice, environmental education, endocrine disruptors; and geographically-focused programs including those for the Great Lakes and Chesapeake Bay.
Self-Assessment Checklist
Does the organization operate facilities subject to permits issued by EPA or the state, under direct or delegated authority of federal environmental laws (Clean Air Act, Clean Water Act, Resource Conservation and Recovery Act (RCRA), etc.)?
Does the organization manufacture, import or distribute chemical substances subject to TSCA?
Is the organization subject to cleanup requirements under direct or delegated authority of federal environmental laws (CERCLA, RCRA, etc,)?
Does the organization participate in EPA-sponsored voluntary programs subject to elimination?
Where Do I Go For More Information?
Information available via the Internet includes:
Specialty Technical Publishers (STP) provides a variety of single-law and multi-law services, intended to facilitate clients' understanding of and compliance with requirements. These include:
About the Author
Jon Elliott is President of Touchstone Environmental and has been a major contributor to STP's product range for over 25 years. He was involved in developing 13 existing products, including Environmental Compliance: A Simplified National Guide and The Complete Guide to Environmental Law.

Mr. Elliott has a diverse educational background. In addition to his Juris Doctor (University of California, Boalt Hall School of Law, 1981), he holds a Master of Public Policy (Goldman School of Public Policy [GSPP], UC Berkeley, 1980), and a Bachelor of Science in Mechanical Engineering (Princeton University, 1977).

Mr. Elliott is active in professional and community organizations. In addition, he is a past chairman of the Board of Directors of the GSPP Alumni Association, and past member of the Executive Committee of the State Bar of California's Environmental Law Section (including past chair of its Legislative Committee).
You may contact Mr. Elliott directly at: tei@ix.netcom.com