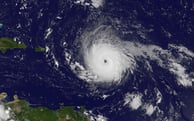 Although environmental health and safety (EH&S) regulations focus primarily on safe handling of materials and wastes during routine operations, reports following hurricanes Harvey and Irma, and the major earthquake in Mexico, should remind us to plan to prevent releases from non-routine situations, up to an including natural disasters. Press reports include the following:
What Planning is Required at Most Facilities?
Facilities that handle more than minimal amounts of chemicals are typically subject to a number of emergency planning and response plans, including:
What Additional Planning May Be Required?
Facilities handling large quantities of particularly hazardous chemicals (particularly flammables and toxics) have additional and much more detailed requirements. Notably:

Self-Assessment Checklist
Do each of the organization's facilities prepare an inventory of chemicals handled onsite?

Do any of the organization's facilities handle chemicals regulated as hazardous by any EH&S regulatory compliance programs?

Has each facility identified emergency/contingency/incident planning requirements under each applicable regulatory program?

Has each facility prepared required emergency/contingency/incident plans and associated training and procedures under each applicable regulatory program?

Are any such plans coordinated or merged to ensure they are comprehensive, and comprehensible to facility personnel and emergency responders?

Has each facility "exercised" each plan, through training exercise(s) and/or actual incidents?

Does each facility take steps to ensure that each plan is complete and up to date?

Where Can I Go For More Information?


Specialty Technical Publishers (STP) provides a variety of single-law and multi-law services, intended to facilitate clients' understanding of and compliance with requirements. These include:
About the Author

Jon Elliott is President of Touchstone Environmental and has been a major contributor to STP's product range for over 25 years. He was involved in developing 13 existing products, including Environmental Compliance: A Simplified National Guide and The Complete Guide to Environmental Law.

Mr. Elliott has a diverse educational background. In addition to his Juris Doctor (University of California, Boalt Hall School of Law, 1981), he holds a Master of Public Policy (Goldman School of Public Policy [GSPP], UC Berkeley, 1980), and a Bachelor of Science in Mechanical Engineering (Princeton University, 1977).

Mr. Elliott is active in professional and community organizations. In addition, he is a past chairman of the Board of Directors of the GSPP Alumni Association, and past member of the Executive Committee of the State Bar of California's Environmental Law Section (including past chair of its Legislative Committee).
You may contact Mr. Elliott directly at: tei@ix.netcom.com