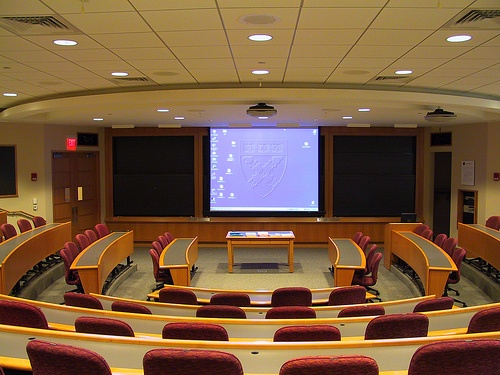 For more than 25 years, I've taught one of the core required courses in the Hazardous Materials Management Certificate program offered by University of California Santa Cruz Extension (UCSC-Ex). The program is intended to provide professionals with a solid foundation in the principles, regulations, and technologies required to manage hazardous materials and hazardous waste. In my course–the Regulatory Framework for Toxic and Hazardous Materials–I provide overviews of:
The fragmented "framework" for environmental health & safety (EH&S) regulation – in which federal, state and local agencies administering and enforcing laws that tend to focus on narrow subsets of EH&S issues.
Central policy priorities and compliance provisions of the most pervasive EH&S laws, including those designed to protect environmental media (air, water, land), worker safety, and public health and safety.
Related topics that cut across multiple laws, and EH&S professionals' responsibilities for enforcement or compliance.
When UC Extension brought me on, my first STP publication – Hazardous Program Materials Commentary: California – had been in print for a couple years, with quarterly updates to keep it current with evolving statutes and regulations. I've since written a number of different publications for STP, including lawyer guides and "simplified" self-instruction and self-audit guides, but continue to use the Commentary for my UC Extension class. Over the years, the publication and the course have co-evolved, so I believe the Commentary provides an appropriate law-for-non-lawyers guide to the EH&S laws and regulations it covers. To paraphrase Mother Goose, it's neither too lawyerly nor to un-lawyerly, but just right.
How Does The Commentary Approach Topics?
The California Commentary has 25 Sections, most of which cover a federal or state law, or a stacked set of federal, state and local laws (such as federal Clean Water Act, California Porter-Cologne Water Quality Control Act, and local stormwater programs). Each Section provides a narrative describing:
Brief background on the law, including when adopted and why, and by what level(s) of government.
Identification of assigned administrative agency or agencies, with Internet and telephone contact.
Key definitions, including the organizations or activities targeted (hazardous waste generators, facilities with regulated storage tank systems, individual sources of air emissions, etc.).
Triggers for requirements (threshold quantities of listed chemicals, employees conducting specified activities, etc.).
Key compliance requirements (specified plans, programs, trainings, equipment, etc.).
Deadlines as requirements have evolved over time, and current requirements.
Administrative and judicial enforcement limits and targets.
In addition, each Section includes cross-references to other Sections at points where more than one set of requirements covers overlapping materials or activities (such as hazardous materials emergency response plans, hazardous waste contingency plans, and employers' emergency action plans). These support readers' efforts to save resources by meeting multiple requirements administered by different regulators.
What Does The UC Extension Course Cover?
My course provides for 26 hours of classroom contact; for logistical reasons I teach it in four full days. The first morning provides additional background to ensure that all attendees have basic familiarity with law- and rule-making procedures, and:
Session I
Overview of the Course
Introduction to EH&S Regulation
Introduction to Laws, Regulations, and Guidance
California Regulators
Hazardous Materials Business Plans and Emergency Response Program
Session II
Storage Tank Laws
Accidental Release Prevention (ARP) Programs
Emergency Planning and Community Right-to-Know Act (EPCRA; also known as SARA Title III)
Uniform Fire and Building Codes
Worker Protection Laws
Session III
RCRA and Hazardous Waste Control Law
Superfund and State Superfund
Toxic Substances Control Act (TSCA) and state chemical laws (including Green Chemistry)
Session IV
California Proposition 65
Water Quality
Air Quality
Transportation of Hazardous Materials
Discussion of risk communication and community relations
Final Examination – handout
Over the years, I've taught this course to over a thousand EH&S professionals, and the Commentary has been used in similar programs, at other UC Extension campuses and other schools.
Where Can I Go For More Information?
Specialty Technical Publishers (STP) provides a variety of single-law and multi-law services, intended to facilitate clients' understanding of and compliance with requirements. These include:
About the Author

Jon Elliott is President of Touchstone Environmental and has been a major contributor to STP's product range for over 25 years. He was involved in developing 12 existing products, including Environmental Compliance: A Simplified National Guide and The Complete Guide to Environmental Law.
Mr. Elliott has a diverse educational background. In addition to his Juris Doctor (University of California, Boalt Hall School of Law, 1981), he holds a Master of Public Policy (Goldman School of Public Policy [GSPP], UC Berkeley, 1980), and a Bachelor of Science in Mechanical Engineering (Princeton University, 1977).
Mr. Elliott is active in professional and community organizations. In addition, he is a past chairman of the Board of Directors of the GSPP Alumni Association, and past member of the Executive Committee of the State Bar of California's Environmental Law Section (including past chair of its Legislative Committee).
You may contact Mr. Elliott directly at: tei@ix.netcom.com.