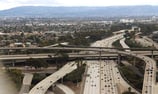 The federal government has taken another step in its car wars with California. Late in September the Environmental Protection Agency (EPA) and the National Highway Traffic Safety Administration (NHTSA) issued joint rules declaring NHTSA's preemptive authority to set national standards covering greenhouse gas (GHG) emissions from petroleum-fueled vehicles and electric vehicles, and revoking a waiver from EPA that lets California set such standards.
The new "One National Program Rule" finalizes nationwide standards proposed in August 2018 as the "Safer Affordable Fuel-Efficient (SAFE) Vehicles Rule for Model Years 2021-2026 Passenger Cars and Light Trucks." (I wrote about the SAFE proposal here). The new rule also returns EPA's policy about California's GHG vehicle standards to those issued during the George W. Bush Administration and reversed during the Barack Obama Administration.
How are Vehicle Emission Standards Set and Applied?
The Clean Air Act (CAA) addresses emissions of pollutants, but not vehicle efficiency as such. Instead, NHTSA sets national vehicle fuel economy standards for vehicle makers' fleets, under authority of the Energy Conservation Act of 1975. These include the Corporate Average Fuel Economy (CAFÉ) standards. EPA and NHTSA coordinate their rulemaking activities, and have generally coordinated with California's Air Resources Board (ARB). California began setting state standards before EPA gained national authority in 1977, and was granted a special ability under CAA:
California can set a vehicle emission standard.

Apply to EPA for a waiver from nationwide preemption by claiming special state-level conditions – these traditionally relate to vehicular air pollution in the Los Angeles basin.

Other states can then adopt California's standard ("me too").

Auto makers then typically build vehicles to meet California's standard, since California plus the "me too" states represent up to half the domestic vehicle market.
CAA applies California's special authority (42 USC 7543(b)) to any "pollutant", but until 2004 the state had only adopted regulations for traditional pollutants such as nitrogen dioxide or precursors to ground level ozone, as well as incentives for the sale of low emission vehicles (LEVs) and later zero emission vehicles (ZEVs).
In 2004, however, California adopted restrictions on GHGs and then applied to EPA for a waiver to implement the rules. In 2008, while George W. Bush was President, EPA rejected the waiver request; after President Obama assumed office EPA reversed itself and granted the waiver in 2009. EPA, NHTSA and the California ARB subsequently agreed to joint GHG emission standards, but since President Trump took office the federal agencies have rescinded the federal versions (described in the blog cited above) and California has moved forward alone (I've written about this ongoing dispute, including most recently here).
What Have EPA and NHTSA Just Done?
EPA and NHTSA have just issued a final rulemaking that does several things:
Finalizes the SAFE Rules proposed in 2018, which consist primarily of extensions of the present emission and fleet efficiency rules through 2026.

Finalizes NHTSA's proposal to preempt "state and local laws relating to fuel economy standards" applying authority under the Energy Policy and Conservation Act of 1975 (EPCA) (49 USC 32919(a)), rejecting legal counterarguments and stating that carbon dioxide is the "overwhelming majority of tailpipe carbon emissions" so that any attempt to reduce GHGs – including requirements for ZEVs -- must necessarily relate to fuel economy.

Finalizes EPA's withdrawal of its CAA waiver covering California's GHG emission limits and ZEV standards, arguing that NHTSA's preemption finding makes state authority untenable, and that California cannot demonstrate special state circumstances (since GHG levels are global, not localized phenomena; this reiterates the arguments made by EPA in its 2008 rejection of California's waiver request).
Readers should note that these new rules are directed only at GHG and ZEV standards. Contrary to some press reporting, EPA and NHTSA are not attacking California's ability to seek waivers for traditional pollutants.
What Now?
EPA and NHTSA announced these rules on September 19, eight days before their publication in the Federal Register. On September 20, California and a coalition of 23 "me too" states filed suit against EPA and NHTSA seeking to void these new rules and to protect California's authority and present standards. This suit joins a host of litigation between California and like-minded states versus EPA and other federal agencies. I can't predict how long the case will take to reach the Supreme Court, but perhaps not until after next year's Presidential election. The biggest immediate issue is whether the new federal revisions are stayed pending the litigation, or whether their preemption of California requirements is allowed to take effect.
Self-Assessment Checklist
Does the organization manufacture or import light duty vehicles, including fossil fueled vehicles and/or ZEVs.?
If so, are any purchases made in California or other states that have adopted California's requirements?
Does the organization use light duty vehicles in its activities, and plan to buy or lease new vehicles during the next decade?
Where Do I Go For More Information?
Specialty Technical Publishers (STP) provides a variety of single-law and multi-law services, intended to facilitate clients' understanding of and compliance with requirements.
About the Author

Jon Elliott is President of Touchstone Environmental and has been a major contributor to STP's product range for over 30 years.

Mr. Elliott has a diverse educational background. In addition to his Juris Doctor (University of California, Boalt Hall School of Law, 1981), he holds a Master of Public Policy (Goldman School of Public Policy [GSPP], UC Berkeley, 1980), and a Bachelor of Science in Mechanical Engineering (Princeton University, 1977).

Mr. Elliott is active in professional and community organizations. In addition, he is a past chairman of the Board of Directors of the GSPP Alumni Association, and past member of the Executive Committee of the State Bar of California's Environmental Law Section (including past chair of its Legislative Committee).
You may contact Mr. Elliott directly at: tei@ix.netcom.com