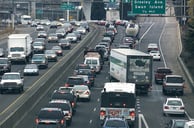 The Trump Administration has taken the next step toward rolling back automobile standards intended to reduce greenhouse gas (GHG) emissions. On August 2, the Environmental Protection Agency (EPA) and the National Highway Traffic Safety Administration (NHTSA) issued a joint proposal to replace emission standards previously adopted to tighten emission standards during model years 2021-2026, captioned the "Safer Affordable Fuel-Efficient (SAFE) Vehicles Rule for Model Years 2021-2026 Passenger Cars and Light Trucks." The agencies present a formal proposal to extend existing emission standards through those years, but also seek comments on several variations on this proposal.
This month's action follows formal reopening and review of stricter rules the agencies had adopted along with the California Air Resources Board (ARB), during the Obama Administration (I discussed the reopening here). The agencies state that they have conducted a completely independent de novo review of the regulatory record – i.e., that they have ignored the review conducted during the Obama Administration that had produced the rules they now seek to replace. They now say that emission-reduction technologies are changing more slowly than previously projected, and that the prospects for lower fuel costs will encourage more consumers to buy more powerful cars and thereby to increase fleet fuel consumption. They also provide data saying that having more larger vehicles on the road will benefit the public by reducing fatal traffic accidents.
In the same document, EPA and NHTSA also propose to revoke the Clean Air Act (CAA) waiver under which California can adopt state auto emission standards stricter than federal requirements. California began setting state standards before EPA gained national authority in 1977, and has authority to set new standards if EPA allows (formally: California sets a standard, and applies to EPA for a waiver from nationwide preemption by claiming special state-level conditions, which usually are related to vehicular air pollution in the Los Angeles basin but which were extended by the Obama administration to include GHG standards). EPA and NHTSA now reason that climate change issues are global, making it impossible for California to claim special local conditions that would justify a waiver.
Now What?
Public comments and the agencies can move to finalize their proposal
Public comments will be due 60 days after the proposal is published in the Federal Register – later this fall – after which the agencies will review the comments and may adopt their primary proposal, one of the variations they've offered, or a different alternative. Although the agencies could theoretically reverse course, it's safe to predict that they'll adopt something akin to the proposal. They have practical reasons to do so quickly, since auto makers have pointed out that uncertainties about 2021-2026 standards are complicated the companies' strategic planning.
California and 17 other states filed suit in May, after EPA and NHTSA announced their review. The states claim that the reopening was "arbitrary and capricious" since it set aside a decision reached after full review and evaluation of a large evidentiary record, without justification. EPA and NHTSA will undoubtedly receive some new information in the public comments on this month's proposal, but the states will continue to argue that the federal agencies have prejudged the outcome and thereby acted unreasonably. If this litigation drags on, regardless of its eventual outcome, the automakers will still face uncertainties in deciding whether to rely exclusively on the federal mandates, or whether to try to satisfy California as well.
Revocation of California's waiver will create additional legal issues, since the waiver is based in a separate CAA provision. There's historical precedent: during George W. Bush's administration, EPA denied California a waiver to implement the state's first GHG-restricting automobile standards. That rejection was issued in March 2008, and the ensuing litigation was still underway when President Obama took office in 2009. Assuming that EPA completes its plan to revoke California's existing waiver, the inevitable appeal and litigation will also take time … during which automakers will not know for certain whether the stricter California standards remain enforceable.
Self-Assessment Checklist
Does the organization manufacture or import light duty vehicles?

Does the organization use light duty vehicles in its activities, and plan to buy or lease new vehicles during the next decade?
Where Do I Go For More Information?
Specialty Technical Publishers (STP) provides a variety of single-law and multi-law services, intended to facilitate clients' understanding of and compliance with requirements. These include:
About the Author

Jon Elliott is President of Touchstone Environmental and has been a major contributor to STP's product range for over 25 years. He was involved in developing 13 existing products, including Environmental Compliance: A Simplified National Guide and The Complete Guide to Environmental Law.

Mr. Elliott has a diverse educational background. In addition to his Juris Doctor (University of California, Boalt Hall School of Law, 1981), he holds a Master of Public Policy (Goldman School of Public Policy [GSPP], UC Berkeley, 1980), and a Bachelor of Science in Mechanical Engineering (Princeton University, 1977).

Mr. Elliott is active in professional and community organizations. In addition, he is a past chairman of the Board of Directors of the GSPP Alumni Association, and past member of the Executive Committee of the State Bar of California's Environmental Law Section (including past chair of its Legislative Committee).
You may contact Mr. Elliott directly at: tei@ix.netcom.com
photo credit: OregonDOT Traffic back-ups via photopin (license)