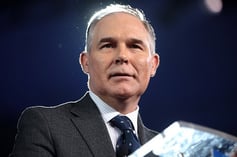 EPA Administrator Scott Pruitt has been on a tour to publicize his efforts to get EPA "back-to-basics." He launched the tour with a visit to a Pennsylvania coal mine in April. The agency issued a press release about that visit, which also summarized its "Back-to-Basics Agenda." The press release summarizes the Agenda as "Protecting the environment; engaging with state, local and tribal partners; and creating sensible regulations that enhance economic growth." The Agenda provides a convenient rhetorical framework for the new Administrator's efforts to re-boot EPA's activities.The remainder of this note reproduces the bullets from that press release, and offers my observations. Actual changes will unfold over the coming months and years.
"Following the President's Energy Independence Executive Order, Administrator Pruitt signed four notices to review and, if appropriate, to revise or rescind major, economically significant, burdensome rules the last Administration issued. This includes the so-called Clean Power Plan that threatens over 125,000 U.S. jobs."
The President's March 28 executive order (EO) direct EPA and other agencies to review "existing regulations that potentially burden the development or use of domestically produced energy resources" for revision or repeal. EPA responded with the following:
Review of the Clean Power Plan

Review of the 2016 Oil and Gas New Source Performance Standards for New, Reconstructed, and Modified Sources

Review of the Standards of Performance for Greenhouse Gas Emissions From New, Modified, and Reconstructed Stationary Sources: Electric Generating Units

Withdrawal of Proposed Rules: Federal Plan Requirements for Greenhouse Gas Emissions From Electric Utility Generating Units Constructed on or Before January 8, 2014; Model Trading Rules; Amendments to Framework Regulations; and Clean Energy Incentive Program Design Details
"EPA is restoring states' important role in the regulation of local waters by reviewing the WOTUS ("waters of the U.S.") rule."
I discussed this EO here. EPA's review is now under way.
"EPA is clearing the backlog of new chemicals that were waiting approval from EPA, so they can go to market, and companies can innovate and create jobs."
The Toxic Substances Control Act (TSCA) includes provisions requiring EPA to review new chemicals, and "significant new uses" of existing chemicals, before they can be sold in the U.S. TSCA was amended extensively in 2016, including changes to EPA's new chemical review authority and procedures (which I discuss here). EPA is moving to implement these changes.
"EPA is helping states achieve high air quality targets, clean up toxic waste sites and improve America's water infrastructure."
Most federal laws include significant roles for states – these variously include provisions for delegation of federal authority and/or federally-mandated responsibilities overseen by EPA. Accordingly, many EPA activities occur in cooperation with states; Administrator Pruitt has promised to re-balance these activities to expand state discretion and flexibility.
"EPA rescinded an unjustified, premature evaluation of greenhouse gas and fuel economy standards for model year 2022-2025 vehicles, and is working with the U.S. Department of Transportation (DOT) to conduct a collaborative and robust review of the standards."
These standards were set in 2012 by EPA, in cooperation with the (US federal) National Highway Traffic Safety Administration (NHTSA) and the California Air Resources Board (ARB). Three days before President Obama left office, on January 17, EPA reaffirmed the 2022-2025 standards, determining them to be technically and economically feasible for auto makers to meet and cost-effective for customers. However, on March 15 the new administration reopened that decision, starting a formal review. I wrote about this issue here.
"The agency is reviewing the Oil and Gas Methane New Source Performance Standards for new and modified sources, to determine whether it is duplicative."
EPA's Clean Air Act rules cover categories of emissions from categories of sources. In May 2016, EPA announced stricter monitoring and emission controls on so-called "fugitive emissions" from oil and gas operations. These revised rules have been under administrative appeal, and EPA announced on April 18 that it is staying the rules for 90 days pending reconsideration.
"EPA is allocating funds for vital environmental projects that go directly to the health of our citizens, such as providing $100 million to upgrade drinking water infrastructure in Flint, Michigan."
Revelations of governmental failures to prevent lead contamination in drinking water in Flint have produced an ongoing environmental scandal. EPA has been moving for some time to address these problems, and has now announced significant grants to help.
"EPA is stopping the methane Information Collection Request (ICR) by telling businesses they no longer have this additional bureaucratic burden, with the cost to American businesses attempting to comply exceeding $42 million."
In November 2016, EPA issued a final ICR seeking information needed to help the agency determine "how to best reduce methane and other harmful emissions from existing sources in the large and complex oil and natural gas industry." The ICR sought a broad range of information about existing, or possible, controls might reduce methane emissions. A number of states had objected, describing the information request as unduly burdensome. EPA has now withdrawn the ICR while it reconsiders "the need for the information."
"Launched the EPA Regulatory Reform Task Force to undergo extensive reviews of the misaligned regulatory actions."
On February 24, President Trump issued an EO outlining procedures that federal agencies are to use in order to review – and presumably reduce – their rules and the associated burdens of compliance (I wrote about it here). EPA has embraced this new responsibility, with wide-ranging calls for critiques and recommended changes.
Where Do I Go For More Information?
● EPA press release listing elements of the Back-to-Basics agenda (4/13/17)
Specialty Technical Publishers (STP) provides a variety of single-law and multi-law services, intended to facilitate clients' understanding of and compliance with requirements. These include:
About the Author

Jon Elliott is President of Touchstone Environmental and has been a major contributor to STP's product range for over 25 years. He was involved in developing 13 existing products, including Environmental Compliance: A Simplified National Guide and The Complete Guide to Environmental Law.

Mr. Elliott has a diverse educational background. In addition to his Juris Doctor (University of California, Boalt Hall School of Law, 1981), he holds a Master of Public Policy (Goldman School of Public Policy [GSPP], UC Berkeley, 1980), and a Bachelor of Science in Mechanical Engineering (Princeton University, 1977).

Mr. Elliott is active in professional and community organizations. In addition, he is a past chairman of the Board of Directors of the GSPP Alumni Association, and past member of the Executive Committee of the State Bar of California's Environmental Law Section (including past chair of its Legislative Committee).You may contact Mr. Elliott directly at: tei@ix.netcom.com
photo credit: Gage Skidmore Scott Pruitt via photopin (license)