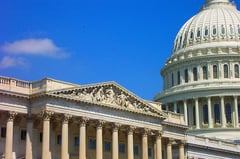 Candidate Trump frequently railed against "over-regulation" in the U.S, and President Trump is taking steps to address the issue. On February 24, he issued an Executive Order (EO) outlining procedures that federal agencies are to use in order to review – and presumably reduce – their rules and the associated burdens of compliance. This new EO Number 13777 references and incorporates previous EOs calling for regulatory reform and/or reduction. Although none of these EOs guarantee any particular outcome, since federal regulations can only be revised or rescinded in compliance with procedural requirements in the statutes they implement, the latest EO does ensure a government-wide and reviewable set of procedures. It will give the President and his aides specific information to guide agency appointees, and will give those appointees information to direct agency personnel.
What Procedures Does EO 13777 Call For?
Within 60 days, the head of each agency is to designate an agency Regulatory Reform Officer (RRO). Each RRO is to oversee the implementation of "regulatory reform initiatives and policies", which are to include at least the following:
President Trump's EO 13771 (1/30/17; "Reducing Regulation and Controlling Regulatory Costs"), which:

Directs each agency to propose to repeal at least "two regulations" for each new one it proposes during Fiscal Year 2017.

Sets a goal that the net cost of new regulations adopted during Fiscal Year 2017 be zero, including the net costs of new and repealed regulations.

Requires each agency to submit annual calculations of regulatory revisions and costs to the Office of Management and Budget (OMB).

Directs OMB to provide guidance for analyzing and implementing these directives.

Directs OMB to provide each agency with a budget for any permissible incremental regulatory costs in each subsequent fiscal year.

President Clinton's EO 12866 (9/30/93, as revised), which establishes procedures for enhanced agency and OMB review of each "significant regulatory.action," defined as one calculated to have an annual effect on the economy of $100 million or more.

President Obama's EO 16563 (1/18/11) regarding retrospective review of existing regulations.

Termination, consistent with applicable law, of programs and activities "that derive from or implement executive orders, guidance documents, policy memoranda, rule interpretations, and similar documents, or relevant portions thereof, that have been rescinded".
Each agency is also to establish a Regulatory Reform Task Force, including its RRO and other specified officials, and to participate in multi-agency joint task forces established to address areas of coordinated or overlapping authorities. Each task force is to attempt to identify regulations that meet any of the following criteria:
Eliminate jobs, or inhibit job creation

Are outdated, unnecessary, or ineffective

Impose costs that exceed benefits

Create a serious inconsistency or otherwise interfere with regulatory reform initiatives and policies

"Rely in whole or in part on data, information, or methods that are not publicly available or that are insufficiently transparent to meet the standard for reproducibility"

Derive from or implement EOs or other Presidential directives that have been subsequently rescinded or substantially modified.
These efforts are to provide for input from affected entities, including state and local governments, trade associations and small businesses, and consumers. Initial reports are due within 90 days after the EO.The EO includes general provisions for accountability including progress reports. An agency can apply to OMB for a waiver.
What's Next?
It remains to be seen whether how these procedures may actually produce "regulatory reforms," including possible rescission of existing regulations. Since administrative repeal of a regulation generally requires its own rulemaking process, it seems to me that few regulations will be rescinded anytime soon. However, agencies could make their inability to repeal existing regulations a reason for declining to adopt new regulations. That would not achieve the rollback President Trump speaks about, but could certainly result in a lengthy time-out.
Self-Assessment Checklist
Has the organization identified federal regulations that it considers particularly burdensome?
If so, will the organization provide input to agency regulatory reform task forces, either directly or through any trade or professional organizations with which it participates?
Where Can I Go For More Information?
Specialty Technical Publishers (STP) provides a variety of single-law and multi-law services, intended to facilitate clients' understanding of and compliance with requirements. These include:
About the Author

Jon Elliott is President of Touchstone Environmental and has been a major contributor to STP's product range for over 25 years. He was involved in developing 13 existing products, including Environmental Compliance: A Simplified National Guide and The Complete Guide to Environmental Law.

Mr. Elliott has a diverse educational background. In addition to his Juris Doctor (University of California, Boalt Hall School of Law, 1981), he holds a Master of Public Policy (Goldman School of Public Policy [GSPP], UC Berkeley, 1980), and a Bachelor of Science in Mechanical Engineering (Princeton University, 1977).

Mr. Elliott is active in professional and community organizations. In addition, he is a past chairman of the Board of Directors of the GSPP Alumni Association, and past member of the Executive Committee of the State Bar of California's Environmental Law Section (including past chair of its Legislative Committee).

You may contact Mr. Elliott directly at: tei@ix.netcom.com

photo credit: Onasill ~ Bill Badzo Washington Dc ~ United State Capitol ~ Historic Building via photopin (license)