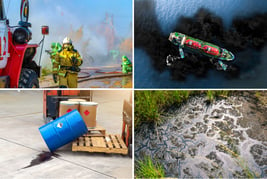 No, the title is not a stutter; I've written it that way to emphasize that the new Environmental Protection Agency (EPA) proposal to revise its Accidental Release Prevention (ARP) program rules under the Clean Air Act (CAA) represents only the latest step in nearly-decade-long changes to these requirements across the last three Presidential administrations. ARP was enacted after the 1990 Clean Air Act (CAA) Amendments, and its often known by its core requirement that targeted facilities prepare Risk Management Programs (RMPs) to prevent and respond to potential catastrophic releases of chemicals.
EPA's August 31 proposal would nullify many of the narrowing amendments to RMP/ARP enacted in 2019 during the Trump Administration (I wrote about those changes HERE).
For readers who want to trace the history of these efforts, I wrote about a 2014 Obama Executive Order (HERE), prompting EPA to revise ARP requirements in January 2017 (HERE). After President Trump took office, EPA reversed course, repeatedly deferring the effective date of the Obama-era revisions while the agency reviewed them. EPA published draft re-revisions in May 2018 (HERE); in August 2018 the District of Columbia Circuit Court rescinded the deferral but effectively left EPA to continue its review (HERE). The 2019 re-revisions completed that process, which began again after President Biden took office.
The rest of this note summarizes the new proposal, comparing it to the current rules.
What are Existing ARP Program Requirements?
The 1990 CAA Amendments (Section 112(r)), directed EPA to create a program to prevent accidental releases of chemicals after which airborne plumes and or physical/thermal shock waves might produce catastrophic offsite consequences from airborne transport. EPA issued regulations in 1996. The statute and regulations received only limited revisions over the following two decades, until the current sequence of events. Generally, EPA's rules:
Specify "regulated substances," presently 77 toxics and 63 flammables. Each substance has one or more threshold quantities that trigger compliance responsibilities (some thresholds depend on the physical state).

Regulate "stationary sources" (applying the general CAA term) of any regulated substance, based on an interconnected process with a threshold quantity of one or more regulated substances. EPA assigns them to risk-based "programs" – Program 1 contains demonstrably low-risk sources, Program 3 are sources in industrial categories generally deemed high risk, and Program 2 sources are those not in 1 or 3.

Define a risk management plan (RMP) which has contained the following elements:
Registration with EPA/state, with source information (ownership, location, etc.);

Offsite consequence analysis (OCA) that models exposures from a "worst-case release scenario" (complete release of largest container). Program 2 and 3 facilities must also analyze "alternative release scenarios" that could exceed an exposure "endpoint" (concentration, temperature, and/or pressure) at or beyond the facility boundary.

Five-year accident history and description of post-accident enhancements.

Prevention program (for sources in Programs 2 and 3), based on a detailed hazard review and process hazard assessment (PHA), with written operating procedures, maintenance and internal compliance procedures, post-incident investigation procedures, and training for all relevant employees.

Emergency response program including procedures for notification and response, and training for relevant employees.

Certification of the truth and accuracy of submitted information.
The rules also specify periodic and event-related update requirements.
What Changes did EPA Adopt in January 2017?
EPA completed its 2016-2017 adopting multiple revisions to ARP/RMP requirements, covering:
Enhanced hazard review, including root cause analyses by Program 2 and 3.

Enhanced emergency response requirements for Program 2 and 3 facilities.

Expanded public information.

Additional administrative and technical revisions.

Phase in of new/revised requirements over 5 years.
What Further Changes did EPA adopt in December 2019?
EPA's "RMP Reconsideration Final Rule" accomplished the Trump Administration's goal of rescinding most ARP/RMP newly adopted in January 2017. The only 2017-adopted provisions retained were the following:
Requirement that post-incident investigation teams include at least one person familiar with the affected process

Requirement that post-incident investigation teams prepare a "report," not just a summary

Edits to update references to the Occupational Safety and Health Administration (OSHA) replacement of material safety data sheets (MSDSs) with more useful safety data sheets (SDSs) (OSHA rules adopted in 2012)

Reducing post-incident public notification requirements (requirement effective March 15, 2021), but retaining requirement for a public meeting within 90 days (requirement effective with publication in Federal Register)

Making most requirements effective either 4 or 5 years after publication.
What Changes is EPA now proposing?
The primary focus of EPS's new proposal is to reverse the changes made in 2019, returning to the more expansive requirements adopted in 2017. In particular, EPA is now proposing the following:
amplify hazard evaluations – adding regulatory text to emphasize that hazard reviews and PHAs must consider natural hazards and loss of power (necessitating consideration of standby or emergency power systems), and possible hazards related to facility siting and configuration

enhance information sharing and collaboration - between chemical facility owners/operators, Tribal and local emergency planning committees (TEPCs/LEPCs), first responders, and the public

enhance prevention programs – require Safer Technologies and Alternatives Analysis (STAA) for PHAs at selected Program 3 facilities

post-incident investigations
- require Program 2 and 3 facilities to conduct root cause analysis within investigation after an RMP-reportable accident
- require third-party compliance audits after an RMP-reportable accident
employee participation – expand to require (at a minimum)
- consultation of employees and their representatives on addressing, correcting, resolving, documenting, and implementing recommendations of PHAs, incident investigations, and compliance audits
- employee stop-work and refusal of dangerous work – add explicit requirement
- participation in incident reporting (in part to respond to evidence of late and non-reporting of incidents by facilities)
community notification - require facility procedures for informing the public and the appropriate emergency response agencies about accidental releases of RMP-regulated substances and provide a community notification system to warn the public within the area threatened by a release

simulated release exercises – convert current recommended field and tabletop exercise evaluation report to mandatory; require field exercises involving a simulated accidental release of a regulated substance at least once every 10 years

public information - allow the public who reside within 6 miles of a facility to request specific chemical hazard information

technical edits and clarifications
EPA proposes compliance deadlines for these new requirements, mostly within 3-5 years after publication of final revised rules.
What's Next?
Comments are due by October 31, 2022, and I anticipate EPA will proceed expeditiously to finalize the revisions. Given the longstanding controversies over this series of rulemakings, I anticipate additional litigation opposing these changes. I can't predict how that will go.
Self-Assessment Checklist
Does the organization own or operate any facility with any "stationary source" subject to ARP requirements?
If so, has the organization considered the impacts on its operations and compliance position under potential revisions?
Is the organization preparing comments on this proposal?
Where Can I Go For More Information?
- text (8/31/22 Federal Register)
About the Author

Jon Elliott is President of Touchstone Environmental and has been a major contributor to STP's product range for over 30 years.

Mr. Elliott has a diverse educational background. In addition to his Juris Doctor (University of California, Boalt Hall School of Law, 1981), he holds a Master of Public Policy (Goldman School of Public Policy [GSPP], UC Berkeley, 1980), and a Bachelor of Science in Mechanical Engineering (Princeton University, 1977).

Mr. Elliott is active in professional and community organizations. In addition, he is a past chairman of the Board of Directors of the GSPP Alumni Association, and past member of the Executive Committee of the State Bar of California's Environmental Law Section (including past chair of its Legislative Committee).
You may contact Mr. Elliott directly at: tei@ix.netcom.com