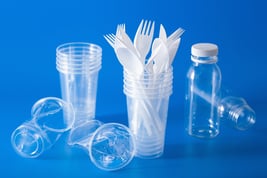 On June 30, 2022, California governor Gavin Newsom signed state Senate Bill (SB) 54, enacting the "Plastic Pollution Prevention and Packaging Producer Responsibility Act." The Act phases in a ban on non-recyclable single-use plastics by 2032, and requires that threshold proportions of single-use items sold as "recyclable" will actually be recycled. Its implementation will make use of "extended producer responsibility" mechanism similar to those used in California and elsewhere for other enhanced recycling programs (I've written about these before, most recently HERE and HERE). The new Act will be overseen by the California Department of Resources Recycling and Recovery (CalRecycle). The new Act complements a variety of other state programs, many also overseen by CalRecycle. The remainder of this note discusses SB 54's provisions.
What items will be banned?
The Act specifies categories of single-use plastic items that are "covered materials":
However, "Covered material" means both of the following:
Single-use packaging that is routinely recycled, disposed of, or discarded after its contents have been used or unpackaged, and typically not refilled or otherwise reused by the producer.

Plastic single-use "food service ware", including, but not limited to, plastic-coated paper or plastic-coated paperboard, paper or paperboard with plastic intentionally added during the manufacturing process, and multilayer flexible material. For purposes of this subparagraph, "single-use food service ware" includes both of the following:

Trays, plates, bowls, clamshells, lids, cups, utensils, stirrers, hinged or lidded containers, and straws.

Wraps or wrappers and bags sold to food service establishments.
However, "covered material" excludes a number of specified packaging products, either because they are also regulated under federal or state laws, or because (beginning in 2027) they are recycled at high enough rates:
Packaging for any of the following:

Medical products and products defined as devices or prescription drugs

Drugs that are used for animal medicines

Products intended for animals that are regulated as animal drugs, biologics, parasiticides, medical devices, or diagnostics for animals

Infant formula

Medical food, as defined by federal law

Fortified oral nutritional supplements used for persons who require supplemental or sole source nutrition to meet nutritional needs due to special dietary needs directly related to specified diseases

Packaging used to contain regulated pesticide products

Plastic packaging containers used to contain and ship products classified for transportation as dangerous goods or hazardous materials

Packaging used to contain hazardous or flammable products regulated by the 2012 federal Occupational Safety and Health Administration Hazard Communications Standard

Beverage containers subject to the California recycling laws

Packaging used for the long-term protection or storage of a product that has a lifespan of not less than five years

Packaging associated with products covered under California's architectural paint recovery program

Covered material for which the producer demonstrates recycling of at least 65 percent for three consecutive years prior to January 1, 2027, at after that date at least 70 percent annually (see below).
In addition, separate requirements apply to "expanded polystyrene," which the Act defines as "blown polystyrene and expanded or extruded foams that are thermoplastic petrochemical materials utilizing a styrene monomer and processed by any technique or techniques, including, but not limited to, fusion of polymer spheres (expandable bead polystyrene), injection molding, foam molding, and extrusion-blow molding (extruded foam polystyrene)."
What producer responsibility requirements are created?
The Act aims to phase out plastic covered materials – which it refers to as "source reduction" – and assigns producers (and sellers) of these materials a series of responsibilities and deadlines. Producers of covered material sold, offered for sale, imported, or distributed in the state must achieve each of the following with respect to the materials for which they are the producers:
By 1/1/24, producers of covered material must form and join a producer responsibility organization (PRO) as the leading entity to meet their individual and collective compliance requirements. Would-be PROs apply to CalRecycle for formal approval, and will subsequently organize statewide compliance efforts by member producers (see below).

Ensure that all expanded polystyrene food service ware covered material offered for sale, distributed, or imported in or into the state achieves the following recycling rates:
(1) By 1/1/25, at least 25%
(2) By 1/1/28, at least 40%
(3) By 1/1/30, at least 50%
(4) By 1/1/32, at least 65%
Ensure that all plastic covered material offered for sale, distributed, or imported in or into the state achieves the following recycling rates:
(1) By 1/1/28, at least 30%
(2) By 1/1/30, at least 40%
(3) By 1/1/32, at least 65%
on or after 1/1/32, ensure that 100% of covered material is recyclable in the state or eligible for being labeled "compostable" in compliance with the Act
What will a PRO's producer responsibility plan include?
The state-approved PRO (or PROs) must prepare and then implement a Producer Responsibility Plan to ensure that the PRO and its members comply with applicable requirements from the Act. The plan shall include all of the following:
(1) Actions and investments by the PRO to meet the Act's requirements
(2) a source reduction plan, detailing how to meet the phase-out requirements identified above
(3) Technologies and means that will be utilized to achieve recycling requirements
(4) objective and measurable criteria whenever possible, describing how the PRO and its members will accomplish required outcomes, including
- necessary infrastructure and viable responsible end markets to ensure the covered material will achieve the requirements
- the collection, processing, recycling, or composting of, and the development of viable responsible end markets for materials, including collection and handling infrastructure
- education, engagement and outreach
- budget with expenses and contributions, and fees necessary to cover them
What happens now?
CalRecycle is preparing to create regulations and/or guidelines to administer this new program, and CalRecycle and the targeted industries are preparing to implement the program.
Self-audit checklist
Does the organization produce or use any single-use plastic items that are used in California?
If so, is the organization preparing to comply with the Act

If so, has the organization investigated alternatives?
Is the organization involved in recycling or source reduction activities?
If so, do these activities include single-use plastics or could they be expanded to do so?
Where can I go for more information?
About the Author

Jon Elliott is President of Touchstone Environmental and has been a major contributor to STP's product range for over 30 years.

Mr. Elliott has a diverse educational background. In addition to his Juris Doctor (University of California, Boalt Hall School of Law, 1981), he holds a Master of Public Policy (Goldman School of Public Policy [GSPP], UC Berkeley, 1980), and a Bachelor of Science in Mechanical Engineering (Princeton University, 1977).

Mr. Elliott is active in professional and community organizations. In addition, he is a past chairman of the Board of Directors of the GSPP Alumni Association, and past member of the Executive Committee of the State Bar of California's Environmental Law Section (including past chair of its Legislative Committee).
You may contact Mr. Elliott directly at: tei@ix.netcom.com