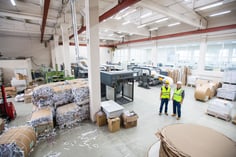 In recent years, governments around the world have extended solid waste management efforts to support—and in some cases require—recycling and resource recovery efforts to divert more solid wastes from landfills, and to substitute reused materials or raw materials. Increasingly, specialized stewardship programs target particular types of hazardous wastes – used oils, spent batteries, etc. – the national advocacy group Product Stewardship Institute identifies more than 120 such programs spread among 34 US states (I introduced these efforts HERE). Maine already has a number of these programs.
Although most of these programs target end users, an increasing number focus on manufacturers and suppliers – these are often referred to as "product stewardship" of "extended producer responsibility (EPR)" programs. In July, Maine enacted the first statewide EPR program addressed to product packaging ("An Act to Support and Improve Municipal Recycling Programs and Save Taxpayer Money", LD 1541). This new law applies to "producers" of "packaging material" sold in Maine, as the legislation defines those terms. The remainder of this note summarizes this new law.
What is "extended producer responsibility"?
Working definitions of EPR and product stewardship vary. For example, the multinational Organization for Economic Cooperation and Development (OECD) EPR website offers "Extended Producer Responsibility (EPR) is a policy approach under which producers are given a significant responsibility – financial and/or physical – for the treatment or disposal of post-consumer products. Assigning such responsibility could in principle provide incentives to prevent wastes at the source, promote product design for the environment and support the achievement of public recycling and materials management goals." EPR/stewardship approaches reduce post-use obligations for the consumers themselves, and for governmental agencies responsible for waste management.
What will Maine's new law require?
Maine's new LD 1541 legislation uses "product stewardship" terminology, extending post-consumer responsibilities for producers of packaging materials sold in the state.
Who is a "producer" subject to the law?
The law applies to non-exempt "producers", which are defined as follows:
"'Producer means a person that:
Has legal ownership of the brand of a product sold, offered for sale or distributed for sale in or into the State contained, protected, delivered, presented or distributed in or using packaging material; or

Is the sole entity that imports into the State for sale, offer for sale or distribution for sale in or into the State a product contained, protected, delivered, presented or distributed in or using packaging material that is branded by a person that meets the requirements of subparagraph (1) and has no physical presence in the United States."
However, exemptions are available to producers with sales below any of the following thresholds in a calendar year:
less than $2 million in total gross revenue (less than $5 million in the first 3 years after the state contracts with a stewardship organization (see below));

all products sold used a total of less than one ton of packaging material;

more than 50% of total gross revenue was from sale of goods acquired through insurance salvages, closeouts, bankruptcies and liquidations; or

all products were perishable food, which used a total of 15 tons of packaging material.

How is "packaging material" defined?
The new law defines "packaging material," including exemptions:
"'Packaging material' means a discrete type of material, or a category of material that includes multiple discrete types of material with similar management requirements and similar commodity values, used for the containment, protection, delivery, presentation or distribution of a product, including a product sold over the Internet, at the time that the product leaves a point of sale with or is received by the consumer of the product. "Packaging material" does not include … material, that is:
Intended to be used for the long-term storage or protection of a durable product and that can be expected to be usable for … at least 5 years;

A beverage container [subject to Maine's container recycling requirements];

A container for architectural paint [if subject to a qualifying paint stewardship program]; or

Excluded from the definition of "packaging material" by a rule adopted by the [Maine Department of Environmental Protection (DEP)].
How does Maine use "stewardship organizations" for recycling?
Under Maine's Product Stewardship law (Maine Revised Statutes Title 38, chapter 18, adopted in 2009), DEP identifies and reports to the state legislature on waste streams that it considers candidates for product stewardship, because the materials meet one or more of the following criteria:
the product or product category contains toxics;

a product stewardship program for the product will increase the recovery of materials for reuse and recycling;

a product stewardship program will reduce the costs of waste management to local governments and taxpayers;

other states or countries have successful programs;

existing voluntary product stewardship programs for the product in Maine are not effective
In 2019 DEP reported that the four of these five criteria apply (not (1)), and recommended that a product stewardship program be created for packaging. The new legislation responds to that recommendation. In that report, DEP estimated that packaging materials constitute nearly a quarter of the state's solid waste.
What will a packaging stewardship organization do?
DEP is to conduct competitive bidding, and select a packaging stewardship organization for a 10-year contract that addresses:
outreach and information program (including "investments in education and infrastructure")

statewide recycling needs assessment

stewardship fund to be established and managed

budget, and schedules of producer payments for various packaging products

financial assurance plan

certification that proprietary information will be safeguarded

mechanism or process for produces and municipalities to request and receive assistance

How will the statewide program operate?
Beginning one year after the stewardship organization establishes the statewide stewardship program, this law prohibits sale of products with packaging materials covered by the program, unless the producer has complied with applicable requirements. The stewardship organization is to provide DEP with a list of covered products that comply, and any known non-complying producers. DEP has enforcement authority, and can grant exceptions from the prohibition.
The stewardship organization is to publish annual reports on the program's activities and participants (producers, and municipalities that coordinated their solid waste management programs with the stewardship program), amounts of materials managed through the stewardship program, and financial information.
DEP is to adopt rules to administer the program and requirements, including
definitions of packaging materials included and excluded from these requirements

schedules of producer fees (including a low volume producer fee no more than $500 per ton and $7500 per year for producers responsible for 1-15 tons per year)

schedules of municipal reimbursements

material-specific recycling rates and goals, and program audits and evaluations

provisions for alternative collection programs that may be established outside the statewide stewardship organization's program

annual reports from the organization, and annual reports by DEP beginning in 2025.
What's next?
Stewardship/EPR laws continue to proliferate. Most continue to focus on potentially hazardous wastes, but Maine's attention to packaging will expand as well; in August, Oregon has enacted the second such law (SB 582). Organizations that produce goods that leave residuals once consumers finish with them should plan their responses to relevant laws as they appear, and organizations that use products that leave wastes should watch for opportunities to manage those wastes with less hassle and expense.
Self-assessment checklist
Does the organization produce and sell products that leave wastes after end users finish with them?
If so, has the organization evaluated the volumes of such wastes, and methods available for their management?

Has the organization assumed any post-use responsibilities for such wastes?

Has the organization evaluated whether changes in design or packaging might reduce post-consumer wastes?
Do the organization's activities include use of input materials that produce waste streams?
If so, has the organization identified wastes that are subject to specific recycling, recovery or stewardship programs applicable to its facility(ies) in one or more jurisdictions?

If so, has the organization evaluated its purchasing, to identify materials that produce these wastes?

If so, has the organization evaluated the suitability of available alternatives that would not produce wastes subject to these programs?

Has the organization established onsite collection of targeted materials, and delivery of those materials to available destinations (solid waste pick-up, retailer, etc.)?
Does the organization track legislative and regulatory processes in order to stay informed about possible changes in applicable waste management requirements, including possible EPR/stewardship mandates?
Where can I go for more information?
- Maine DEP Product Stewardship Programs web portal
About the Author

Jon Elliott is President of Touchstone Environmental and has been a major contributor to STP's product range for over 30 years.

Mr. Elliott has a diverse educational background. In addition to his Juris Doctor (University of California, Boalt Hall School of Law, 1981), he holds a Master of Public Policy (Goldman School of Public Policy [GSPP], UC Berkeley, 1980), and a Bachelor of Science in Mechanical Engineering (Princeton University, 1977).

Mr. Elliott is active in professional and community organizations. In addition, he is a past chairman of the Board of Directors of the GSPP Alumni Association, and past member of the Executive Committee of the State Bar of California's Environmental Law Section (including past chair of its Legislative Committee).
You may contact Mr. Elliott directly at: tei@ix.netcom.com