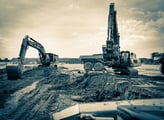 The federal Council on Environmental Quality (CEQ) has proposed to revise its regulations administering the National Environmental Policy Act (NEPA) of 1969. NEPA requires federal agencies to assess the environmental effects of their proposed actions, and incorporate this information into their decisions. Government-wide guidance is provided by the White House's CEQ, established by NEPA and appointed by the President. CEQ issues formal regulations that agencies must follow, and guidance documents that provide additional advice. CEQ also reviews agencies' NEPA implementation programs, and publishes annual national Environmental Quality Reports.
In 2017, President Trump issued Executive Order 13807 (Establishing Discipline and Accountability in the Environmental Review and Permitting Process for Infrastructure Projects) directing CEQ to review its NEPA policies for review of "major infrastructure projects." In 2018, CEQ issued an advance notice of proposed rulemaking (ANPRM) seeking comments on 20 questions about these reviews (I wrote about the ANPRM here), and has now started 2020 by proposing to revise its NEPA regulations. The remainder of this note describes what CEQ dubs its "NEPA Modernization" proposal.
What do CEQ rules require?
NEPA was enacted over 50 years ago to create "a national policy which will encourage productive and enjoyable harmony between man and his environment to promote efforts which will prevent or eliminate damage to the environment and biosphere and stimulate the health and welfare of man; [and] to enrich the understanding of the ecological systems and natural resources important to the Nation." NEPA provides for procedures to ensure appropriate analyses and decision-making, and public information about these efforts. NEPA also created CEQ. CEQ issued regulations in 1978 (40 CFR parts 1500 – 1508), and also issues occasional guidance documents. Court decisions have also shaped interpretations and procedures.
What Changes is CEQ Proposing?
CEQ's NEPA rules have been only rarely and minimally revised over the past 40+ years, but CEQ is now proposing significant changes. This proposal includes a wide variety of substantive, technical and editorial changes. For convenience, I summarize them under the regulatory "part" number in the 1500-1508 sequence (CEQ proposes to revise several titles; I show the new ones below).
Part 1500 – Purpose and Policy
The proposed changes would update and expand discussions of NEPA procedural requirements and would remove expansive statements of purpose – "basic national charter for protection of the environment" and "'action-forcing' provisions to make sure that federal agencies act according to the letter and spirit of the Act" are removed, and a statement that NEPA is a "procedural statute" intended to foster "conditions under which man and nature can exist in productive harmony" is added to emphasize that NEPA does not mandate particular results. Revisions also add summaries of procedural steps to be taken by agencies to comply with NEPA. Rules discussing "reducing paperwork" and "reducing delay" are updated and expanded – including revisions that recognize that most information exchanges are now electronic rather than paper.
Part 1501 – NEPA and Agency Planning
The proposed changes revamp these rules, which prescribe steps for agencies to establish and conduct environmental reviews as part of planning and project design processes. They soften various "shall" statements to "should," in distinctions of three general levels of review (actions unlikely to have significant environmental effects can be categorically excluded, those with uncertain effects should receive environmental assessments (EAs), and those with significant effects should receive full-blown environmental impact statements (EISs)). These rules also update directions regarding designation of lead agencies and cooperating agencies. They also discuss appropriate scopes and time frames, and provisions for tiering of reviews and write-ups, and incorporation by reference of technical and external information. The revisions propose the following "presumptive" time limits:
EAs – 1 year, except with written approval by the lead agency

EISs – 2 years, except with written approval by the lead agency, measures from notice of intent (NOI) to signing of final record of decision (ROD)

Part 1502 – Environmental Impact Statement
CEQ proposes to revise detailed requirements for EIS preparation and presentation. Most importantly, the rules provide "presumptive" page limits for EISs: 150 pages for most EISs and 300 pages for unusually complex analyses, subject to exceptions justified in written statements by a lead agency. (The proposal notes that the average EIS is over 600 pages and the average process takes 4 ½ years).
Part 1503 – Commenting on Environmental Impact Statements
This part updates provisions for comments by non-lead agencies and the public to reflect decades of court decisions as well as use of the Internet and electronic media.
Part 1504 – Pre-decisional Referrals to the Council of Proposed Federal Actions Determined to be Environmentally Unsatisfactory
These provisions provide for non-lead agency criticisms of lead agencies. Changes reflect court decisions and economic media, and add explicit inclusion of EAs. They also add "electronic costs of delaying or impeding" lead agencies decisions to factors for agencies to consider when evaluating whether to make referrals – by agencies that disagree with an agency's determinations.
Part 1505 - NEPA and Agency Decision Making
CEQ proposes minor editorial corrections, and moving the mandate that agencies adopt NEPA decision procedures into part 1507.
Part 1506 – Other Requirements of NEPA
CEQ proposes extensive procedural and editorial revisions, which relate to inter-agency cooperation, public participation, EISs related to proposed legislation or regulations, and formal filing and notices relating to EISs.
Part 1507 – Agency Compliance
CEQ edits these rules requiring agencies to establish and apply resources to allow them to meet NEPA's analytical and procedural requirements. The proposal provides agencies with 12 months to meet the revised requirements.
CEQ proposes to revise many of the existing definitions applicable to these rules, and adds new ones. Most controversially, CEQ proposes to narrow the scope of environmental reviews by eliminating the definition of "cumulative effect" and the associated directives to consider individual projects in the context of related changes such as climate change. The existing rules address "direct effects" and "indirect effects" (40 CFR s. 1508.8), and include the following definition:
Cumulative impact is the impact on the environment which results from the incremental impact of the action when added to other past, present, and reasonably foreseeable future actions regardless of what agency (Federal or non-Federal) or person undertakes such other actions. Cumulative impacts can result from individually minor but collectively significant actions taking place over a period of time. (40 CFR s. 1508.7)
CEQ proposes to delete this definition, and to promulgate a revised definition of "effects or impacts" that includes the following:
Effects include ecological (such as the effects on natural resources and on the components, structures, and functioning of affected ecosystems), aesthetic, historic, cultural, economic (such as the effects on employment), social, or health effects. Effects may also include those resulting from actions that may have both beneficial and detrimental effects, even if on balance the agency believes that the effect will be beneficial.

A ''but for'' causal relationship is insufficient to make an agency responsible for a particular effect under NEPA. Effects should not be considered significant if they are remote in time, geographically remote, or the product of a lengthy causal chain. Effects do not include effects that the agency has no ability to prevent due to its limited statutory authority or would occur regardless of the proposed action. Analysis of cumulative effects is not required.
Item 1 defines possible effects very broadly, but then Item (2) leans strongly against cumulative effects. This means that a possible project or plan that may exacerbate negative effects need not be considered if the lead agency considers its contribution "insignificant." Even if the agency considers many such projects or plans, or is aware that many such projects or plans are underway or contemplated – this fits the Trump Administration's strong policy predilection toward narrowing agency analyses. (See, for example, here and here).
What's Next?
The public can submit comments on this proposal until March 10, 2020, after which I assume CEQ will move to finalize its revised NEPA rules. I assume that they'll be finalized in a form similar to this proposal. I also assume that lawsuits will follow – depending who's President after the 2020 election, it remains to be seen what will eventually take place.
Self Assessment Checklist
Is the organization subject to specific federal agency policies, programs, rulemakings, or permit processes subject to NEPA review before relevant decisions can be made?
If so, has or does the agency conduct environmental reviews subject to NEPA (e.g., under the agency's own NEPA regulations and/or in compliance with CEQ regulations and guidance)?
If so, are there ways to improve those reviews by adjusting NEPA regulations and guidance?
If so, is the organization participating in CEQ's regulatory process by offering comments, or by reviewing comments submitted by others?
Where Do I Go For More Information?
Specialty Technical Publishers (STP) provides a variety of single-law and multi-law services, intended to facilitate clients' understanding of and compliance with requirements.
About the Author

Jon Elliott is President of Touchstone Environmental and has been a major contributor to STP's product range for over 30 years.

Mr. Elliott has a diverse educational background. In addition to his Juris Doctor (University of California, Boalt Hall School of Law, 1981), he holds a Master of Public Policy (Goldman School of Public Policy [GSPP], UC Berkeley, 1980), and a Bachelor of Science in Mechanical Engineering (Princeton University, 1977).

Mr. Elliott is active in professional and community organizations. In addition, he is a past chairman of the Board of Directors of the GSPP Alumni Association, and past member of the Executive Committee of the State Bar of California's Environmental Law Section (including past chair of its Legislative Committee).
You may contact Mr. Elliott directly at: tei@ix.netcom.com