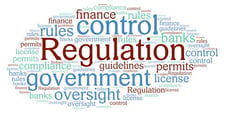 Since President Trump took office, the Environmental Protection Agency (EPA) has taken a number of steps to narrow benefit-cost analyses, reversing expansive approaches used during the Obama Administration and narrowing the scope of "justifiable" environmental and health regulations. The latest such step appears in a May 13 memorandum from EPA Administrator Wheeler to his Assistant Administrators.
What Does The New Memo Provide?
Background on agency actions
The new memo starts by reciting other efforts EPA to review and revise – and narrow – EPA's approaches to benefit-cost analyses:
EPA has been reviewing benefit-cost procedures, as part of the agency's compliance with President Trump's February 2017 "Regulatory Reform" Executive Order (which I wrote about here). EPA opened a public docket to solicit comments (and also established a required Regulatory Reform Task Force, which in EPA's case consists of the agency division heads).

EPA issued an advanced notice of proposed rulemaking (ANPRM) in June 2018, "to solicit public input on potential approaches for increasing consistency and transparency in how the EPA considers benefits and costs." (EPA received 1,859 comments)

Direction for agency review and reform
In the new memo, Administrator Wheeler declares that EPA will pursue benefit-cost reform "using a media-specific approach, taking into account the variety of statutory programs." He therefore directs his division heads (who oversee air, water, and chemical programs authorized by statutes) to "develop reforms, including notice-and-comment rulemakings, that outline how benefit-cost considerations will be applied in areas that are in need of greater clarity, transparency and consistency." This direction does not explain which areas the agency leaders will decide need such reforms … so the memo provides some additional principles to be applied to these law-by-law and division-by-division procedures:
"Ensuring the agency balances benefits and costs in regulatory decision-making. The EPA should evaluate and consider both benefits and costs in decision-making.

"Increasing consistency in the interpretation of statutory terminology. The EPA media offices should evaluate benefits and costs in a manner that applies consistent interpretations of key terms and concepts for specific statutes (e.g. 'practical,' 'appropriate,' 'reasonable' and 'feasible').

"Providing transparency in the weight assigned to various factors in regulatory decisions. Media offices should transparently identify which factors were and were not considered in regulatory analysis and how these factors were weighed to arrive at a particular regulatory outcome.

"Promoting adherence to best practices in conducting the technical analysis used to inform decisions. The EPA's technical analyses should follow sound economic and scientific principles and adhere to existing guidance and best practices for benefit-cost analysis, including the EPA 's Guidelines for Preparing Economic Analyses and other peer-reviewed standards of practice that are applicable to rulemaking."
What Does This Mean?
I read the quoted passages as uncontroversial direction to proceed appropriately. But they're also vague, which means they'll be filtered through this Administration's approach to regulations. In the past two years, the agency has consistently attempted to narrow the scopes of benefit-cost reviews in ways that tend to identify fewer benefits and more costs than the Obama Administration's approach. For example, in December 2018 EPA proposed to revise analyses underlying the Mercury and Air Toxics Standard it issues using Clean Air Act authority, to reduce regulation of emissions of hazardous air pollutants (notably mercury) from coal-fired power plants. In April 2018, EPA determined to defer future tightening of automobile emission standards in part based on adjustments to earlier benefit cost analyses to reflect lower projected fuel prices (reducing the benefits of more efficient vehicles) and to add a focus on safety aspects (asserting that more vehicle occupants would sustain greater harm in accidents involving lighter new cars and heavy older cars and trucks).
When you're undertaking a costly project, don't you like to be able to claim credit for its benefits, including any "co-benefits" that may not be the direct justification for the project but automatically result? On the other hand, would you be irritated if a regulator used co-benefits to produce a cost-benefit analysis that justified making you pay for a project larger and more expensive than one that ignored co-benefits? If you believe these observations about the psychology of benefit-cost analyses, you can see where this administration is pushing these processes.
What's Next?
EPA divisions can be expected to ensure that the benefit-cost analyses in their new on ongoing rulemakings reflect the directives in this new memo. How long these take, and how they stand up to the inevitable court challenges, will determine the effect of these "regulatory reform" efforts.
Self Evaluation Checklist
Does the organization conduct activities that are subject to EPA rules?

If so, has EPA conducted and reported cost-benefit analyses for these rules, consistent with its statutory responsibilities under each provision?

If so, might the results of those analyses reach different conclusions about the appropriateness of particular regulatory provisions if the policies set forth in the Administrator's newest memo be applied to rulemakings?
Where Can I Go For More information?
Specialty Technical Publishers (STP) provides a variety of single-law and multi-law services, intended to facilitate clients' understanding of and compliance with requirements.
About the Author

Jon Elliott is President of Touchstone Environmental and has been a major contributor to STP's product range for over 25 years.

Mr. Elliott has a diverse educational background. In addition to his Juris Doctor (University of California, Boalt Hall School of Law, 1981), he holds a Master of Public Policy (Goldman School of Public Policy [GSPP], UC Berkeley, 1980), and a Bachelor of Science in Mechanical Engineering (Princeton University, 1977).

Mr. Elliott is active in professional and community organizations. In addition, he is a past chairman of the Board of Directors of the GSPP Alumni Association, and past member of the Executive Committee of the State Bar of California's Environmental Law Section (including past chair of its Legislative Committee).
You may contact Mr. Elliott directly at: tei@ix.netcom.com