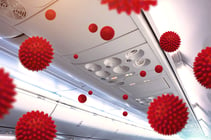 The US Occupational Safety and Health Administration (OSHA) requires employers to ensure workplace air quality, as part of the agency's broad mission to protect workers' safety and health. Instead of a single comprehensive standard, OSHA incorporates air-related issues into standards requiring employers to consider whether workplace conditions might require respiratory protections (which I discussed HERE), and additional standards addressing routine workplace air contaminants (which I discussed HERE), and special hazards of confined spaces (which I discussed HERE). OSHA also applies specific ventilation standards in workplaces that involve abrasive blasting; grinding, polishing, and buffing operations; and spray finishing operations.

In November 2020, OSHA issued guidance to employers on workplace ventilation addressed to possible hazards of airborne SARS-CoV-2, the virus that causes the COVID-19. The remainder of this note provides the substances of that guidance.
What is OSHA recommending?
OSHA's guidance recognizes that the COVID-19 virus is transmitted through the air, so that efforts to reduce such transmission may be necessary steps to preventing infections. More specifically, OSHA offers the following "tips" for doing so:
Encourage workers to stay home if they are sick.

Ensure that all heating, ventilation and air conditioning (HVAC) systems are fully functional, especially those shut down or operating at reduced capacity during the pandemic.

Remove or redirect personal fans to prevent blowing air from one worker to another.

Use HVAC system filters with a Minimum Efficiency Reporting Value (MERV) rating of 13 or higher, where feasible.

Increase the HVAC system's outdoor air intake. Open windows or other sources of fresh air where possible.

Be sure exhaust air is not pulled back into the building from HVAC air intakes or open windows.

Consider using portable high-efficiency particulate air (HEPA) fan/filtration systems to increase clean air, especially in higher-risk areas.

When changing filters, wear appropriate personal protective equipment. ASHRAE recommends N95 respirators, eye protection (safety glasses, goggles, or face shields), and disposable gloves.

Make sure exhaust fans in restrooms are fully functional, operating at maximum capacity, and are set to remain on.

Encourage workers to report any safety and health concerns.
These tips focus attention on HVAC systems to ensure adequate ventilation, and safe work practices.
What happens now?
The tips provided in OSHA's new guidance are consistent with the agency's other directions regarding COVID—related worker safety and health. They complement recent OSHA guidance on use of cloth face coverings (see HERE), and broader back-to-work (see HERE) and enforcement standards (see HERE). These measures should be incorporated into employers' comprehensive efforts to address COVID-19 risks.
Self-Assessment Checklist
Does the organization have operations that are still open and staffed by employees or other workers?
If so, has the organization assessed these operations for COVID-19 risks to employees, including issues related to workplace ventilation and air quality?
If so, has the organization implemented adequate information and precautionary measures?
Where Can I Go For More Information?
• OSHA's "COVID-19 Guidance on Ventilation in the Workplace" (11/20)
• OSHA revised Beryllium Standard (Federal Register July 14, 2020)
About the Author

Jon Elliott is President of Touchstone Environmental and has been a major contributor to STP's product range for over 30 years.

Mr. Elliott has a diverse educational background. In addition to his Juris Doctor (University of California, Boalt Hall School of Law, 1981), he holds a Master of Public Policy (Goldman School of Public Policy [GSPP], UC Berkeley, 1980), and a Bachelor of Science in Mechanical Engineering (Princeton University, 1977).

Mr. Elliott is active in professional and community organizations. In addition, he is a past chairman of the Board of Directors of the GSPP Alumni Association, and past member of the Executive Committee of the State Bar of California's Environmental Law Section (including past chair of its Legislative Committee).
You may contact Mr. Elliott directly at: tei@ix.netcom.com