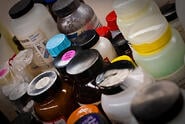 OSHA regulates workplace air contaminants to protect employees from exposures to airborne chemical and particulate contaminants in workplace air. Generally, employee exposures are limited by permissible exposure limits (PEL) based on a time-weighted average (TWA) over an 8-hour workday. OSHA also allows exposure to some contaminants at greater "excursion limits" for short periods of time, subject to "ceiling values." Many of these limits are based on voluntary standards developed by the American Conference of Governmental Industrial Hygienists (ACGIH).
What Are Air Contaminants?
OSHA defines hundreds of air contaminants in three tables (Tables Z-1, Z-2, and Z-3 of 29 C.F.R. 1910.1000; often called the "Z Lists"). Air contaminants include:
Volatile industrial chemicals such as benzene, ethyl alcohol, and chloroform.

Toxic metal dusts and fumes of lead, chromium, mercury, and others.

"Nuisance dusts" and other particulates such as silica.
Because of the breadth of the lists, most workplaces contain at least one of the contaminants.
OSHA adopted its initial lists of air contaminants and associated PELs in 1971. OSHA issued updates to over 400 PELs in 1989, relying largely on updated ACGIH standards, but the US Court of Appeals vacated those changes, reasoning that wholesale adoption of ACGIH recommendations without independent chemical-by-chemical review was an abuse of discretion. Since then, OSHA has proceeded—slowly—to revise a handful of limits, one chemical at a time. Readers should note that some state occupational safety and health agencies have moved more quickly to adopt stricter limits, and that OSHA itself warns that reliance on outdated standards may violate an employer's General Duty to keep workplaces safe from "known hazards."
A single workplace frequently contains more than one air contaminant. Recognizing that overlapping exposures may impose additive risks, OSHA requires employers to add together exposures to determine if overall exposures are permissible – so a given employer may have to keep exposures below each contaminant's PEL so that cumulative exposures are acceptable.
Does My Workplace Have Any?
This Standard does not contain any explicit requirement to monitor your workplace to identify whether any air contaminants are present in hazardous concentrations. However, OSHA's Personal Protective Equipment (PPE) Standard requires employers to conduct a "hazard assessment" of each workplace. Similarly, other standards require preliminary or ongoing workplace exposure monitoring (for example, OSHA's Regulated Carcinogen Standard, Asbestos Standard, and Lead Standard). OSHA's Hazard Communication Standard covers all potentially hazardous workplace chemicals, so can be a source of information about those that might become airborne. And OSHA can sometimes apply the General Duty Clause to employers in industries where most competitors do recognize airborne hazards.
What Compliance Measures Are Required?
If one of these other provisions motivates an employer to monitor workplace air, and employees' exposures are found to exceed any applicable limits, the employer must take steps to reduce employee exposures below those limits, using the following means, as appropriate:
Engineering controls, such as ventilation, equipment (re)design, and facility management (although this Standard is silent, most OSHA standards general make engineering controls the first priority, since they are most likely to avoid exposures).

Administrative controls, such as work scheduling and procedures.

Only if administrative and engineering controls are infeasible or insufficient to achieve full compliance, PPE (such as respirators) or other measures to keep employees' exposures within OSHA limits (since these means the employees must work in a hazardous workplace). (If you require the use of respirators to comply with this Standard, you must institute a respiratory protection program).
Readers should note that an employer can decide to implement engineering and administrative controls without performing monitoring—for example, if the employer "knows" a process will exceed exposure limits without controls. However, if compliance is ever in question, monitoring will be necessary to affirmatively demonstrate compliance.
Self-Evaluation Checklist
Does my organization have any workplace in which any regulated air contaminants may be present (based on reviews of materials purchasing and inventories, for example), including any:
Volatile chemicals (solvents, etc.)

Metal dusts or fumes.

Other "nuisance dusts."
Does the organization have any workplace subject to other OSHA standards governing use of and/or exposure to hazardous chemicals and materials?
Have monitoring and/or controls been instituted to compliance with such standards?
Has the organization monitored the workplace for ambient air contamination?
If so, what contaminants?

If so, what methods?
Has the organization installed controls in the workplace, which reduce employee exposures:
Engineering controls _____________________________

Administrative controls ___________________________

PPE __________________________________________

Other measures ________________________________
Does the organization have ongoing practices for:
Evaluating potential contaminants?

Determining when and how to monitor?

Implementing protective control measures?
Where Can I Go For More Information?
Specialty Technical Publishers (STP) provides a variety of single-law and multi-law services, intended to facilitate clients' understanding of and compliance with requirements. These include:
About the Author

Jon Elliott is President of Touchstone Environmental and has been a major contributor to STP's product range for over 25 years. He was involved in developing 16 existing products, including Environmental Compliance: A Simplified National Guide and The Complete Guide to Environmental Law.
Mr. Elliott has a diverse educational background. In addition to his Juris Doctor (University of California, Boalt Hall School of Law, 1981), he holds a Master of Public Policy (Goldman School of Public Policy [GSPP], UC Berkeley, 1980), and a Bachelor of Science in Mechanical Engineering (Princeton University, 1977).
Mr. Elliott is active in professional and community organizations. In addition, he is a past chairman of the Board of Directors of the GSPP Alumni Association, and past member of the Executive Committee of the State Bar of California's Environmental Law Section (including past chair of its Legislative Committee).
You may contact Mr. Elliott directly at: tei@ix.netcom.com.