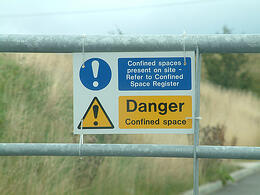 Last week the U.S. Occupational Safety and Health Administration (OSHA) issued its first detailed standard requiring employers in the construction sector to define confined spaces in their workplaces, and to implement training and safety programs to protect employees. This new standard incorporates longstanding requirements for most employers (what OSHA calls "General Industry"), with enhancements based on ongoing experience. Whether your organization is in construction, general industry, or another specialized sector, OSHA's new standard provides a reminder to consider confined space safety in your workplaces. The following discussion summarizes the main issues and associated compliance requirements.
What Are Confined Spaces and Which Require Onsite Permits?
The General Industry standard defines a confined space as one that meets all the following criteria:
Is large enough and so configured that an employee can bodily enter [and perform assigned work].

Has limited or restricted means for entry or exit.

Is not designed for continuous employee occupancy.
Both standards exclude spaces too small for complete entry – so a storage room qualifies while a storage cabinet does not. The new Construction Standard has a broader first clause, excluding the text I've bracketed above and therefore including spaces that may be entered for reasons other than to "perform assigned work."
Employers should look for spaces with an open (or at least openable) top, deep enough to restrict natural movement of air, and enclosed spaces with very limited openings for entry and exit (employee might be more susceptible to injuries, and less able to evacuate in an emergency). The new Construction Rule contains a long list of possible examples, which can occur in non-construction workplaces as well:
Bins; boilers; pits (such as elevator, escalator, pump, valve or other equipment); manholes (such as sewer, storm drain, electrical, communication, or other utility); tanks (such as fuel, chemical, water, or other liquid, solid or gas); incinerators; scrubbers; concrete pier columns; sewers; transformer vaults; heating, ventilation, and air-conditioning (HVAC) ducts; storm drains; water mains; precast concrete and other pre-formed manhole units; drilled shafts; enclosed beams; vessels; digesters; lift stations; cesspools; silos; air receivers; sludge gates; air preheaters; step up transformers; turbines; chillers; bag houses; and/or mixers/reactors.
OSHA divides confined spaces into two broad categories, based on the degree and immediacy of the hazards they present. The higher risk category consists of spaces that may cause "death or serious physical harm", which OSHA defines as permit-required confined spaces –because the employer must create formal procedures that include a temporary onsite "permit" before entry is allowed. Permit-required confined spaces are those with any one or more of the following characteristics:
Contains or has a potential to contain a hazardous atmosphere.

Contains a material that has the potential for engulfing an entrant.

Has an internal configuration such that an entrant could be trapped or asphyxiated by inwardly converging walls or by a floor which slopes downward and tapers to a smaller cross-section.

Contains any other recognized serious safety or health hazard.
Hazardous atmospheres can arise in spaces with fuel-fired machinery, or low-lying spaces into which carbon dioxide or other heavier gases may flow and concentrate. Dangerous configurations include large storage bins and material-feeding mechanisms.
Have Potentially Hazardous Spaces Been Identified and Characterized?
Both standards require employers to evaluate confined spaces at their worksites, and then to evaluate whether any pose hazards. These may include:
Atmospheric hazards

Non-atmospheric safety and health hazards:

A material that has the potential for "engulfing," including liquids or fine solids, or something that can exert enough force on a worker's body to cause strangulation, constriction, or crushing.

Any other "recognized serious safety or health hazard", which can include the following:

Physical hazards such as heat or cold, noise, vibration, radiation.

General hazards such as slippery or rough surfaces, snags, scaffolding, material piles that could collapse, etc.

Mechanical or electrical equipment that, when running, could cause injury.

Electrical equipment or circuitry that could cause shocks or sparks.

Pipes or valves that could open or leak, releasing materials into the workspace.

Communication limitations between employees inside the space and those outside.

Employee fatigue when working in the space.
The employer should consider whether hazards can be reduced or managed sufficiently to render a space non-hazardous, or at least to reduce hazards sufficiently so a space is not permit-required. For example, ventilation might address atmospheric hazards, and improved electrical equipment or a lockout-tagout program may address electrical hazards.
What Compliance Requirements Apply For Permit-Required Confined Spaces?
An employer that cannot eliminate confined space hazards must satisfy the following compliance requirements (the new Construction Standard explicitly requires inter-employer cooperation at multi-employer sites):
Prohibit employee entry except when following permit procedures (see below)—this includes formal policy prohibiting entry, signs or placards to identify prohibited spaces, appropriate information and training, and physical barriers (such as keeping doors locked).

Inform employees of the location and hazards of permit-required confined spaces.

Define and implement appropriate procedures for entries to permit-required confined spaces:

Establish written procedures

Train employees in confined space hazards, and their roles under the procedures

Require written permit

Ensure compliance for each entry

Complete and comply with permit for each entry, permit must identify the following:

Permit space to be entered

Purpose, date and duration of the entry

Authorized entrant(s), attendant(s), and entry supervisor

Hazards of the permit space, and results of pre-entry and periodic tests

Measures used to isolate the permit space and to eliminate or control hazards before entry

Entry conditions

Rescue and emergency services available and how to call them

Communication procedures used to maintain contact during the entry

Equipment (including personal protective equipment) to be employed

Other information about the particular confined space needed for safety

Additional permits, such as for hot work (welding, etc.), issued to authorize the work.
OSHA's Construction Standard becomes effective on August 3, 2015. The General Industry Standard was last revised in 1999.
Self-Assessment Checklist
Has the organization evaluated its facilities and worksites to identify any confined spaces?
Has the organization performed hazard assessments for all confined spaces to determine the type and extent of hazards?
Has the organization defined any confined spaces where hazards risk death or serious injury as "permit-required confined spaces?
If any facility or worksite contains a permit-required confined space, has the organization established and implemented a written program that meets OSHA requirements?
Where Can I Go For More Information?
Specialty Technical Publishers (STP) provides a variety of single-law and multi-law services, intended to facilitate clients' understanding of and compliance with requirements. These include:
About the Author

Jon Elliott is President of Touchstone Environmental and has been a major contributor to STP's product range for over 25 years. He was involved in developing 12 existing products, including Environmental Compliance: A Simplified National Guide and The Complete Guide to Environmental Law.
Mr. Elliott has a diverse educational background. In addition to his Juris Doctor (University of California, Boalt Hall School of Law, 1981), he holds a Master of Public Policy (Goldman School of Public Policy [GSPP], UC Berkeley, 1980), and a Bachelor of Science in Mechanical Engineering (Princeton University, 1977).
Mr. Elliott is active in professional and community organizations. In addition, he is a past chairman of the Board of Directors of the GSPP Alumni Association, and past member of the Executive Committee of the State Bar of California's Environmental Law Section (including past chair of its Legislative Committee).
You may contact Mr. Elliott directly at: tei@ix.netcom.com.