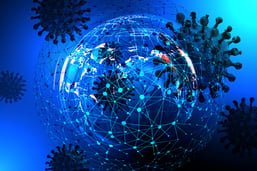 I wrote recently about guidance from the Occupational Safety and Health Administration (OSHA) and the Centers for Disease Control and Prevention (CDC) to help employers protect their workers against COVID-19 (coronavirus) infection. (see HERE).
But what if you don't?
On April 13, OSHA issued enforcement guidance to its inspectors and personnel, establishing procedures and priorities for COVID-19 related cases. Cases can arise from employee complaints about their employer's actions or inactions, or employer reports of an occupational injury or illness (I&I; see HERE) caused by COVID-19 infection. OSHA's guidance provides general direction, and several attachments with additional specific provisions.
What general directions does the new guidance provide?
The guidance covers all investigations and inspections specifically related to workplace hazards of the SARS-CoV-2 (severe acute respiratory syndrome coronavirus 2), which is the virus causing the current COVID-19 pandemic. OSHA restates its overall commitment to "continue to ensure safe and healthy conditions for America's working men and women by enforcing standards during this health crisis. In addition, heightened attention will be given to the risks posed by SARS-CoV-2." This guidance applies and tailors OSHA's general inspection and enforcement procedures to situations involving COVID-19:
"OSHA should investigate complaints, referrals, and employer-reported fatalities and hospitalizations to identify potentially hazardous occupational exposures and to ensure that employers take prompt actions to mitigate hazards and protect employees. Complaints received during the initial months of the outbreak describe concerns related to lack of personal protective equipment (PPE), such as respirators, gloves, and gowns. OSHA has also received complaints expressing concern about a lack of training on appropriate standards and about possible COVID-19 illnesses in the workplace. In most cases, Area Offices should process complaints from non-healthcare and non-emergency response establishments as "non-formal phone/fax," following the non-formal complaint and referral procedures in the [OSHA] Field Operations Manual (FOM)..,,"
Before scheduling an inspection, OSHA's Area Director (AD) is to apply general policies for considering possible violations and hazards suggested by the source information. Inspections are to follow tailored procedures described below. The guidance requires that any proposed COVID-19 related citations be reported by the AD to OSHA headquarters Directorate of Enforcement Programs.
What specific guidance does the policy provide?
OSHA's new policy includes an extensive Attachment 1 ("Specific Guidance for COVID-19 Enforcement"; it's 10 pages long in the original). Attachment 1 consists of four sections:
This section describes levels of relative risk, applying the "occupational risk pyramid" contained in OSHA's recent "Guidance on Preparing Workplaces for COVID-19" (which I summarized in my note on planning guidance). That Guidance provides methodologies to evaluate which work areas and job activities are subject to low, medium, high, or very high infection risks. OSHA staff are to use this approach when evaluating complaints or I&I reports for appropriate enforcement responses.
Complaints, Referrals, and Rapid Response Investigations (RRIs)
OSHA personnel are to use the general procedures in OSHA's Field Operations Manual (as revised in September 2019), including adjustments for COVID-19 issues:
Prioritize fatalities and imminent danger exposures for inspections, particularly with healthcare providers and first responders

Medium- and low-exposure risks will not usually warrant on-site inspections

Non-formal complaints will be followed up using general procedures for non-formal complaints

I&I hospitalizations will usually be handled using RRIs

Phone or fax communications should usually be handled by referring employers to online resources

Employer work operations generally should be documented to the extent feasible, noting any potentially serious hazards

Employees complaining or asking questions should be informed if they may be protected by whistleblower statutes

OSHA personnel will forward complaint information to other federal agencies when appropriate
Inspection Scope, Scheduling, and Procedures
Inspection Planning and Compliance Safety and Health Officer (CSHO) Training

Facilities with high and very high exposure hazards (such as healthcare and emergency facilities) as the typical high priorities for inspections or at least remote follow-up.

OSHA inspection staff must be familiar with self-protection measures, including procedures and PPE.

Inspection Procedures – should follow standard OSHA protocols, including opening conferences, program and document reviews, walkaround, protections for inspectors, investigation of relevant OSHA standards (such as I&I reporting, PPE, respiratory protection, sanitation, record keeping, and General Duty Clause provisions), citation standards and procedures

Enforcement Discretion – given, in particular

shortages of PPE and other equipment during the pandemic, in general and in particular settings

whether an employer is making a good-faith effort to provide adequate protections, particularly respiratory protection, including efforts to provide the best available interim protections (including appropriate procedures for deploying and maintaining them) and to secure fully adequate protective items

special circumstances for healthcare employers and their workers, since their activities attract and exacerbate exposures

Citation Guidance – primarily discussion of employer good-faith efforts to meet appropriate standards
Coding and Point of Contact
This section provides appropriate coding to be used by OSHA personnel when documenting activities related to COVID-19 hazards.
What sample documentation is provided?
Other attachments provide sample documentation:
Attachment 2 is a "Sample Employer Letter for COVID-19 Activities" -- notification from OSHA to employer that the agency has received a complaint or other documentation, and specifying

Attachment 3 is a "Sample Hazard Alert Letter for COVID-19 Inspection" – detailed items that may be included in post-contact and post-inspection notifications, depending on situations observed

Attachment 4 is a "Sample Alleged Violation Description (AVD) for Citing the General Duty Clause" – to be used when specific conditions provide hazards that are not readily tied to OSHA's standards

Attachment 5 provides "Additional COVID-19-Related References"
What's next?
The general media contain numerous discussions of situations where employees are working in conditions described as unsafe. For example, I recently read an article stating that a hospital in southern California had suspended nurses who refused to work with COVID-19 patients until they were provided adequate PPE at least comparable to PPE being provided to doctors in the same wards. While we can hope that more employers are improving protections for their workers, as they secure and provide equipment and training, some employers will fail to do so. This Enforcement Guidance puts employers on notice that OSHA will actively undertake inspection and enforcement activities when appropriate.
Self-Assessment Checklist
Does the organization have operations that are still open and staffed by employees or other workers?
If so, has the organization assessed these operations for COVID-19 risks to employees?
If so, has the organization implemented adequate information and precautionary measures (e.g., equipment and procedures recommended by the CDC and OSHA guidelines)?
Where Can I Go For More Information?
I provided a number of web resources for prevention in my March 25 blog linked above.
STP ComplianceEHS (STP) provides a variety of single-law and multi-law services, intended to facilitate clients' understanding of and compliance with requirements.
About the Author

Jon Elliott is President of Touchstone Environmental and has been a major contributor to STP's product range for over 30 years.

Mr. Elliott has a diverse educational background. In addition to his Juris Doctor (University of California, Boalt Hall School of Law, 1981), he holds a Master of Public Policy (Goldman School of Public Policy [GSPP], UC Berkeley, 1980), and a Bachelor of Science in Mechanical Engineering (Princeton University, 1977).

Mr. Elliott is active in professional and community organizations. In addition, he is a past chairman of the Board of Directors of the GSPP Alumni Association, and past member of the Executive Committee of the State Bar of California's Environmental Law Section (including past chair of its Legislative Committee).
You may contact Mr. Elliott directly at: tei@ix.netcom.com