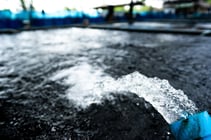 Effective March 1, 2021, the Environmental Protection Agency (EPA) has issued a revised "National Pollutant Discharge Elimination System (NPDES) Multi-Sector General Permit for Discharges from industrial Activities" (MSGP)." This new 2021 MSGP replaces EPA's 2015 MSGP (which expired in 2020 but was continued by administrative fiat). Compliance begins May 30, 2021 for facilities that have been subject to the 2015 MSGP. Even though EPA's direct permit authority applies only in limited parts of the country, the new MSGP provides a reminder to organizations nationwide that stormwater management efforts need to be thorough and up-to-date.
How does EPA regulate stormwater discharges?
The Clean Water Act's (CWA's) NPDES discharge permit system includes provisions for "stormwater" that may contain pollutants such as oil, industrial contaminants, and sediment. This means run-off of rain or snow melt containing pollutants from manufacturing, processing, or raw material storage areas at an industrial site, that passes through a "conveyance" (such as a storm drain) into waters of the United States. EPA administers or delegates permit programs covering discharges from the following:
Industrial activity (EPA defines 30 manufacturing and storage categories, by sector/activities)

Construction sites that disturb 1 acre or more of land (and selected smaller sites; I discuss EPA's current 2017 Construction General Permit HERE)

Municipal separate storm sewer systems (MS4s; which convey stormwater from facilities and roadways to receiving waters), subdivided to distinguish "traditional county/city MS4s" and "transportation MS4s (e.g., stretches of highway managed by a state transportation agency)"
Facilities can obtain a unique individual permit, but most instead comply with a general permit. General permits stipulate regulatory conditions in advance for sufficiently similar dischargers, which qualifying dischargers can meet without forcing permittees and permit agencies to go through individualized permitting processes that would likely result in the same requirements anyway.
Although CWA requirements apply nationwide, in most areas of the country states have been authorized to administer requirements under delegation from EPA. Accordingly, EPA's 2021 MSGP applies directly only in the following limited areas:
Four states: Idaho (which receives stormwater authorization on July 2, 2021), Massachusetts, New Hampshire, and New Mexico

District of Columbia, Puerto Rico, and other U.S. terriroties except for the Virgin Islands

Federally operated facilities in Colorado, Delaware, Vermont, and Washington

Most Indian Country lands, and

Other designated activities in specific states (e.g., oil and gas activities in Texas and Oklahoma)
However, state requirements are generally comparable.
What Does the New MSGP Require?
The 2021 MSGP requires dischargers to comply with the following requirements. These requirements include changes from the 2015 MSGP to streamline a number of generalized requirements, and to require additional details about higher priority items. The 2021 MSGP adds an explicit requirement that facilities post notice that they are subject to the MSGP.
EPA specifies the types of industrial facilities eligible for coverage under the MSGP. Eligibility criteria include: facility in one of the 30 designated industrial categories; for stormwater discharges or stormwater mixed with otherwise exempt wastewaters; or runoff from sources specifically subject to requirements (e.g., spray-down of logs, specified materials storage, or fire system flushing)
Notice of Intent (NOI) or No Exposure Certification (NEC)
Dischargers seek coverage under the MSGP by using EPA's NPDES eReporting Tool for the MSGP (NeT-MSGP) to electronically prepare and submit a complete and accurate NOI by the applicable deadline. The NOI requires information on the facility owner/operator, the site and its discharges, and stormwater management activities (see below). Applicants provide data on the number of dischargers complying with the permit, their identities, the nature of their operations, and their locations. The NOI alerts EPA that the discharger is eligible and intends to comply with MSGP requirements.
Alternatively, if all of industrial materials and activities are protected by a storm-resistant shelter to prevent exposure to rain, snow, snowmelt, and/or runoff, then facilities that would otherwise require coverage under the MSGP can seek exemption from the permit requirements by submitting a No Exposure Certification, which is also accomplished using the NeT-MSGP tool. Facilities are required to resubmit at least every 5 years.
A similar process applies to filing a Notice of Termination when changing conditions remove a facility from eligibility.
Storm Water Pollution Prevention Plans, Monitoring, and Reporting
The primary requirement for ongoing compliance is the creation and implementation of a Storm Water Pollution Prevention Plan (SWPPP) and a monitoring program at each facility. SWPPPs must be designed to identify and evaluate sources of pollutants associated with industrial activities that affect the quality of storm water discharges, and authorized non–storm water discharges from a facility. The MSGP includes an extensive description of steps required to develop and implement an effective SWPPP, including identification of a storm water pollution prevention team; site description; summary of potential pollutant sources; description of control measures (which may include spill prevention and response measures such as Best Management Practices); schedules and procedures; documentation to support eligibility considerations under other federal laws; and required signatures.
The MSGP also imposes comprehensive monitoring requirements to ensure compliance with the facility's SWPPP. SWPPPs must be prepared before a facility discharges storm water, be retained on site, and be made available to appropriate federal, state, and local government agencies. The new MSGP also requires also requires reporting, including specified one-time, annual, and quarterly reports.
What's next?
As noted above, EPA's MSGP applies to facilities in limited geographic areas where states haven't been authorized to assume administration. Facilities already subject to the MSGP must apply by May 30, those that became subject to the MSGP during the administrative extension period beginning in 2020 must apply by June 23, and newly-regulated facilities apply within 30 days before discharges begin. If an organization has facilities in other jurisdictions, their particular requirements and timelines will apply instead. However, this latest update from EPA is a useful reminder to facilities nationwide to review their compliance with requirements imposed on each of their facilities by appropriate water quality agencies.
Self-Assessment Checklist
Does the organization have any facilities that discharge stormwater runoff?
If so, has the agency determined which agency(ies) administer stormwater management requirements, and whether each facility is in compliance with applicable requirements, including self-inspection, SWPPP, monitoring, and reporting?
If any of the organization's facilities are eligible for EPA's MSGP, is the organization preparing to make necessary updates required to comply with the 2021 MSGP?
Where Can I Go For More Information?
About the Author

Jon Elliott is President of Touchstone Environmental and has been a major contributor to STP's product range for over 30 years.

Mr. Elliott has a diverse educational background. In addition to his Juris Doctor (University of California, Boalt Hall School of Law, 1981), he holds a Master of Public Policy (Goldman School of Public Policy [GSPP], UC Berkeley, 1980), and a Bachelor of Science in Mechanical Engineering (Princeton University, 1977).

Mr. Elliott is active in professional and community organizations. In addition, he is a past chairman of the Board of Directors of the GSPP Alumni Association, and past member of the Executive Committee of the State Bar of California's Environmental Law Section (including past chair of its Legislative Committee).
You may contact Mr. Elliott directly at: tei@ix.netcom.com