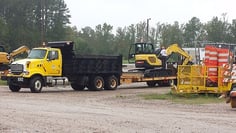 Effective February 16, 2017, the Environmental Protection Agency (EPA) has issued a revised "National Pollutant Discharge Elimination System [NPDES] General Permit for Discharges from Construction Activities" (CGP)." This new 2017 CGP replaces EPA's 2012 CGP, updating requirements for entities with construction sites that disturb more than 1 acre of land – readers should keep in mind that this covers individual projects, so that even if your organization isn't a construction company or developer, a big expansion at your facility may be covered.
How are Stormwater

Discharges

Regulated?
The Clean Water Act's (CWA's) NPDES discharge permit system includes provisions for "stormwater" that may contain pollutants such as oil, industrial contaminants, and sediment. This means run-off of rain or snow melt containing pollutants from manufacturing, processing, or raw material storage areas at an industrial site, that passes through a "conveyance" (such as a storm drain) into waters of the United States. EPA administers or delegates permit programs covering discharges from the following:
Industrial activity (EPA defines 30 categories, by sector/activities)

Construction sites that disturb 1 acre or more of land (includes smaller sites acre that are part of a larger common plan of development or sale that will ultimately disturb more than 1)

Municipal separate storm sewer systems (MS4s; which convey stormwater from facilities and roadways to receiving waters).
Facilities can obtain an individual permit, but most instead comply with a general permit. General permits stipulate regulatory conditions in advance for sufficiently similar dischargers, which qualifying dischargers can meet without forcing permittees and permit agencies to go through individualized permitting processes that would likely result in the same requirements anyway. EPA issues the following general permits for stormwater discharges (individual EPA regions and states issue some superseding general permits applicable within their jurisdictions):
EPA NPDES Multi-Sector General Permit for Stormwater Discharges Associated with Industrial Activity (MSGP; latest June 2015 (2015 MSGP))

EPA NPDES CGP, just reissued in 2017

EPA NPDES General Permit for Storm Water Discharges from Small MS4s
EPA exempts most stormwater discharges from oil and gas exploration, production, processing, or treatment operations, or transmission facilities, including associated construction activities, from these requirements.
What Does the New CGP Require?
EPA stormwater regulations define construction activity to include clearing, grading, or excavation that results in soil disturbance of at least one acre of land (including sites smaller than one acre that are part of a larger common plan of development or sale). Construction activity does not include routine maintenance to maintain original line and grade, hydraulic capacity, or the original purpose of the facility, or emergency activities required to protect public health and safety.
The new CGP requires the operator of a targeted project to file an electronic notice of intent (NOI; EPA Form 3510-9) at least 14 days before starting the project (NOIs can be filed for qualifying emergency projects up to 30 days after starting) (the 2012 CGP allowed paper NOIs, and required only 7 days prior notice). Each NOI requires the legal name and address of the facility's owner and operator, the facility's name and address, the type of facility or discharges, and the receiving stream.
Full applications require dischargers to provide comprehensive information, including the following:
Effluent limitations (i.e., requirements for erosion and sediment and pollutant prevention controls, incorporating EPA's NPDES requirements for the "construction and development point source category")

Self-inspections

Corrective actions

Staff training

Development of a stormwater pollution prevention plan (SWPPP)

Additional permit conditions applicable to sites in specific states, Indian country lands, and territories

Termination
Permits are renewable. A facility can exit stormwater regulation by submitting a Notice of Termination (NOT) (EPA Form 3510-13) when the project is complete and disturbed soils at the site are stabilized.
Self-Assessment Checklist
Does the organization have any construction projects planned or underway, which disturb more than one acre of land? Has the organization filed one of the following for each such facility, along with supporting documentation and required fee:
NOI to operate subject to Construction General Permit (2012 CGP if filed before 2/16/17; 2017 CGP thereafter)

Application to incorporate stormwater discharges into the facility's individual NPDES permit?
Does each such facility comply with applicable requirements, including self-inspection, SWPPP, monitoring, and reporting requirements?
Where Can I Go For More Information?
Specialty Technical Publishers (STP) provides a variety of single-law and multi-law services, intended to facilitate clients' understanding of and compliance with requirements. These include:
About the Author

Jon Elliott is President of Touchstone Environmental and has been a major contributor to STP's product range for over 25 years. He was involved in developing 13 existing products, including Environmental Compliance: A Simplified National Guide and The Complete Guide to Environmental Law.

Mr. Elliott has a diverse educational background. In addition to his Juris Doctor (University of California, Boalt Hall School of Law, 1981), he holds a Master of Public Policy (Goldman School of Public Policy [GSPP], UC Berkeley, 1980), and a Bachelor of Science in Mechanical Engineering (Princeton University, 1977).

Mr. Elliott is active in professional and community organizations. In addition, he is a past chairman of the Board of Directors of the GSPP Alumni Association, and past member of the Executive Committee of the State Bar of California's Environmental Law Section (including past chair of its Legislative Committee).
You may contact Mr. Elliott directly at: tei@ix.netcom.com