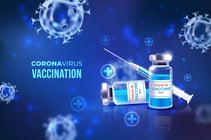 Now that vaccinations against COVID-19 infections are becoming available, employer responses to the pandemic will include when to recommend, support, or even require employee vaccinations. While workplace safety considerations might support all these efforts, the Equal Employment Opportunity Commission (EEOC) has just issued a reminder that the Americans with Disabilities Act (ADA) and Title VII of the Civil Rights Act of 1964 require employers to craft their vaccination policies in ways that won't violate anti-discrimination provisions. The remainder of this note discusses EEOC guidance published on December 16, 2020.
Who does ADA protect against discrimination?
ADA forbids employment discrimination based on disability, in three overlapping ways:
ADA regulates employers' disability-related inquiries and medical examinations for job applicants and employees

ADA requires reasonable accommodations for individuals with disabilities (absent undue hardship)

ADA prohibits covered employers from excluding individuals with disabilities from the workplace for health or safety reasons unless they pose a "direct threat" (i.e. a significant risk of substantial harm even with reasonable accommodation).
ADA defines a disability as any of the following:
A physical or mental impairment that substantially limits one or more of a person's major life activities.

A record of such an impairment.

"Being regarded as having such an impairment" by the covered entity (employer, agency, etc.), for purposes of anti-discrimination requirements.
EEOC regulations define terms, and extensive EEOC guidance to employers, employees and enforcement personnel embody interpretations by the agency and federal courts. COVI-19 infections aren't disabilities, but efforts to prevent them may implicate these protections
How does ADA affect pandemic responses?
EEOC's latest guidance applies the three broad themes enumerated above to considerations of COVID vaccinations:
Employer-provided vaccinations are not "disability-related inquiries or medical examinations." However, pre-screening vaccination questions may implicate disability-related inquiries, if they are likely to elicit information about a disability. If the employer (or the medical professional it uses) ask pre-screening questions they must be "job-related and consistent with business necessity."

The Centers for Disease Control and Prevention (CDC) directs health providers to ask screening questions. However, as EEOC notes:

If an employee volunteers to receive a vaccination without answering questions, ADA is not implicated (although employers should note there may be liability issues)

If an employer chooses not to vaccinate an individual employee who declines to answer questions that choice does not violate ADA, but the employer cannot retaliate against, intimidate, or threaten the employee for refusing to answer any questions.

if an employee receives an employer-required vaccination from a third party that does not have a contract with the employer, such as a pharmacy or other health care provider, ADA's restrictions on disability-related inquiries would not apply to third party pre-vaccination medical screening questions if the employer is not privy to the answers.

Asking or requiring an employee to show proof of receipt of a COVID-19 vaccination is not a disability-related inquiry. Follow-up questions may be, however.

An employer may be able to apply the "direct threat" exclusion to deny a non-vaccinated employee access to the workplace, but EEOC counsels employers to apply the agency's 4-factor test to the particular workplace's conditions – including other preventive and protective measures that might be applied – in order to determine whether that exclusion applies:

the duration of the risk

the nature and severity of the potential harm

the likelihood that the potential harm will occur; and

the imminence of the potential harm.
How does the Civil Rights Act affect pandemic responses?
Title VII of the Civil Rights Act prohibits religious discrimination. Accordingly, if an employee cannot get vaccinated for COVID-19 because of a sincerely held religious belief, practice, or observance, Title VII is implicated. However, if no reasonable accommodation is possible (including the preventive or protective measures that might be considered in response to ADA issues), then EEOC considers it lawful for the employer to exclude the employee from the workplace, but not to automatically terminate the worker.
Might other federal and state rights acts affect pandemic responses?
EEOC notes that employers will also need to determine if any other rights apply under the federal equal employment opportunity laws or other federal, state, and local authorities. As one example, EEOC states that Title II of the Genetic Information Nondiscrimination Act (GINA) may be implicated by pre-vaccination screening questions (which could elicit genetic information) but is not implicated if an employer asks employees to provide proof of vaccination.
Now what?
EEOC's guidance encourages employers to provide for vaccinations, and does not discourage mandatory vaccinations. However, it appears that an employer that chooses to require vaccinations should do so using third party providers in order to separate itself from possibly-discriminatory questions, should consider whether preventive or protective measures might enable the employer to safely allow non-vaccinated employees in the workplace, and should establish internal guidelines covering vaccinations and non-vaccinations.
Self-Evaluation Checklist
Does the organization have a formal policy regarding COVID-19 vaccinations for its employees?
If so, does it encourage vaccination

If so, does it require vaccination

If so, does it provide for vaccinations at the workplace by the employer or a third party, and/or for off-site vaccinations
Does the organization allow, or require, employees to provide certification of COVD-19 vaccinations?
Has the organization evaluated measures in the workplace to prevent or minimize the threat of COVID-19 infections among personnel?
Does the organization administer procedures for development of reasonable accommodations when appropriate?
Does the organization follow-up appropriately to reporting of possible discrimination on the basis of disability, or characteristics (such as religion) protected by Title VII or other equal employment opportunity requirements?
Where Can I Go For More Information?
About the Author

Jon Elliott is President of Touchstone Environmental and has been a major contributor to STP's product range for over 30 years.

Mr. Elliott has a diverse educational background. In addition to his Juris Doctor (University of California, Boalt Hall School of Law, 1981), he holds a Master of Public Policy (Goldman School of Public Policy [GSPP], UC Berkeley, 1980), and a Bachelor of Science in Mechanical Engineering (Princeton University, 1977).

Mr. Elliott is active in professional and community organizations. In addition, he is a past chairman of the Board of Directors of the GSPP Alumni Association, and past member of the Executive Committee of the State Bar of California's Environmental Law Section (including past chair of its Legislative Committee).
You may contact Mr. Elliott directly at: tei@ix.netcom.com