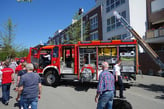 The federal Chemical Safety and Hazard Investigation Board – which usually refers to itself as the Chemical Safety Board or CSB – began operations in 1998. CSB conducts independent investigations of major chemical accidents, issues accident-specific findings, and offers specific or general recommendations for improved chemical handling and regulation (I wrote about one set of proposals here). Since its authorization in the 1990 Clean Air Act (CAA) Amendments, CSB has also had authority to establish chemical accident reporting regulations.
In December 2019, CSB has proposed to issue reporting regulations under this 30-year old authority. This proposal responds to a court order in February 2019, requiring it to do so, in litigation brought by four nonprofit groups (Air Alliance Houston, Public Employees for Environmental Responsibility, Louisiana Bucket Brigade, and United Support and Memorial for Workplace Fatalities). The proposal picks up a long-neglected regulatory thread from In 2009, when CSB issued an Advance Notice of Proposed Rulemaking (ANPRM) seeking comments on how the agency could best proceed to design chemical accident reporting regulations (I included a summary of that ANPRM here).
The remainder of this note summarizes CSB's proposal.
Which Accidental Releases are to be Covered?
The proposal requires reporting of an accidental release of any regulated substance or extremely hazardous substance (EHS) that results in a fatality, serious injury, or significant property damage. CWB's proposal includes definitions of these highlighted terms; some definitions are drawn from other regulations issued by the Environmental Protection Agency (EPA).
Accidental release means "an unanticipated emission of a regulated substance or other extremely hazardous substance into the ambient air from a stationary source." For these rules:

"Regulated substance" is one of the materials regulated by EPA as part of its Accidental Prevention Program (ARP). (I wrote about recent ARP rule revisions here)

"Extremely hazardous substance (EHS)" means "any substance which may cause death, serious injury, or substantial property damages, including but not limited to, any ''regulated substance'' at or below any threshold quantity set by [EPA]…" This open-ended definition means that stationary sources will not know in advance which chemicals are regulated

Stationary source means "any buildings, structures, equipment, installations, or substance-emitting stationary activities which belong to the same industrial group, which are located on one or more contiguous properties, which are under the control of the same person (or persons under common control), and from which an accidental release may occur." This definition repeats the statutory definition in the CAA, and EPA's ARP rules; however, note that a facility could also be a stationary source for a non-ARP EHS.

Fatality, serious injury, or significant property damage covers several outcomes:

Fatality is undefined, but presumably means a death

Serious injury means any injury that results in any of the following, which match Occupational Safety and Health Administration (OSHA) occupational injury definitions:
Death; one or more days away from work; restricted work or transfer to another job; medical treatment beyond first aid; loss of consciousness; or

Any injury or illness diagnosed by a physician or other licensed health care professional, even if it does not result in death, days away from work, restricted work or job transfer, medical treatment beyond first aid, or loss of consciousness.
Substantial property damages means "estimated property damage at or outside the stationary source equal to or greater than $1,000,000.
How are These Accidents to be Reported?
CSB proposes two sets of reporting requirements, depending on whether reporting is also made under the Superfund law:
If reporting has been made to the National Response Center (NRC) in compliance with 40 CFR section 302.6 (report release of a "reportable quantity (RQ) of a Superfund-listed hazardous substance), then CSB's requirement will be met by providing CSB a copy of the NRC identification number of the report.

Otherwise, submit a report to CSB (at report@csb.gov or 202/261-7600) within 4 hours after the release, with the following information as applicable:

The name of, and contact information for, the owner/operator;

The name of, and contact information for, the person making the report;

The location information and facility identifier;

The approximate time of the accidental release;

A brief description of the accidental release;

An indication whether one or more of the following has occurred: Fire; Explosion; Death; Serious injury; or Property damage;

The name of the material(s) involved in the accidental release, the Chemical Abstract Service (CAS) number(s), or other appropriate identifiers;

If known, the amount of the release;

If known, the number of fatalities;

If known, the number of serious injuries;

Estimated property damage at or outside the stationary source;

Whether the accidental release has resulted in an evacuation order impacting members of the general public and others, and, if known: The number of people evacuated; Approximate radius of the evacuation zone; and the type of individuals subject to the evacuation order (i.e., employees, members of the general public, or both).
What Additional Administrative Provisions Apply?
CSB is proposing that members of the public will be able to access release reports by making Freedom of Information Act (FOIA) requests – note that other report-receiving agencies routinely provide at least some information on their websites. CSB is also proposing that it will forward information about suspected violations to EPA for enforcement action under the Superfund law.
What's Next?
Comments are due by January 13, 2020. CSB will then review comments and presumably will finalize its new requirements.
Self-Assessment Checklist
Do any of my organization's facilities manage chemicals that are subject to EPA's Accidental Release Prevention (ARP) rules?
Do any of my organization's facilities manage chemicals that listed as hazardous substances by EPA under the Superfund law, in quantities that meet or exceed applicable Reportable Quantities?

Does each such facility have procedures in place to make all required release reports, based on the type, quantity and location of a spill or other release?
Where Can I Go For More Information?
Specialty Technical Publishers (STP) provides a variety of single-law and multi-law services, intended to facilitate clients' understanding of and compliance with requirements.
About the Author

Jon Elliott is President of Touchstone Environmental and has been a major contributor to STP's product range for over 30 years.

Mr. Elliott has a diverse educational background. In addition to his Juris Doctor (University of California, Boalt Hall School of Law, 1981), he holds a Master of Public Policy (Goldman School of Public Policy [GSPP], UC Berkeley, 1980), and a Bachelor of Science in Mechanical Engineering (Princeton University, 1977).

Mr. Elliott is active in professional and community organizations. In addition, he is a past chairman of the Board of Directors of the GSPP Alumni Association, and past member of the Executive Committee of the State Bar of California's Environmental Law Section (including past chair of its Legislative Committee).
You may contact Mr. Elliott directly at: tei@ix.netcom.com