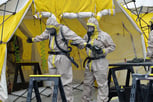 Among nearly one thousand pages of expansions to Clean Air Act (CAA) requirements, the 1990 CAA Amendments legislation provided for the creation of a national agency to conduct independent investigations of major chemical accidents, to issue accident-specific findings and specific or general recommendations for improved chemical handling and regulation, and to establish chemical accident reporting regulations. This agency's formal name is the Chemical Safety and Hazard Investigation Board – which usually refers to itself as the Chemical Safety Board or CSB. CSB was finally funded and began work in federal Fiscal Year (FY) 1997-1998.
Although CSB has actively pursued its responsibilities for accident investigation and recommendations (I wrote about one set of proposals here), it has still never issued chemical accident reporting regulations. In December 2017, four nonprofit groups (Air Alliance Houston, Public Employees for Environmental Responsibility, Louisiana Bucket Brigade, and United Support and Memorial for Workplace Fatalities) sued to require CSB to issue these long-delayed regulations. In February 2019 the federal District Court for the District of Columbia issued an order directing CSB to complete the task within one year.
CSB's FY 2020 budget request identifies the need for funding to meet this deadline, although the federal budget has not yet been adopted and the agency has not yet released any information about the effort. The remainder of this note identifies an approach CSB began to take during 2009, as a possible indication of what it will do this year.
What Was CSB's Approach in 2009?
In 2009, CSB issued an Advance Notice of Proposed Rulemaking (ANPRM), seeking comments on how the agency could best proceed to design chemical accident reporting regulations. CSB asked for comments on the following questions:
Are there Federal, State, or local rules or programs for reporting chemical or other types of incidents that would be an appropriate model for the CSB to consider in developing a reporting requirement?

Should an initial report be made to the CSB or the National Response Center?

What information should be reported to the CSB?

How soon after an accident should reporting occur?

Should the rule be designed with distinct requirements for rapid notification of high-consequence incidents and more systematic (and slower) notification of other incidents?

What specific factors (such as lists of chemicals or specific consequences) should the CSB consider in drafting a proposed rule?

How should the CSB gather information on incidents (such as combustible dust explosions and reactive chemical incidents) that may not involve specifically listed hazardous substances?

How might this reporting requirement best be tailored to avoid duplication with existing sources of information on chemical incidents, including federal, state, or local reporting requirements?

How might the CSB best target compliance education efforts?
CSB identified four general approaches, and asked for comments on these and other possible approaches:
"A comprehensive approach would require the reporting of information on all accidental releases subject to the CSB's investigatory jurisdiction…."

"A targeted approach would require reporting of basic information (e.g., location, date, and time of incident; chemical involved; number of injuries) for incidents that met significant consequence thresholds (incidents that result in death, serious injuries requiring in-patient hospitalization, large public evacuations, very substantial property damage, or acute environmental impact)…."

"[R]equire owners or operators to report to the CSB more extensive information on chemical incidents in their workplace when notified by the CSB. The agency would continue to rely primarily on existing sources for initially learning of chemical incidents, but would follow up on a subset of the incidents…."

"A fourth approach to a reporting requirement could be based upon the presence or release of specified chemicals and specified threshold amounts…."
According to the District Court decision, CSB received 27 comments, but then dropped the entire effort. Since 2009, SCB has continued to rely on information received by other agencies (National Response Center, etc.) and the media.
What's Next?
The court gave CSB 12 months – until February 2020 – to issue rules. Since that date, the only public information I can find is CSB's FY 2020 budget request. There is not yet a federal budget for FY 2020. It's possible that CSB is working quietly to prepare a new ANPRM or proposal. Absent any information, it seems likely to me that the rules will eventually proceed, but that CSB may well end up seeking a delay from the court (the District Court decision considered and rejected CSB's initial request for 24 months).
Self-Assessment Checklist
Do any of my organization's facilities manage chemicals that are subject to existing release reporting requirements?

Does each such facility have procedures in place to make all required release reports, based on the type, quantity and location of a spill or other release?

If any facility has had a reportable release, did it follow its procedures, make required reports and follow-up, and review its procedures thereafter?
Where Can I Go for More Information?
About the Author

Jon Elliott is President of Touchstone Environmental and has been a major contributor to STP's product range for over 30 years.

Mr. Elliott has a diverse educational background. In addition to his Juris Doctor (University of California, Boalt Hall School of Law, 1981), he holds a Master of Public Policy (Goldman School of Public Policy [GSPP], UC Berkeley, 1980), and a Bachelor of Science in Mechanical Engineering (Princeton University, 1977).

Mr. Elliott is active in professional and community organizations. In addition, he is a past chairman of the Board of Directors of the GSPP Alumni Association, and past member of the Executive Committee of the State Bar of California's Environmental Law Section (including past chair of its Legislative Committee).
You may contact Mr. Elliott directly at: tei@ix.netcom.com