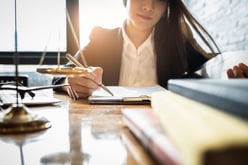 A variety of laws and regulations each prohibit sexual harassment in workplaces. These include:
· Human rights laws prohibit employers from committing or condoning discrimination, including sex discrimination which includes sexual harassment.
· General labour statutes find that harassment can alter terms of employment and even trigger constructive dismissal.
· Occupational health and safety laws protect workers from workplace hazards, which increasingly including bullying and harassment.
· Workers compensation laws provide an insurance system to compensate workers for occupational injuries and illness.
If a single workplace situation might involve violations of more than one of these statutes, does any one statute have exclusive or superseding authority that would require a plaintiff to pick one recourse to the exclusion of others? And if you're a director, can you force a proceeding into the workers compensation arena in order to preclude personal liability?
The Supreme Court of British Columbia recently rejected an employer's attempt to do just that, finding that human rights and workers compensation statutes (and recourses after violations) are not mutually exclusive (Deol v Dreyer Davison LLP, 2020 BCSC 771).
What was the case?
Neha Deol sued her former employer Dreyer Davison LLP, and personally sued one of the law firm's partners, Rowan Davison, claiming she had been subject to inappropriate conduct by Mr. Davison. She described a number of inappropriate, unprofessional, and disrespectful interactions, including that Davison regularly gave unwanted kisses to female staff (including the plaintiff), propositioned her to come to his hotel room at a legal conference, and opened her blazer and commented on her body. She described her efforts to address the actions, including discussions with Davison's partner that did not result in any action to stop Davison's actions. She claimed this pattern was so extensive and severe that she had been constructively dismissed from her job. She sought damages for breach of contract (constructive dismissal), as well as aggravated and punitive damages.
The defendants sought to dismiss this civil suit. They argued that the facts of the case did not support a claim for constructive dismissal. They also argued that Deol's claims amounted to claims of sexual discrimination (harassment) properly brought before the British Columbian Human Rights Tribunal under the BC Human Rights Code, or to workplace harm from tortious or injurious conduct (sexual harassment) properly brought before the BC Workers Compensation Board under the BC Workers Compensation Act. Had they succeeded, this case would have been dismissed; had the dispute been rerouted to the Workers Compensation Board then Mr. Davison would not have been subject to personal liability.
The case eventually reached the BC Supreme Court for decision.
What has the BC Supreme Court decided?
In the Supreme Court, Madam Justice Marzari reviewed the laws, prior cases, and the facts of this case.
First, the Court reviewed case law concerning constructive dismissal, identifying two lines of cases:
· review of specific express or implied terms of the employment contract allegedly violated, or
· considering whether the pattern of employer actions indicate that the employer did not intend to be bound by the contract, effectively repudiating the contract or making continued employment "objectively intolerable."
For purposes of a motion to dismiss, the court accepts the facts as argued by the respondent. In this case, the Court found that Deol's claims, if true, demonstrated that her working conditions were objectively intolerable. In this context, the question of punitive or aggravated damages is left to resolution at trial. She also found that the plaintiff's claims under contract were appropriately brought against the law firm as her employer, not against Davison personally.
Second, the Court reviewed the Human Rights Code and the Workers Compensation Act, to determine whether either assigned exclusive jurisdiction to their respective administrative tribunals. Justice Marzari determined that neither law did so, leaving plaintiff Deol to determine how and where to bring her claims.
What's next?
Readers should know that many corporate and workplace situations are subject to a range of laws, which may overlap or conflict. Sexual harassment prohibitions are increasingly typical of this pattern, and include at least some legal standards that provide potential personal liability for directors. Employers (and their directors) can pursue efforts to prevent or stop harassment via organizational policy and procedures, diligently implemented. If you and your organization do find yourselves subject to complaints, you need to seek specialized professional advice.
Self-assessment checklist
• Does the organization have policies in place to prevent workplace sex discrimination and harassment?
• If so, do the policies reflect standards of performance and liability imposed by all applicable laws and regulations, including employment contract laws, human rights laws, work protection laws, and workers compensation laws?
Where can I go for more information?
• Deol v Dreyer Davison LLP (2020 BCSC 771 (CanLII))
About the Author

Jon Elliott is President of Touchstone Environmental and has been a major contributor to STP's product range for over 30 years.

Mr. Elliott has a diverse educational background. In addition to his Juris Doctor (University of California, Boalt Hall School of Law, 1981), he holds a Master of Public Policy (Goldman School of Public Policy [GSPP], UC Berkeley, 1980), and a Bachelor of Science in Mechanical Engineering (Princeton University, 1977).

Mr. Elliott is active in professional and community organizations. In addition, he is a past chairman of the Board of Directors of the GSPP Alumni Association, and past member of the Executive Committee of the State Bar of California's Environmental Law Section (including past chair of its Legislative Committee).
You may contact Mr. Elliott directly at: tei@ix.netcom.com