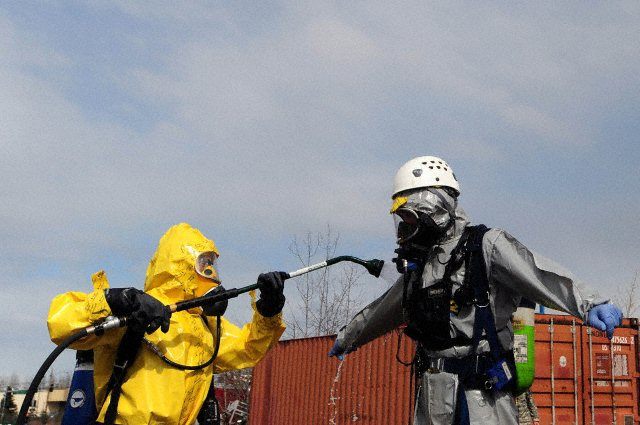 Last August, President Obama issued an Executive Order (EO 13650) to agencies with responsibilities for chemical facility safety (I blogged about it here). The EO provides for a Chemical Facility Safety and Security Working Group, co-chaired by the Department of Homeland Security (DHS, which administers the Chemical Facility Anti-Terrorism Standards (CFATS) program), Environmental Protection Agency (EPA, which administers the Accidental Release Prevention (ARP) program under Clean Air Act) and Department of Labor's Occupational Safety and Health Administration (OSHA, which administers Chemical Process Safety Management (PSM) Standard), and also including the Departments of Transportation, Justice (DOJ) and Agriculture. It directs them to work together to improve their operational coordination, and to consult with other security and environmental agencies at all levels of government, as well as the White House.
What Has the Working Group Accomplished So Far?
Last month, the Working Group issued a substantial progress report, describing the first nine months of activities. This report identifies the following priority activities, each being pursued by one or more interagency federal workgroups, which have also solicited input from other agencies and the public, held public information and comment sessions, and established pilot projects to develop and publicize best practices and potential enhancements. These include:
Strengthening community planning and preparedness. These activities consist primarily of work with Local Emergency Planning Committees and Tribal Emergency Planning Committees (formed throughout the country in 1987 to implement provisions of the Emergency Planning and Community Right-to-Know Act (EPCRA)) to improve planning and response practices.

Enhancing federal operational coordination. These activities have consisted of informational and planning meetings, to develop best practices, and strengthen existing inter-agency memoranda of understanding (MOUs).

Improving data management. These activities have focused on identification of gaps and overlaps in agency- and program-specific data management systems, and on improving access and consistency/standardization.

Modernizing policies and regulations. These activities have focused on gathering information about worthwhile revisions – see below.

Incorporating stakeholder feedback and developing best practices. Activities include listening sessions around the country, meetings with key state, local, and industry stakeholders, and establishment of public dockets to receive and report comments.
What Can We Expect?
The Working group and its member agencies and constituent workgroups also report on their next steps. Most will be internal to governmental operations, showing up to the outside world as streamlining or polishing to existing functions. But the efforts at "modernizing policies and regulations" will be intended to make obvious and significant changes affecting regulated organizations and the public. The latest report identifies ten priority action areas to modernize chemical facility safety and security policy and regulations, including:
Modernizing OSHA's PSM standard to improve safety and enforcement.

Modernizing EPA's RMP regulation.

Enhancing ammonium nitrate safety and security.

Promoting safer technology and alternatives.

Building a stronger CFATS program.

Developing guidance and outreach programs to help industry understand process safety and security requirements and best practices.

Working with states to improve Safe Drinking Water Act measures to prevent and prepare for chemical spills.

Working with Congress to strengthen and increase OSHA monetary and criminal penalties.

Working with Congress to pursue statutory amendment to the Safe Explosives Act.

Improving process for notification of stored explosives to fire authorities.
The report includes additional details about each of these ten priorities tasks. Most changes, if they are accomplished, will come through narrowly-designed rulemakings in which a responsible agency can incorporate broader perspectives when updating its specific regulations, guidelines and policies. If and how these enhancements occur remain to be seen.
Self-Assessment Checklist
Do any of my organization's facilities manage chemicals subject to ARP, PSM and/or CFATS?
If so, does any facility comply with:
One of those programs?

More than one of those programs?
Has the organization developed organizational-level and/or facility-level programs for chemical risk assessment and handling consistent with requirements of ARP, PSM and/or CFATS?
Is the organization participating in review and reform activities being undertaken by the implementing agency (or at least tracking them)?
Where Can I Go For More Information?
Specialty Technical Publishers (STP) provides a variety of single-law and multi-law services, intended to facilitate clients' understanding of and compliance with requirements. These include:
About the Author

Jon Elliott is President of Touchstone Environmental and has been a major contributor to STP's product range for over 25 years. He was involved in developing 16 existing products, including Environmental Compliance: A Simplified National Guide and The Complete Guide to Environmental Law.
Mr. Elliott has a diverse educational background. In addition to his Juris Doctor (University of California, Boalt Hall School of Law, 1981), he holds a Master of Public Policy (Goldman School of Public Policy [GSPP], UC Berkeley, 1980), and a Bachelor of Science in Mechanical Engineering (Princeton University, 1977).
Mr. Elliott is active in professional and community organizations. In addition, he is a past chairman of the Board of Directors of the GSPP Alumni Association, and past member of the Executive Committee of the State Bar of California's Environmental Law Section (including past chair of its Legislative Committee).
You may contact Mr. Elliott directly at: tei@ix.netcom.com.