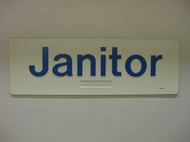 Even workplaces with very limited chemical use probably use cleaning supplies. If these supplies are bought in typical retail packaging intended for consumer use, the employer and employees may lack ready access to chemical content information beyond that on the labels. That's because the Hazard Communication Standard (Hazcom) administered by the U.S. Occupational Safety and Health Administration (OSHA) exempts consumer products in their final form for consumer use, unless worker use is greater than that by typical consumers.
New York Labeling and Reporting Requirements (Since the 1970s)
Since 1971, New York's general Environmental Conservation Law has included authority for the state to require "detergent and household cleansing product" manufacturers to disclose information about their products (ECL Article 35). This law is administered and enforced by the state Department of Environmental Conservation (DEC) (NY Codes, Rules and Regulations (NYCRR) part 659). DEC's regulations define "household cleansing products" as follows:
"Household cleansing product shall mean any product, including but not limited to, soaps and detergents containing a surfactant as a wetting or dirt emulsifying agent and used primarily for domestic or commercial cleaning purposes, including but not limited to the cleansing of fabrics, dishes, food utensils and household and commercial premises. Household cleansing product shall not mean:
Foods, drugs and cosmetics, including personal care items such as toothpaste, shampoo and hand soap.

Products labeled, advertised, marketed and distributed for use primarily as pesticides, as defined in article 33 of the Environmental Conservation Law."
DEC imposed labeling requirements regarding phosphate in detergents, and a requirement that manufacturers file semiannual reports to DEC listing ingredients present at or above 5% in products. However, a lawsuit filed by environmental and health advocates in 2009 alleged that reports were not being filed and that DEC was not enforcing the requirement.
Changing Requirements in 2017
In 2017, New York Governor Cuomo announced in his State of the State address an initiative to require all manufacturers of household cleansing products sold in New York to disclose chemical ingredients on their websites. DEC has proposed to revise reporting requirements, including:
Required disclosure of all constituents in cleansing products present above 0.1%.

Posting of disclosure information on the manufacturer's website, or on another website directly linked from the manufacturer's website ("one click"). DEC proposes that posted information include:

Manufacturer information.

Product identification information.

Chemical Abstract Index Name and Chemical Abstract Service Number of each constituent present above 0.1% (except confidential business information.

Percentage of content by weight for each reported constituent.

"GreenScreen® benchmark" (a method of comparative chemical hazard assessment, with ratings from 1 (high concern) to 4 (preferred safer chemical).

Identify each constituent that is a nonomaterial.

"Role" for each constituent (i.e., term describing each ingredient's functional use or reason for inclusion).

Identify each constituent that is on a specified list of "chemicals of concern" (carcinogens, etc.).

Identification of any research by or for the manufacturer of possible effects on human health and the environment.

Date of disclosure.
To further facilitate consumers' access to information, DEC will work with the Interstate Chemicals Clearinghouse to develop and maintain a database of links to company information. In addition, DEC proposed new restrictions to add restrictions governing perchloroethylene and other potentially dangerous dry cleaning solvents that are released into the environment.
What Happens Next?
DEC is expected to finalize its revised reporting regulations. Although New York's initiatives are directed primarily at making information available to home consumers, organizations that use cleansing agents packaged for home use will be able to secure information from these sources.Now that New York has announced expansion of its reporting requirements, other jurisdictions are considering similar requirements. For example, a proposed "Cleaning Product Right to Know Act" (SB 258) has passed the California Senate and is being considered in the Assembly for enactment.
Self-Assessment Checklist
Does the organization manufacture or import household cleansing products?
- If so, has the organization prepared safety data sheets (SDSs) compliant with OSHA Hazcom requirements, providing users with information about each such product's the constituents and associated hazards (e.g., for bulk sales for commercial use, rather than (exempt) sales in consumer packaging)?
- If so, does the organization make information (such as SDSs) available for public access (e.g., on Internet website)?Does the organization purchase and use household cleansing products in its workplaces?
- If so, has it secured adequate hazard and safety information?
Where Can I Go For More Information?
Specialty Technical Publishers (STP) provides a variety of single-law and multi-law services, intended to facilitate clients' understanding of and compliance with requirements. These include:
About the Author

Jon Elliott is President of Touchstone Environmental and has been a major contributor to STP's product range for over 25 years. He was involved in developing 13 existing products, including Environmental Compliance: A Simplified National Guide and The Complete Guide to Environmental Law.

Mr. Elliott has a diverse educational background. In addition to his Juris Doctor (University of California, Boalt Hall School of Law, 1981), he holds a Master of Public Policy (Goldman School of Public Policy [GSPP], UC Berkeley, 1980), and a Bachelor of Science in Mechanical Engineering (Princeton University, 1977).

Mr. Elliott is active in professional and community organizations. In addition, he is a past chairman of the Board of Directors of the GSPP Alumni Association, and past member of the Executive Committee of the State Bar of California's Environmental Law Section (including past chair of its Legislative Committee).
You may contact Mr. Elliott directly at: tei@ix.netcom.com