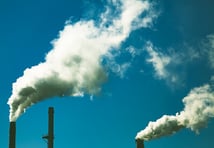 The Washington state Department of Ecology (Ecology) has just conducted its first auction of greenhouse gas (GHG) emission allowances, under the state's Climate Commitment Act (or CCA) which establishes a comprehensive, market-based program to reduce carbon pollution and achieve greenhouse gas limits set in state law. The CCA was one of a package of climate-related laws passed in 2021, including the Clean Fuel Standard, and an expanded hydrofluorocarbons management program. The remainder of this note discusses CCA and the recent sale of GHG allowances.
What are Washington's GHG goals?
In recent years, Washington has enacted a series of laws to reduce GHG emission reductions and create programs to reduce and manage climate change. State law defines GHGs as carbon dioxide (CO2), methane, nitrous oxide, hydrofluorocarbons, perfluorocarbons, sulfur hexafluoride, and "any other gas or gases designated by [Ecology] by rule" (none so far).
State law requires reductions in statewide GHG emissions, as follows:
2020 - reduce to 1990 levels (90.5 million metric tons; data not yet released)

​2030 - 45% below 1990 levels

2040 - 70% below 1990 levels

2050 - 95% below 1990 levels, with net zero emissions
These goals are supported by a variety of specific requirements, including:
Moving the state to 100% non-fossil electricity by 2045

Raising standards for building energy efficiency

Advancing zero emission vehicles

Cap-and-invest program
Ecology collects emission reports from entities for which emissions from a single facility, or from electricity or fossil fuels sold in Washington by a single supplier or local distribution company, meet or exceed 10,000 metric tons of CO2 equivalent annually. Ecology has estimated that these entities are responsible for roughly 75% of statewide GHG emissions.
How does the cap-and-invest system work?
The cap-and-invest program is designed to increase GHG emission reductions, by setting limits (caps) on overall carbon emissions based on the emission goals identified above, for the same entities required to report emissions (this will expand to include waste-to-energy facilities in 2027, and railroads in 2031; exemptions may be available to "emissions-intensive, trade-exposed industries"). Ecology is to establish GHG emission allowance based on these data, and to conduct quarterly auctions. The program also includes provisions for offset allowances from qualifying emission-reducing offset projects,
Entities can buy or sell allowances at these auctions, or through secondary transactions. At the auctions, Ecology sets the number of available allowances, and an acceptable floor price. Bidders define the number of allowances they are seeking, and the most they're willing to pay. Bids are then automatically sorted in order of bid price, starting with the highest bid, and allocated to each bidder in that order. Once all allowances are accounted for, the lowest bid that successfully won allowances is set as the price that all bidders pay.
The law and Ecology's regulations provide complicate allocation formulas for use of money raised through auctions. As summarized by the agency, uses include:
Administrative costs – no more than 5% of total

Carbon Emissions Reduction Account:

Reducing transportation emissions

Investing in alternatives and reductions to single occupancy passenger vehicles

Investing in emissions reduction programs for freight, ferries, and ports

Climate Commitment Account:

Implementing the working families tax rebate

Reducing greenhouse gas emissions in overburdened communities

Strengthening the air quality monitoring network

Supporting renewable energy technology and infrastructure

Investing in energy efficiency for industry and agriculture

Increasing building energy efficiency and supporting electrification

Supporting appliance energy efficiency

Assisting affected workers during the transition to a clean energy economy

Capturing methane and diverting organics at landfills

Deploying carbon dioxide removal

Supporting efforts to mitigate and adapt to the effects of climate change affecting Tribes

Natural Climate Solutions Account

Restoring and protecting estuaries, fisheries, and marine shoreline habitats

Increasing carbon storage in the ocean or aquatic and coastal ecosystems

Remediating and adapting to the impacts of ocean acidification

Reducing flood risk and restoring natural floodplains

Increasing the sustainable supply of water and improving aquatic habitat

Investing in stormwater infrastructure

Preserving or establishing carbon sequestration in forests and agricultural soils

Protecting or planting trees in marine shorelines and freshwater riparian areas to promote climate resilience

Increasing resilience to wildfires, improving forest health, or preserving natural lands

Air Quality & Health Disparities Improvement Account:

Funding the expansion of Ecology's air monitoring network in overburdened communities highly impacted by air pollution

The development and implementation of strategies to reduce health disparities in those communities
What just happened?
On February 28, Ecology conducted its first auction. The agency made 6.18 million allowances available, all of which were sold at a settlement price of $48.50 per allowance. This raised nearly $300 million.
Note that $48.50 per allowance is far higher than the $27.85 price realized from the latest joint auction conducted under the California and Quebec cap-and-trade programs (which also apply to broad sectors throughout the state/province) (I've written about this program before, including HERE), and the $12.50 raised at the latest Regional Greenhouse Gas Initiative (RGGI) auction (RGGI covers fossil fuel generation in northeastern states; I've written about it before including HERE).
What happens now?
Ecology will move to allocate revenues and fund eligible projects. Ecology is to conduct quarterly auctions, and is authorized to develop cooperative procedures with California and Quebec. Other states are considering similar efforts, so even organizations with no operations in Washington may want to consider their existing and potential GHG emission-related activities.
Self-Assessment Checklist
Is my organization subject to Washington's cap-and-invest program?
If so, did it sell or purchase allowances?

If so, is it preparing to sell or purchase allowances in future auctions?
Is my organization outside Washington, but in a sector subject to the program?
Has it considered effects on its market and competitors?
Is my organization considering investing in projects that might qualify to sell offsets to entities in Washington or other jurisdictions?
Where Can I Go For More Information?
- Climate Commitment Act webpage
- Washington Cap-and-Invest Program Auction #1 February 2023 Summary Report (3/7/23)
About the Author

Jon Elliott is President of Touchstone Environmental and has been a major contributor to STP's product range for over 30 years.

Mr. Elliott has a diverse educational background. In addition to his Juris Doctor (University of California, Boalt Hall School of Law, 1981), he holds a Master of Public Policy (Goldman School of Public Policy [GSPP], UC Berkeley, 1980), and a Bachelor of Science in Mechanical Engineering (Princeton University, 1977).

Mr. Elliott is active in professional and community organizations. In addition, he is a past chairman of the Board of Directors of the GSPP Alumni Association, and past member of the Executive Committee of the State Bar of California's Environmental Law Section (including past chair of its Legislative Committee).
You may contact Mr. Elliott directly at: tei@ix.netcom.com