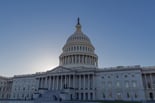 Candidate Trump promised to reverse President Obama's climate initiatives, which he variously described as based on uncertain science and/or as a "war on coal." Since taking office, President Trump has moved expeditiously to make good on those promises. On March 28 he issued an executive order (EO) "Promoting Energy Independence and Economic Growth," packaging a large set of repeals and re-directions to move US federal policies firmly away from climate change and toward domestic fossil fuels.
This new EO recounts the "national interest to promote clean and safe development of our Nation's vast energy sources, while at the same time avoiding [unnecessary] regulatory burdens…" and that "the Nation's electricity is affordable…" and from a full range of fossil, hydroelectric and renewable resources. Accordingly, the President requires federal agencies, and encourages state and local governments, to identify and reduce regulations that "unduly burden" domestic energy production, while continuing to "take appropriate actions to promote clean air and clean water…". The EO is written in cautious legalistic language, but sends clear Presidential directives to review a host of proposed and final rules – which in context means to consider how to reduce or rescind their impacts. Some actions can have immediate effect – the Department of the Interior lifted a moratorium on coal leases the very next day – while others will require years to conduct new rulemakings and then to defend lawsuits from aggrieved governmental and environmental groups.
Revoking President Obama's EOs and Administrative Guidance Documents
This EO revokes several contrary EOs and administrative memoranda issued by President Obama and White House offices such as the Council on Environmental Quality (CEQ):
EO 13653 ("Preparing the United States for the Impacts of Climate Change") (11/1/13), which directed federal agencies to prepare for the impacts of climate change, and to coordinate efforts among themselves and with state and local governments. Among other things, this EO led federal agencies to adopt climate change adaptation plans (I blogged about the Environmental Protection Agency (EPA) model plan, here).

Presidential Memorandum of 6/25/13 (Power Sector Carbon Standards), directing EPA to respond to re-propose flexible "Carbon Pollution Standards for [New] Power Plants" by 9/20/13. EPA eventually issued final rules in October 2015. EPA also adopted a Clean Power Plan for existing power plants, but in in February 2016, implementation was stayed by the U.S. Supreme Court.

Presidential Memorandum of 11/3/15 (Mitigating Impacts on Natural Resources from Development and Encouraging Related Private Investment), which directed the departments of Defense, Interior, and Agriculture; EPA; and the National Oceanic and Atmospheric Administration to administer their authorities in ways designed to "avoid and then minimize harmful effects to land, water, wildlife, and other ecological resources (natural resources) caused by land-or water-disturbing activities," including specified policies and guidance.

Presidential Memorandum of 9/21/16 (Climate Change and National Security), which established a framework for, and directed federal agencies to, "perform certain functions to ensure that climate change-related impacts are fully considered in the development of national security doctrine, policies, and plans."

The President's Climate Action Plan (June 2013), and Climate Action Plan Strategy to Reduce Methane Emissions (March 2014).
Directing EPA to Review Specified Rules For Possible Revision or Repeal
The EO also directs EPA to review specific regulatory actions, and "if appropriate" to revise or rescind them:
Clean Power Plan for existing stationary sources (10/15; the US Supreme Court has stayed implementation during pending litigation).

Final rule setting standards of performance for greenhouse gas (GHG) emissions from new and modified electric generating units (10/15).

Proposed rule to set standards of performance for GHG emissions from existing electric generating units (10/15).
The EO directs EPA to notify the Attorney General, who may notify the federal courts in which the final rules are presently being litigated.
Directing the Department of the Interior to Expand Leasing and Review Certain Rules
The EO directs DOI to review environmental impact reporting requirements for coal leasing, and to consider Obama-era moratoria on leasing (DOI lifted the moratoria the next day). It also directs DOI to review several specific rules relating to oil and gas leases (including fracking).
Rescinding Obama Benefit/Cost Methodologies For Carbon, Nitrous Oxide, and Methane
The EO disbands the Interagency Working Group on Social Cost of Greenhouse Gases, and withdraws six specific technical support documents issued to direct federal agency reviews of the social cost of GHGs for use in cost-benefit analysis for possible regulations. This section also reaffirms OMB guidance from 2003, encouraging conservative approaches to uncertain costs and benefits – which, for example, tend to reduce allocations to recognize possible climate change.
Requiring "Immediate Review of All Agency Actions that Potentially Burden the Safe, Efficient Development of Domestic Energy Resources" – Which May Take Years to Yield Substantial Changes
The EO directs each federal agency to review its regulatory "agency actions" (including regulations, orders, guidance documents, policies, and other similar agency actions) for those that "potentially burden the development or use of domestically produced energy resources, with particular attention to oil, natural gas, coal, and nuclear energy resources." The EO defines these sought-after "burdens" as actions that "unnecessarily obstruct, delay, curtail, or otherwise impose significant costs on the siting, permitting, production, utilization, transmission, or delivery of energy resources."
Furthermore, "[s]uch review shall not include agency actions that are mandated by law, necessary for the public interest, and consistent with the policy set forth in section 1 of this order." – which suggests that agencies will find existing actions that are not "mandated by law." The EO itself doesn't explain this caveat, but it's fair to conclude that an important purpose is to identify existing requirements that agencies have constructed using their discretion to interpret statutory authority (which is often ambiguous), and so may now re-construct in ways that impose fewer "burdens."
The EO prescribes the following schedule:
Within 45 days (by April 12), each agency with energy-related agency actions submits a review plan to the Office of Management and Budget (OMB), Vice President Pence, the Chair of the Council on Environmental Quality (CEQ) and other specified White House personnel.

Within 120 days (by July 21), each agency submits a draft report.

Within 180 days (by September 19) each agency submits a final report (unless OMB has granted an extension).
Each agency is to act as soon as practicable to suspend, revise or rescind agency actions identified by this process as burdensome. In some cases, a change may be possible by unilateral agency action, or the agency may be legally required to publish proposed rules doing so. As I've noted in other blogs, agency rulemakings can often take years to reach finality, and then become subject to appeals and lawsuits.

Self-Assessment Checklist
Does the organization conduct activities that are recognized to emit greenhouse gases?
Are any of these activities subject to federal regulation to measure or reduce GHG emissions?
Are any applicable federal regulations subject to review and possible revision or repeal under the terms of this Executive Order?
Where Do I Go For More Information?
Specialty Technical Publishers (STP) provides a variety of single-law and multi-law services, intended to facilitate clients' understanding of and compliance with requirements. These include:
About the Author

Jon Elliott is President of Touchstone Environmental and has been a major contributor to STP's product range for over 25 years. He was involved in developing 13 existing products, including Environmental Compliance: A Simplified National Guide and The Complete Guide to Environmental Law.

Mr. Elliott has a diverse educational background. In addition to his Juris Doctor (University of California, Boalt Hall School of Law, 1981), he holds a Master of Public Policy (Goldman School of Public Policy [GSPP], UC Berkeley, 1980), and a Bachelor of Science in Mechanical Engineering (Princeton University, 1977).

Mr. Elliott is active in professional and community organizations. In addition, he is a past chairman of the Board of Directors of the GSPP Alumni Association, and past member of the Executive Committee of the State Bar of California's Environmental Law Section (including past chair of its Legislative Committee).
You may contact Mr. Elliott directly at: tei@ix.netcom.com