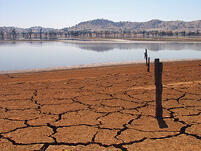 Strategic planners around the world are preparing "climate change adaptation plans," designed to identify their organization's key activities and missions, evaluate how climate change might affect them, and develop organizational changes designed to anticipate and adapt in ways that preserve the organization's performance. On October 31, the US Environmental Protection Agency (EPA) issued its own Climate Change Adaptation Plan. EPA's divisions (Water, Air and Radiation, etc.) and 10 regional offices also issued plans covering their activities. These Plans provides a collective model for multi-level organizational plans, and also tell organizations in the US what help to expect from EPA when they plan for their own adaptations to climate change.
What is Climate Change Adaptation and How Can Organizations Plan It?
In general, climate change adaptation consists of adjustments that systems (individual organizations, as well as ecosystems) make to prepare for and respond to effects of climate change. Adaptation measures can include:
Protection adaptations—guarding against or reducing negative impacts.

Opportunistic adaptations—taking advantage of beneficial effects.
These efforts can and should be ongoing and iterative. For example, the US National Academy of Sciences suggests the following six steps:
Identify current and future climate changes relevant to the system.

Assess the vulnerabilities and risks to the system.

Develop an adaptation strategy using risk-based prioritization schemes.

Identify opportunities for co-benefits and synergies across sectors.

Implement adaptation strategies.

Monitor and reevaluate implemented adaptation options.
Governmental planners and policy makers can apply similar approaches to societal and environmental factors. For example, EPA identifies the following measures:
Agriculture and Food Supply

Protect livestock from higher summer temperatures by providing more shade and improving air flow in barns.

Breed crop varieties that are more tolerant of severe climate/weather (heat, drought, etc).

Coasts

Promote shore protection techniques and open space that allow beaches and coastal wetlands to move inland as sea level rises.

Identify and improve evacuation plans and routes for low-lying areas.

Ecosystems

Promote land and wildlife management practices that enhance ecosystem resilience.

Protect and increase migration corridors to allow species to migrate as the climate changes.

Energy

Increase energy efficiency to help offset increases in energy consumption.

Harden energy production facilities to withstand increased storm-related stresses.

Human Health

Implement early warning systems and emergency response plans to prepare for changes in the frequency, duration, and intensity of extreme weather events.

Plant trees and expand green spaces in urban settings to moderate heat increases.

Water Resources

Improve water use efficiency and build additional water storage capacity.

Protect and restore stream and river banks to safeguard water quantity.
Self-Assessment Checklist
Has the organization established a policy to evaluate possible climate change effects, and to identify and plan for adaptive measures?
Has the organization prepared a climate change adaptation plan? If so, does it address:
Fixed locations?

Suppliers and supply chains (materials, public utilities, etc.)?

Systems that deliver the organization's products and services?

The organization's employees?

The organization's markets and stakeholders?
Has the organization implemented any climate change adaptation measures?
Has the organization evaluated the actual effects of any measures implemented?
Has the organization established an ongoing, iterative approach to climate change adaptation?
Where Can I Go For More Information?
Specialty Technical Publishers (STP) provides a variety of single-law and multi-law services, intended to facilitate clients' understanding of and compliance with requirements. These include:
About the Author

Jon Elliott is President of Touchstone Environmental and has been a major contributor to STP's product range for over 25 years. He was involved in developing 16 existing products, including Environmental Compliance: A Simplified National Guide and The Complete Guide to Environmental Law.
Mr. Elliott has a diverse educational background. In addition to his Juris Doctor (University of California, Boalt Hall School of Law, 1981), he holds a Master of Public Policy (Goldman School of Public Policy [GSPP], UC Berkeley, 1980), and a Bachelor of Science in Mechanical Engineering (Princeton University, 1977).
Mr. Elliott is active in professional and community organizations. In addition, he is a past chairman of the Board of Directors of the GSPP Alumni Association, and past member of the Executive Committee of the State Bar of California's Environmental Law Section (including past chair of its Legislative Committee).
You may contact Mr. Elliott directly at: tei@ix.netcom.com.