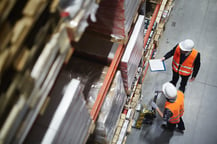 The federal Clean Air Act (CAA) requires the U.S. Environmental Protection Agency (EPA) to establish and maintain national air quality standards, including criteria for permits and other authorizations issued to (potential) emission sources by state or local air quality management agencies (with EPA itself as the default regulator if other agencies fail). Forms of authorization include permits for specified stationary emission sources, and equipment/emission standards for mobile sources and some components of stationary sources. Almost all requirements apply to "direct sources" – the equipment or activity that directly produces emissions.
In addition, CAA recognizes that "indirect sources" may also be legitimate targets of regulation, if their activities induce emissions from other entities driving to or from their locations or filling in their supply chains. However, CAA amendments adopted in 1977 disfavor indirect regulations, complicating early efforts to regulate indirect sources.
In May 2021, however, the Los Angeles area's South Coast Air Quality Management District (SCAQMD) adopted a regulation requiring large warehouses to take steps to reduce emissions associated with delivery and trans-shipment vehicles that visit their sites. The remainder of this note discusses this new SCAQMD Rule 2305.
How does CAA provide for indirect source controls?
EPA oversight of state and local air quality programs is codified in State Implementation Plans (SIPs). Since 1977, CAA prohibits EPA from requiring that a SIP include any indirect source control, but does authorize states to impose such controls and authorizes EPA to approve a SIP containing such controls. (42 U.S.C. section 7410(a)(5)). The most common examples of such rules are "commuter benefit programs" codifying large employers' subsidies to employee transit costs, typically in large metropolitan areas where transportation makes substantial contributions to air pollution. (e.g., SQAQMD rule 2202)
What does SCAQMD's new warehouse rule require?
On May 9, 2021, the SCAQMD board adopted a new Rule 2305, "Warehouse Indirect Source Rule – Warehouse Actions and Investments to Reduce Emissions (WAIRE) Program". The Rule is intended to reduce emissions of nitrogen oxides and particulate matter "associated with warehouses and the mobile sources attracted to warehouses…." SCAQMD estimates that half of regional smog is associated with goods movement, and that heavy trucks associated with warehouses emit significant shares of these pollutants. Rule 2305 applies to specified large warehouses, which will be required to earn specified numbers of points from emissions-reducing investments and activities under a menu-based points system. Alternatively, warehouse operators can pay mitigation fees, which will be used for the purchase of cleaner trucks and charging/fueling infrastructure in nearby communities.
Which warehouses are subject to this rule?
Warehouse operators in buildings with greater than or equal to 100,000 square feet of floor area that may be used for warehousing activities and who operate at least 50,000 square feet of the warehouse for warehousing activities are required to earn WAIRE Points. Requirements are phased in based on warehouse size, as follows. Initial compliance is due by:
1/31/23, for compliance year 2022 – warehouse at least 250,000 square feet

1/31/24, for compliance year 2023 - warehouse at least 150,000 square feet but smaller than 250,000 square feet

1/31/25, for compliance year 2024 - warehouse at least 100,000 square feet but smaller than 150,000 square feet
The WAIRE rule also provides for a 5-year, 3-step phase-in of annual points required, as discussed below.
How are compliance requirements calculated?
The Rule bases compliance requirements on Weighted Annual Truck Trips (WATTs), which are the actual 1-way truck trips a warehouse is responsible for, weighted by the gross vehicle weight rating (GVWR) of each truck. Trucks with a GVWR of at least 8,501 pounds are counted, with Class 2B through 7 (GVWR 8,501 – 33,000 pounds) weighted at 1 point per WATT, and Class 8 trucks (GVWR greater than 33,000 pounds; tractor-trailers) weighted 2.5 per WATT. Furthermore, the phase-in of points per WATT occurs over 3 years for each of the three classes of warehouse identified above:
First year 0.33 per WATT

Second year 0.67 per WATT

Third year and beyond, 1.0 per WATT
This means a regulated warehouse with 10,000 WATT would accumulate 3,333 points in its first year of required compliance, 6,666 in its second, and 10,000 in every subsequent year.
How do projects and activities earn points to meet compliance requirements?
The rule allows warehouses to earn points by any combination of:
specified projects and activities from the Rule's "WAIRE menu"

warehouse-specific projects and activities contained in a SCAQMD-approved "Custom WAIRE Plan" following methodologies from the Rule, and

payment of specified mitigation fees of $1,000 per point to SCAQMD to fund its associated emission reduction activities
Warehouse operators can transfer points among warehouses they control, and can bank points for future use. There's no inter-entity trading provision.
The Rule includes a detailed WAIRE Menu identifying actions and investments, and the associated points. These consist of a variety of:
acquire zero emission or near-zero-emission (ZE/NZE) trucks in warehouse operator fleet

accommodate ZE/NZE truck visits

acquire ZE yard truck

use ZE yard truck (based on hours of use)

install onsite ZE charging of fueling infrastructure

use onsite ZE charging of fueling infrastructure (based on kilowatt-hours (kWh) or kilograms of dispensed hydrogen)

install and energize onsite solar panels

use onsite solar panels (based on kWh)

install high efficiency air filters in residences, schools, daycares, hospitals, or community centers (minimum efficiency reporting value (MERV) 16 or greater)

replace qualifying filters
Remember that these points are only for one year, so acquisitions only count in the year they occur, whereas use can be calculated and used annually thereafter.
How is compliance demonstrated?
The Rule includes reporting, notification and recordkeeping requirements
Now what?
SCAQMD estimates that Rule 2305 will reduce smog-forming emissions by 10-15 % from warehouse-related sources. The rule includes a sunset provision, triggered when all air basins in SCAQMD jurisdiction meet applicable federal and state requirements (National Ambient Air Quality Standard (NAAQS) and state standards for low-level ozone). In addition, however, threatened lawsuits may delay or overturn the Rule, which was adopted by a 9-4 majority of the SCAQMD board of directors. Alternatively, if the Rule takes effect and is deemed successful, it may become a model for other jurisdictions.
Self-evaluation checklist
Does the organization operate any warehouses?
Within the SCAQMD jurisdiction?

Elsewhere?
Does the organization transport materials or items to and/or from warehouses?
Within the SCAQMD jurisdiction?

Elsewhere?
Does the organization manufacture or sell materials or items that are bought from and/or sold to warehouses?
Does the organization operate vehicles of Class 2B or larger?
Where can I go for more information?
- SCAQMD summary of WAIRE Program
About the Author

Jon Elliott is President of Touchstone Environmental and has been a major contributor to STP's product range for over 30 years.

Mr. Elliott has a diverse educational background. In addition to his Juris Doctor (University of California, Boalt Hall School of Law, 1981), he holds a Master of Public Policy (Goldman School of Public Policy [GSPP], UC Berkeley, 1980), and a Bachelor of Science in Mechanical Engineering (Princeton University, 1977).

Mr. Elliott is active in professional and community organizations. In addition, he is a past chairman of the Board of Directors of the GSPP Alumni Association, and past member of the Executive Committee of the State Bar of California's Environmental Law Section (including past chair of its Legislative Committee).
You may contact Mr. Elliott directly at: tei@ix.netcom.com
Image by Eric Simon from Pixabay