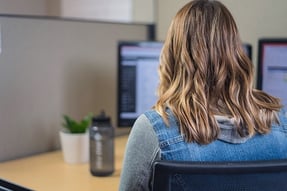 Recent enforcement actions provide reminders that young workers are subject to special legal protections – special requirements apply to workers 14-24 and prohibit most employment of even younger people. As an example of these actions, on March 21 the Occupational Safety and Health Administration (OSHA) issued citations against a Pennsylvania contractor after a 17 year old employee fell off a roof (his employment violated "hazardous occupations" prohibitions). As another example, in November 2022 the Department of Labor's (DOL's) Wage and Hour Division (WHD) filed for a nationwide injunction against the nation's largest food sanitation company (Packers Sanitation Services) after finding 31 children ages 13-17 in "hazardous occupations" including cleaning dangerous powered equipment during overnight shifts.
How many young workers are there?
According to the US National Institute for Occupational Safety and Health (NIOSH), in 2020:
3 million workers were younger than 25 (11.7% of the total workforce)

352 workers under age 25, and 26 under age 18, died from work-related injuries

the incidence rate for non-fatal injuries for workers ages 16–19, was 149.8 per 10,000 full-time employees (FTE) and 141.8 per 10,000 FTE for workers, ages 20–24

the rate of work-related injuries treated in emergency departments for workers ages 15–24 was 1.5 times greater than the rate for workLers age 25 years and older
What special restrictive protections are available?
The federal Fair Labor Standards Act (FLSA; administered by WHD) includes special restrictions on the employment of children 18 and younger. OSHA also imposes additional restrictions for workers under this age.
FLSA restricts "oppressive child labor"
FLSA imposes the following restrictions:
people younger than 18 cannot be employed in any occupation found by WHD to be "particularly hazardous to [such children] or detrimental to their health or well-being." Designated occupations include "in or about plants or establishments manufacturing or storing explosives or [explosive] articles"; "motor-vehicle driver and outside helper on any public road, highway, in or about any mine"; mining occupations (coal and non-coal); logging, forestry, forest fire fighting or work in the operations of a sawmill; operation of power-driven wood-working machines; occupations involving exposure to radioactive substances and to ionizing radiations; operation of power-driven hoisting apparatus; occupations of operator of or helper on the following power-driven metal forming, punching, and shearing machines; in or about slaughtering and meat packing establishments, rendering plants, or service establishments (the violations cited above); operation of power-driven bakery machines; operation of balers, compactors, and paper-products machines; manufacture of clay construction products and of silica refractory products; wrecking, demolition, and shipbreaking; and excavation operations; (29 CFR 570)

employment of any child under 16 except under a DOL certificate; employment of 14-16 year old other than in manufacturing or mining is permissible if confined to "periods which will not interfere with their schooling and to conditions which will not interfere with their health and well-being"; employment of 14 or younger is permissible on family farms or with parents' written permission
OSHA protections apply to youth employment
Although OSHA does not directly administer the FLSA age restrictions, OSHA does include young workers within its protection programs, and cooperates with WHD when age restrictions are found to have been violated. These apply both to:
regular employment – for example, OSHA found that the employer noted in the introductory paragraph had violated fall prevention requirements

temporary employment (I wrote about this HERE) – for example, employment during holidays
What's Next?
Employers should review their operations, and the ages of their employees, to ensure that they comply with restrictions on the employability of young people. Readers should note that as I write this note, federal agencies are evaluating ways to enhance enforcement of these restrictions, while some states are considering statutory changes to loosen them (Arkansas recently amended its application of age restrictions).
Self-Assessment Checklist
Does the organization have any activities that would constitute "oppressive child labor" if any employee is younger than the minimum age defined by FLSA and WHD's regulations?
- If so, does the organization review employees' and applicants' ages to ensure that FLSA/WHD restrictions are not violated?
Does the organization employee any regular or temporary workers in activities to which FLSA and WHD regulations restrict the hours a young employee can work?
- If so, does the organization review employees' and applicants' ages, and schedule work so that FLSA/WHD restrictions are not violated?
Where Can I Go For More Information?
- Employer Responsibilities for Keeping Young Workers Safe web page
- Press release, "Federal investigation of teen worker's fall from New Castle store roof finds Georgia contractor violated child labor, overtime, worker safety laws (3/21/23)
- Youth & Young Worker Employment webpage
- Press release, US Department of labor seeks nationwide court injunction to stop Packers Sanitation Services' "Oppressive Child Labor" violations at processing facilities (11/9/22)
About the Author

Jon Elliott is President of Touchstone Environmental and has been a major contributor to STP's product range for over 30 years.

Mr. Elliott has a diverse educational background. In addition to his Juris Doctor (University of California, Boalt Hall School of Law, 1981), he holds a Master of Public Policy (Goldman School of Public Policy [GSPP], UC Berkeley, 1980), and a Bachelor of Science in Mechanical Engineering (Princeton University, 1977).

Mr. Elliott is active in professional and community organizations. In addition, he is a past chairman of the Board of Directors of the GSPP Alumni Association, and past member of the Executive Committee of the State Bar of California's Environmental Law Section (including past chair of its Legislative Committee).
You may contact Mr. Elliott directly at: tei@ix.netcom.com