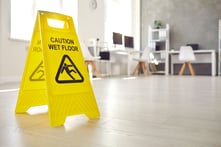 The US federal Occupational Safety and Health Administration (OSHA) regulations specify the formats of workplace warning signs and tags to alert workers to the presence of a variety of physical and health hazards. OSHA's Accident Prevention Signs and Tags Standard (29 CFR 1910.145) specifies wording, colors, shapes—even requiring sign corners to be rounded off. OSHA sets up a hierarchy of hazards, and associated warnings. In addition, many of OSHA's targeted standards include specific requirements for signs and tags.
Employers must assess workplaces for hazards that require signs or tags
OSHA requires employers to identify specific hazards in workplaces for which warnings can help protect employees and/or the public from personal harm and/or property damage, which means that failure to provide such warnings might lead to accidental injuries and/or property damage. OSHA's requirements apply to all safety signs except for the following:
street, highway, railroad, and water navigation markers (the federal Department of Transportation [DOT] provides specifications for these signs)

news releases, safety posters, and employee bulletins (addressed by other laws or regulations including OSHA's posting requirements)
Once the employer identifies such hazards, sign/tag posting requirements apply.
What general requirements apply to signs and tags?
OSHA's standard defines detailed construction and presentation requirements, for different types of signs and tags.
what standards must signs meet?
OSHA defines an accident prevention sign as follows:
"a surface on [which letters or other markings appear,] prepared for the warning of, or safety instruction of, industrial workers or members of the public who may be exposed to hazards. Excluded from this definition, however, are news releases, displays commonly known as safety posters, and bulletins used for employee education."
OSHA provides general standards applicable to signs. These include the following:
material and construction standards for the signs themselves:

rounded or blunt corners

no sharp edges, burrs, splinters, or other sharp projections

fasteners such as bolts or nails that cannot snag workers or their clothing

color coding requirements to provide consistent, graduated levels of warning:

Danger Signs—Red background, with letters or symbols in black and white

Caution Signs—Yellow background, with message panel black with yellow letters

Safety Instruction Signs—White background, with message panel green with white letters

standards for clarity and consistency of words, including lettering and symbols:

Letters should be easy to read and concise

Signs should provide sufficient information to be easily understood

Signs should be accurate, and make positive rather than negative suggestion
OSHA also defines three levels of accident prevention warnings, based on evaluation of the immediacy and severity of the hazard, and provides additional specific guidance:
danger sign—warns of immediate hazard

caution sign—warns of potential hazards, or cautions against unsafe practices

safety instruction sign—provides general instructions or suggestions
OSHA also provides separate requirements for Slow-moving Vehicle Emblems, and for Biological hazards.
Finally, OSHA requires an employer to provide the same signage for each identified hazard in the workplace, to provide consistency and avoid confusion.
what standards must tags meet?
OSHA defines an accident prevention tag as follows:
Tag means a device usually made of card, paper, pasteboard, plastic, or other material used to identify a hazardous condition.
Tags are generally used where the hazard is presented not by a generalized location (such as biohazards in a room where bloodborne pathogens are handled), but instead is associated with a specific operation or piece of equipment (such as energy control tags applied when servicing equipment subject to the Lockout/Tagout Standard).
OSHA also provides a hierarchy of hazards that must be identified by accident prevention tags, and additional unique tags covering two particular hazards.
Are additional requirements imposed by specific standards?
Many workplaces include hazards that OSHA separately regulates under its many specific standards. These include the Hazard Communication Standard (addressing chemical hazards in a wide variety of workplaces); exit route requirements; electrical, heat and bio-safety hazard requirements; equipment hazards (such as Lockout/Tagout), etc. Sign and tag requirements under these more specific standards generally are consistent with the general requirements discussed above. Employers are responsible for identifying these hazards, and meeting their specific requirements with signs and tags compliant with general standards.
What now?
Employers should remain attentive to these requirements, as they call for useful passive injury and illness prevention efforts. Most commercially available warning signs and tags are designed to conform with these requirements. Most reputable suppliers of safety equipment, signs, and tags can respond to situation-specific requirements you might have.
Self-evaluation checklist
Has the organization identified workplace hazards?
Has the organization identified where signs and/or tags can provide warnings to employees and other people in each workplace?
Does the organization post signs and/or tags where required, and ensured that they comply with OSHA requirements?
Does the organization provide training to potentially exposed employees to ensure their understanding of hazards, and the warnings provided in signs and/or tags?
Does the organization survey each workplace periodically to ensure that all relevant hazards are identified and managed, in compliance with applicable requirements?
Where Can I Go For More Information?
About the Author

Jon Elliott is President of Touchstone Environmental and has been a major contributor to STP's product range for over 30 years.

Mr. Elliott has a diverse educational background. In addition to his Juris Doctor (University of California, Boalt Hall School of Law, 1981), he holds a Master of Public Policy (Goldman School of Public Policy [GSPP], UC Berkeley, 1980), and a Bachelor of Science in Mechanical Engineering (Princeton University, 1977).

Mr. Elliott is active in professional and community organizations. In addition, he is a past chairman of the Board of Directors of the GSPP Alumni Association, and past member of the Executive Committee of the State Bar of California's Environmental Law Section (including past chair of its Legislative Committee).
You may contact Mr. Elliott directly at: tei@ix.netcom.com