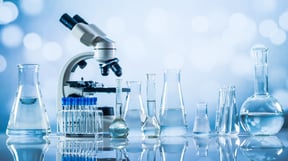 According to the Occupational Safety and Health Administration (OSHA), half a million Americans work in "laboratories." For more than 30 years, OSHA has administered its "Occupational exposure to hazardous chemicals in laboratories" standard – usually just called the Laboratory Standard – to protect employees "engaged in the laboratory use of hazardous chemicals" (29 CFR 1910.1450). The rest of this note discusses these requirements.
Which laboratory operations are subject to OSHA's Laboratory Standard?
OSHA's Laboratory Standard applies to "laboratory uses of hazardous chemicals." The definition of laboratory uses is quite specific. The Laboratory Standard applies to activities that are:
"laboratory scale," that is, chemical manipulations on a scale that may be easily handled by one person

processes using multiple chemicals or multiple chemical procedures

not part of a production process and do not simulate a production process

performed using laboratory-type protective equipment and methods
OSHA provides additional guidance to help employers decide whether their laboratories are subject to this Standard. For example:
quality assurance and quality control (QA/QC) labs that support production processes are not subject to this Standard

labs that monitor environmental emissions (e.g., air emissions, wastewater discharges, bioassays of target species) are subject to this Standard if they meet its other criteria

labs that monitor workplace environment (e.g., air quality) or workplace exposures (e.g., asbestos sampling) are subject to this Standard if they meet its other criteria
The Laboratory Standard does not apply to operations that do not expose employees to hazardous chemicals. These include operations using pre-prepared test strips for biological tests, or prepared test kits (e.g., pregnancy tests) where all reagents are contained in the kit.
This Standard defines "hazardous chemical" to include any chemical which is classified as a health hazard or simple asphyxiant under OSHA's Hazard Communication Standard (HCS). This Standard also adopts definitions of health hazard, mutagen, physical hazard, and reproductive toxins that are consistent with HCS definitions.
What protective measures does the Standard require?
Subject employers must take a variety of protective measures, including:
ensure that lab employees' exposures do not exceed applicable exposure limits, such as those for air contaminants and carcinogens; this includes initial monitoring to identify exposures, and periodic ongoing monitoring of possible exceedances

create and implement a Chemical Hygiene Plan (CHP), sufficient to protect employees from health hazards from hazardous chemicals used in laboratory activities, and to keep chemical exposures below regulated limits. The CHP must contain the following elements:

Standard operating procedures (SOPs) relevant to laboratory safety.

Criteria to determine and implement control measures to ensure that employee exposures are kept below permissible exposure limits. These measures may include engineering controls, personal protective equipment (PPE) including respirators if necessary, and hygiene practices.

Steps to ensure that laboratory fume hoods and other protective equipment are operating properly.

Criteria for defining any laboratory operations that require prior approval from the employer or a supervisor before the employee may proceed.

Provisions for additional protections for employees who work with particularly hazardous substances including carcinogens, reproductive toxins, and substances with high acute toxicity.

Designation of personnel responsible for implementing the safety plan, including the assignment of a Chemical Hygiene Officer and, if appropriate, a Chemical Hygiene Committee.

Employee information and training to ensure that employees understand laboratory hazards and their roles in laboratory safety.

Provisions for medical consultations and examinations for affected workers.

Provisions for review of the CHP at least annually, with revisions as necessary.

Ensure that incoming chemical containers are properly labeled, and that Safety Data Sheets (SDSs) are available. For new chemicals or chemical byproducts developed in the laboratory, determine whether the new chemical is hazardous and, if so, provide appropriate hazard information.

Create and maintain required records.
What happens now?
OSHA has not revised its Laboratory Standard since 2013, and provides extensive informational materials to assist employers with compliance. Although this means that stable workplaces should have implemented required measures, changing workplaces and evolving health concerns should lead employers to evaluate CHPs and other compliance measures regularly. Employers should also keep in mind that hazardous chemical exposures in locations that don't involve "laboratory" uses will be subject to other OSHA information and protection standards, including HCS.
Self-audit checklist
Does the organization conduct any "laboratory scale" operations in which employees are exposed to hazardous chemicals?
If so, has the organization verified whether OSHA's Laboratory Standard applies?

If so, has the organization established required compliance measures in order to protect employees exposed to hazardous chemicals?
Where can I go for more information?
About the Author

Jon Elliott is President of Touchstone Environmental and has been a major contributor to STP's product range for over 30 years.

Mr. Elliott has a diverse educational background. In addition to his Juris Doctor (University of California, Boalt Hall School of Law, 1981), he holds a Master of Public Policy (Goldman School of Public Policy [GSPP], UC Berkeley, 1980), and a Bachelor of Science in Mechanical Engineering (Princeton University, 1977).

Mr. Elliott is active in professional and community organizations. In addition, he is a past chairman of the Board of Directors of the GSPP Alumni Association, and past member of the Executive Committee of the State Bar of California's Environmental Law Section (including past chair of its Legislative Committee).
You may contact Mr. Elliott directly at: tei@ix.netcom.com