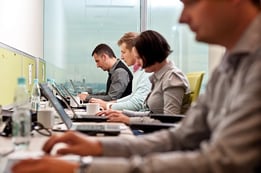 Is your organization hiring "temp" workers —to hedge your labor costs while gearing back up after COVID-19 perhaps? If so, occupational safety and health agencies consider your employer to be the "host employer" of these workers, and provides requirements to protect them against occupational hazards. Last year I summarized the latest US Occupational Safety and Health Administration (OSHA) guidance (HERE). Last month, the National Institute of Occupational Safety and Health (NIOSH) issued a new guidance, "Protecting Temporary Workers: Best Practices for Host Employers." The remainder of this note summarized this NIOSH guidance, which is primarily organized into three sections.
Why is NIOSH addressing Temporary Worker hazards?
The new NIOSH guidance applies the following working definition:
Temporary agency workers (hereafter "temporary workers" or "TWs") are those who are paid by a staffing company (SC) and assigned to work for a host employer (HE), including both short- and long-term assignments. This document is intended to apply to HEs across all industries that employ (or are planning to employ) TWs at their worksites.
NIOSH refers to analyses of workers' compensation data indicating that temporary workers have higher risks of work-related injuries than for non-TWs. NIOSH notes relevant factors, including:
Newness to the workplace and unfamiliarity with the job/tasks

Insufficient or lack of communication between the HE, SC, and TWs

Insufficient or lack of training

Unexpected changes to TW job duties that are not reported to the SC

Issues related to subcontracted, dual employment arrangements
Despite these complicating factors, NIOSH notes that temporary employees retain their full and fundamental rights to workplace safety, despite the complications. NIOSH also notes that that OSHA considers the staffing company and the staffing company's client (the host employer) to be joint employers of temporary workers, so both are responsible for providing and maintaining a safe work environment for those workers.
What guidance does NIOSH offer?
NIOSH organizes its 20 pages of guidance in three sections, each of which offers a set of best practices and an illustrative scenario.
Guidance for Evaluation and Contracting
Evaluation – of health and safety risks inherent in the activities to be conducted

Conduct a joint risk assessment

Provide information to the staffing company

Allow site visits

Ensure commitment to safety and health

Contracting – including assignment of responsibilities and ongoing tracking and documentation

Pertinent job details

Communication and documentation responsibilities

Injury and illness reporting, response, and recordkeeping responsibilities

Other aspects of workplace safety and health
Training for Temporary Workers and Their Worksite Supervisors
Temporary worker training

Content - approved tasks, hazard identification and control, personal protective equipment, OSHA laws, first aid, emergency procedures, reporting safety and health incidents and concerns

Assess knowledge [after training and before work commences]

Document training

Evaluate staffing company training materials

Supervisor training

Approved tasks

Changes to job tasks

OSHA laws

Communication and reporting

Joint responsibilities
Injury and Illness Reporting, Response, and Record keeping
Reporting – promote injury and illness reporting, inform staffing company of incidents, report to OSHA

Response – Conduct joint incident investigations, coordinate medical treatment and return-to-work

Record keeping – record in OSHA 300 log, complete staffing company documentation, fulfill records requests
NIOSH's guidance also includes links to additional safety and health resources published by OSHA and the American Society of Safety Professionals (ASSP).
What happens now?
The NIOSH guidance is intended to provide a substantial resource guide to the best practices it encourages. Its publication is a reminder about these issues, for organizations that frequently use temporary workers, and especially those that rarely employ them and may not attend fully to the details of their occupational safety and health responsibilities for these workers.
Self-Evaluation Checklist
Does my organization employ any temporary workers?
If so, is it a host employer with temps onsite?

If so, is it a staffing agency that sends temps to other employers' worksites?
Is each temporary worker covered by a contract between the staffing agency and the host employer?
If so, does the contract address occupational safety and health responsibilities?
Have both employers evaluated workplace hazards, and the training, personal protective equipment (PPE) and other measures needed for temp workers safety?
Has each employer reviewed the other's training and other programs, to verify their existence and ensure their effectiveness?
Has either employer conducted an independent evaluation of the other's hazard evaluations and/or programs?
Have the employers established mutual information and reporting procedures, to keep each other informed of developments?
Are processes in place to ensure each temp worker actually receives stipulated training and equipment?
If any temp worker has suffered an occupational injury or illness, were stipulated procedures followed and documented?
Where Can I Go For More Information?
About The Author

Jon Elliott is President of Touchstone Environmental and has been a major contributor to STP's product range for over 30 years.

Mr. Elliott has a diverse educational background. In addition to his Juris Doctor (University of California, Boalt Hall School of Law, 1981), he holds a Master of Public Policy (Goldman School of Public Policy [GSPP], UC Berkeley, 1980), and a Bachelor of Science in Mechanical Engineering (Princeton University, 1977).

Mr. Elliott is active in professional and community organizations. In addition, he is a past chairman of the Board of Directors of the GSPP Alumni Association, and past member of the Executive Committee of the State Bar of California's Environmental Law Section (including past chair of its Legislative Committee).
You may contact Mr. Elliott directly at: tei@ix.netcom.com