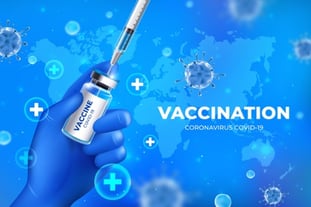 After a year of the COVID-19 pandemic, vaccines are finally in distribution and beginning to affect health and safety measures underway by agencies, employers and the public. On March 8, 2021, the Centers for Disease Control and Prevention (CDC) issued "Interim Public Health Recommendations for Fully Vaccinated People." These new guidelines are directed to individuals, but employers should consider their implications when deciding what to tell their individual employees and customers how to approach the business. The short version: organizations shouldn't ease up on protective measures undertaken in compliance with guidance from CDC, the Occupational Safety and Health Administration (OSHA) and other agencies. I provide more detailed discussion in the remainder of this note.
What are the CDC's key points in this guidance?
The CDC points out that these are its first guidelines for "fully vaccinated" people, and they'll likely change as more people are vaccinated and the passage of time provides more understanding about the extent of protections provided by vaccination. At this point in time
● "fully vaccinated" means someone who has received both shots of 2-shot vaccine or a shot of 1-shot-vaccine, beginning 2 weeks after the last/only shot
● fully vaccinated people can:
Visit other fully vaccinated people indoors without masks or physical distancing

Visit unvaccinated people from a single household who are at low risk for severe COVID-19 disease indoors without masks or physical distancing

Forego quarantine and testing following a known exposure if asymptomatic
● however, fully vaccinated people should continue to:
Take precautions in public like wearing a well-fitted mask and physical distancing

Wear masks, practice physical distancing, and adhere to other prevention measures when visiting unvaccinated people who are at increased risk for severe COVID-19 disease or have an unvaccinated household member at increased risk

Wear masks, maintain physical distance, and practice other prevention measures when visiting unvaccinated people from multiple households

Avoid medium- and large-sized in-person gatherings

Get tested if experiencing COVID-19 symptoms

Follow guidance issued by individual employers

Follow CDC and health department travel requirements and recommendations
What additional details apply to employment settings?
The guidelines present limited additional guidance for workplaces, consistent with earlier CDC (and OSHA) guidance:
"Fully vaccinated residents of non-healthcare congregate settings (e.g., correctional and detention facilities, group homes) should continue to quarantine for 14 days and be tested for SARS-CoV-2 following an exposure to someone with suspected or confirmed COVID-19. This is because residential congregate settings may face high turnover of residents, a higher risk of transmission, and challenges in maintaining recommended physical distancing."

"Fully vaccinated employees of non-healthcare congregate settings and other high-density workplaces (e.g., meat and poultry processing and manufacturing plants) with no COVID-like symptoms do not need to quarantine following an exposure; however testing following an exposure and through routine workplace screening programs (if present) is still recommended."
Readers will note that these situations do not cover the vast majority of workplace settings, which are neither congregate nor high-density. I interpret this guidance as a default to the status quo, in which employers in most settings should take precautions recommended by CDC, OSHA and others.
Now what?
Since these new CDC guidelines are addressed to vaccinated individuals rather than to employees whose employees will include these people, they don't provide any direct guidance. But they should be food for thought, as workplaces consider the numbers and density of people present – self-contained workplace settings vs those open to regular outsiders such as customers, large vs small settings, those that are known to contain high-risk occupants vs those that don't, workplaces where employer is sure that all vs some vs non employees are fully vaccinated, etc. Expect changing circumstances as vaccinations proliferate, and as post-vaccination experience accumulates.
Self-Assessment Checklist
Does the organization have operations that are still open and staffed by employees or other workers?
Has the organization implemented (or at least prepared) adequate information and precautionary measures (e.g., equipment and procedures recommended by OSHA, CDC and EEOC)?
Does the organization encourage or request or require members to disclose whether they've been vaccinated?
Has the organization established an internal program to track vaccinations and related guidance from health and safety experts, to determine appropriate policies?
Where do I go for more information?
Information available via the Internet includes:
● CDC, "Interim Public Health Recommendations for Fully Vaccinated People" (3/21)
● OSHA. "Protecting Workers: Guidance on Mitigating and Preventing the Spread of COVID-19 in the Workplace" (1/21)
About the Author

Jon Elliott is President of Touchstone Environmental and has been a major contributor to STP's product range for over 30 years.

Mr. Elliott has a diverse educational background. In addition to his Juris Doctor (University of California, Boalt Hall School of Law, 1981), he holds a Master of Public Policy (Goldman School of Public Policy [GSPP], UC Berkeley, 1980), and a Bachelor of Science in Mechanical Engineering (Princeton University, 1977).

Mr. Elliott is active in professional and community organizations. In addition, he is a past chairman of the Board of Directors of the GSPP Alumni Association, and past member of the Executive Committee of the State Bar of California's Environmental Law Section (including past chair of its Legislative Committee).
You may contact Mr. Elliott directly at: tei@ix.netcom.com