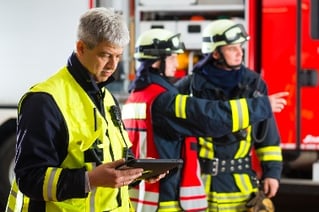 Although the main focus of the Occupational Safety and Health Administration's (OSHA's) requirements, that employers protect workers against recognized ongoing hazards, associated with routine activities, employers' responsibilities also extend to likely emergencies. Several OSHA standards address emergency conditions. These include emergency exit routes (which I wrote about HERE), emergency action plans (which I wrote about HERE), and fire prevention plans (FPPs). The remainder of this note discusses FPPs. Some OSHA standards require employers to create FPPs as part of their compliance programs. Even if your organization is not required by OSHA to do so, local fire codes or state requirements may apply. In every situation, you should consider the benefits of fire prevention and response activities.
Which workplaces require an FPP?
The following OSHA Standards require you to prepare an FPP as part of your compliance with their requirements:
Portable Fire Equipment Standard—under specified circumstances

Fixed Fire Suppression Systems Standard—under specified circumstances

Ethylene Oxide Standard

4,4'-Methylenedianiline Standard

1,3-Butadiene Standard
If your organization has workplaces subject to these standards, then it must have FPPs. Otherwise, the choice is yours (although other laws and regulations may make that choice).
What is required to comply with OSHA's FPP requirements?
Each FPP must include at least the following:
a list of major workplace fire hazards

procedures for proper handling and storage of anything that constitutes a fire hazard

housekeeping procedures designed to control accumulations of flammable and combustible wastes and residues

description of potential ignition sources (such as welding or smoking) and procedures for their control

types of fire protection equipment or systems to control fires involving each major fire hazard

procedures for regular maintenance of safeguards installed to prevent accidental ignition of combustible materials

names or regular job titles of personnel responsible for maintenance of employer's fire prevention or control equipment and systems

names or regular job titles of personnel responsible for control of fuel source hazards
The plan must also reflect fire prevention activities you take under other related standards, including those listed above, as well as OSHA's Fire Brigades and Fire Detection standards.
What FPP training is required?
At the time an employee is initially assigned to a workplace, you must do both of the following:
inform the employee of the fire hazards of materials and processes to which he or she will be exposed in the workplace

review those parts of the Fire Prevention Plan that the employee must know to protect himself or herself in an emergency.
Is the FPP in writing?
Most FPPs must be written. However, if a workplace has 10 or fewer employees, OSHA does not require a written FPP but instead allows the employer to orally communicate the FPP to employees. (Keep in mind that facilities with minimal employees may present complex fire prevention and management issues; think about oil and gas storage and trans-shipment facilities). If the FPP is written, the employer must keep it at the workplace and make it available for employee review.
What now?
Employers should review their safety and compliance documentation to determine if any workplaces have FPPs or need FPPs, and if so whether they are designed to meet requirements issued by OSHA or other agencies.
Self-Assessment Checklist
Does the organization implement an FPP in any of its workplaces?
As part of required compliance with another OSHA standard?

As part of integrated compliance with multiple emergency planning and response requirements (OSHA and/or other agencies)?

Voluntarily (including requirements by insurance providers)?
Does each FPP meet requirements set forth in OSHA's FPP standard?
Where Can I Go For More Information?
● OSHA Emergency Preparedness and Response webpage
● OSHA Evacuation Plans and Procedures eTool webpage
● OSHA, Instruction CPL 02-01-037, "Compliance Policy for Emergency Action Plans and Fire Prevention Plans" (7/9/02)
About the Author

Jon Elliott is President of Touchstone Environmental and has been a major contributor to STP's product range for over 30 years.

Mr. Elliott has a diverse educational background. In addition to his Juris Doctor (University of California, Boalt Hall School of Law, 1981), he holds a Master of Public Policy (Goldman School of Public Policy [GSPP], UC Berkeley, 1980), and a Bachelor of Science in Mechanical Engineering (Princeton University, 1977).

Mr. Elliott is active in professional and community organizations. In addition, he is a past chairman of the Board of Directors of the GSPP Alumni Association, and past member of the Executive Committee of the State Bar of California's Environmental Law Section (including past chair of its Legislative Committee).
You may contact Mr. Elliott directly at: tei@ix.netcom.com