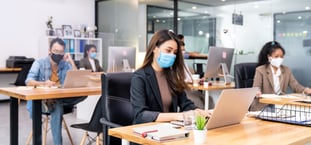 Among President Biden's flurry of first-week executive orders (EOs) is one entitled "Protecting the Federal Workplace and Requiring Mask-Wearing" (EO 13991). This EO states the administration's policy "It is the policy of my Administration to halt the spread of … COVID–19 by relying on the best available data and science-based public health measures. Such measures include wearing masks when around others, physical distancing, and other related precautions recommended by the Centers for Disease Control and Prevention (CDC)." The EO, and guidance to agencies issued by the Office of Management and Budget (OMB), provide directions to federal agencies. They can also provide useful guidance to non-federal organizations in which most employees work in office settings. The rest of this note discusses a January 24, 2021 OMB memorandum to agency heads entitled "COVID-19 Safe Federal Workplace: Agency Model Safety Principles," which incorporates CDC guidance.
What COVID-19 protections must federal agencies develop?
The EO specifies actions federal agencies must take to protect their employees and visitors.
● What immediate actions were due?
The OMB memo recommends the following immediate actions in all federal buildings:
Require masks in all federal buildings

Require social distancing in all federal buildings, following CDC guidance (i.e., 6 feet)

Review safety principles set forth in the memo (see below), adapting them as necessary

Designate an agency COVID-19 coordination team
The memo also notes that EO 13991 also creates an interagency Safer Federal Workforce Task Force, to provide ongoing guidance and recommendations. The Task Force is chaired by the director of the federal Office of Personnel Management, and includes OMB and CDC along with other agencies.
● What agency COVID-19 workplace safety plans were due by January 29?
The OMB memo directed cabinet departments and major independent agencies (including the Environmental Protection Agency (EPA)) to provide OMB with COVID-19 Workplace Safety Plans by January 29 (i.e., 5 days after the memo was issued).
What model safety principles does the memo transmit?
The memo includes an Appendix 1 "COVID-19 Safe Federal Workplace: Agency Model Safety Principles." The principles apply current CDC guidance ("Guidance for Businesses and Employers Responding to Coronavirus Disease 2019 (COVID-19)") to federal workplaces. The principles state general themes, for which the memo provides appropriate measures:
● Health and Safety
Telework and remote work should be maximized during periods of widespread community transmission

a COVID-19 Coordination Team should be created to establish and oversee compliance with plans and protocols

face masks should be required, and agencies may choose to provide them to some or all workers and visitors

each agency should comply with testing requirements as these are developed

travel should comply with applicable CDC guidelines

symptom screening should be provided on an ongoing basis

individuals with known or suspected infection should be quarantined and isolated

confidentiality of medical information should be maintained
● Workplace operations
occupancy should be limited to 25% of normal during "periods of high community prevalence or transmission" – which the memo does not define

physical distancing should be followed

environmental cleaning should be provided regularly, especially in common use/high touch/high density spaces

hygiene should be maintained, including with availability and frequent use of hand sanitizers

ventilation and air filtration should be optimized

visitors should be screened and masked, and questionnaires may be required

staggered work times and cohort-based scheduling may be applied

elevators should be reviewed and appropriately used; the memo recommends use of stairs when feasible

shared spaces require carefully staffing and enhanced hygiene
What now?
The OMB expects all agencies to apply these principles, consistent with more detailed CDC guidance. Office-based non-federal operations should review this information and incorporate principles and practices as appropriate.
Self-Assessment Checklist
Does the organization have office-based operations that are open and staffed by employees or other workers?
Has the organization developed and implemented a COVID-19 safety plan, with appropriate protective measures?
Where do I go for more information?
Information available via the Internet includes:
● President Biden EO 13991 (1/20/21; as published in Federal Register on January 25)
● White House website "Presidential Actions" webpage
● OMB memorandum "COVID-19 Safe Federal Workplace: Agency Model Safety Principles" (1/21/21)
● National Strategy for the COVID-10 Response and Pandemic Preparedness (January 2021)
- CDC, "Guidance for Businesses and Employers Responding to Coronavirus Disease 2019 (COVID-19)"
About the Author

Jon Elliott is President of Touchstone Environmental and has been a major contributor to STP's product range for over 30 years.

Mr. Elliott has a diverse educational background. In addition to his Juris Doctor (University of California, Boalt Hall School of Law, 1981), he holds a Master of Public Policy (Goldman School of Public Policy [GSPP], UC Berkeley, 1980), and a Bachelor of Science in Mechanical Engineering (Princeton University, 1977).

Mr. Elliott is active in professional and community organizations. In addition, he is a past chairman of the Board of Directors of the GSPP Alumni Association, and past member of the Executive Committee of the State Bar of California's Environmental Law Section (including past chair of its Legislative Committee).
You may contact Mr. Elliott directly at: tei@ix.netcom.com