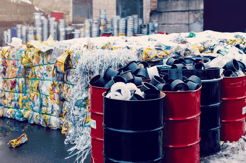 On May 4, 2022, the US Environmental Protection Agency (EPA) published notice of a proposed consent decree in litigation brought by the environmental group Center for Biological Diversity (CBD). EPA proposes to issue a decision responding to a petition filed by CBD in 2014, about whether to list discarded polyvinyl chloride (PVC) as hazardous waste under the Resource Conservation and Recovery Act (RCRA). CBD filed the suit early in 2021, after EPA had taken no action on its petition for seven years, claiming that the agency's inaction violated a duty to act. EPA is now ready to commit to issue a proposed decision no later than January 20, 2023, and a final decision by April 12, 2024.
What hazards do discarded PVCs present?
Polyvinyl chloride (PVC; also referred to as "vinyl") is the world's third-most widely produced synthetic polymer of plastic, and about 40 million tons are produced each year. It is produced by polymerizing vinyl chloride. As summarized by the American Chemistry Council (ACC), PVC is manufactured and used in rigid form (e.g., industrial pipes), in pliable form (e.g., as plastic wrap), and in thin and flexible form (e.g., as wallcovering). PVC is incorporated in a wide variety of household and commercial goods, including clothing, consumer packaging, building materials, electronics, and children's toys. ACC reports that ¾ of PVCs are used in building materials.
PVC products, and particularly wastes, contain vinyl chloride (regulated by the Occupational Safety and Health Administration (OSHA)) as a carcinogen, and other chemical additives, such as phthalate plasticizers. Plastic wastes are also persistent in the environment, and "microplastics" are being addressed with increasing urgency (I wrote about California's new Statewide Microplastics Strategy HERE).
What would RCRA listing mean?
RCRA authorizes EPA to define and regulate "hazardous waste," and provides approaches to doing so. Analyses cover:
does a waste meet criteria established by EPA, presently corrosivity, ignitability, reactivity, or toxicity

is a waste capable of posing a substantial present or potential hazard to human health or the environment if improperly managed, considering (40 CFR 261.11(3)):

The nature of the toxicity presented by the constituent.

The concentration of the constituent in the waste.

The potential of the constituent or any toxic degradation product of the constituent to migrate from the waste into the environment under [improper management].

The persistence of the constituent or any toxic degradation product of the constituent.

The potential for the constituent or any toxic degradation product of the constituent to degrade into non-harmful constituents and the rate of degradation.

The degree to which the constituent or any degradation product of the constituent bioaccumulates in ecosystems.

The plausible types of improper management to which the waste could be subjected.

The quantities of the waste generated at individual generation sites or on a regional or national basis.

The nature and severity of the human health and environmental damage that has occurred as a result of the improper management of wastes containing the constituent.

Action taken by other governmental agencies or regulatory programs based on the health or environmental hazard posed by the waste or waste constituent.

Such other factors as may be appropriate.
Listing could be based on any of these factors, as appropriate. EPA would also define management requirements covering the identified hazardous wastes, and would likely issue additional guidance.
What happens next?
EPA's notice asks for comments by June 3, 2022. After that date, EPA and CBD are likely to ask the court to finalize the consent decree. Assuming the court does so, EPA should move forward to meet its commitments during 2023-2024.
Readers should note that in April 2021 Canada added "plastic manufactured items" to the list of "toxic substances" promulgated under the Canadian Environmental Protection Act.
Self-assessment checklist
Does the organization produce or use materials or items made with PVC?
If so, has the organization reviewed its management or waste PVC-containing materials?

Has the organization compared its practices to those applied by EPA to "hazardous waste"?
Where can I go for more information?
- notice of proposed consent decree (5/4/22 Federal Register)
- text of proposed consent decree
Center for Biological Diversity
- complaint initiating lawsuit – (8/19/21)
- petition for EPA rulemaking on PVC (7/24/14)
- Order Adding a Toxic Substance to Schedule 1 to the Canadian Environmental Protection Act, 1999: SOR/2021-86 (4/23/21)
- Environment and Climate Change Canada, Health Canada, "Science Assessment of Plastic Pollution" (October 2020
About the Author

Jon Elliott is President of Touchstone Environmental and has been a major contributor to STP's product range for over 30 years.

Mr. Elliott has a diverse educational background. In addition to his Juris Doctor (University of California, Boalt Hall School of Law, 1981), he holds a Master of Public Policy (Goldman School of Public Policy [GSPP], UC Berkeley, 1980), and a Bachelor of Science in Mechanical Engineering (Princeton University, 1977).

Mr. Elliott is active in professional and community organizations. In addition, he is a past chairman of the Board of Directors of the GSPP Alumni Association, and past member of the Executive Committee of the State Bar of California's Environmental Law Section (including past chair of its Legislative Committee).
You may contact Mr. Elliott directly at: tei@ix.netcom.com