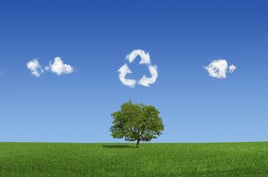 On November 15, 2021, the Environmental Protection Agency (EPA) published its "2021 National Recycling Strategy," which summarizes recent efforts to organize support for recycling of solid wastes – typically referred to in regulatory parlance as "municipal solid waste (MSW)" – and sets out near-term priorities for further progress to reach a national recycling rate of 50% by 2030. The Strategy notes that "The U.S. MSW recycling system currently faces a number of challenges, including confusion about what materials can be recycled, recycling infrastructure that has not kept pace with today's diverse and changing waste stream, reduced markets for recycled materials, and varying methodologies to measure recycling system performance." EPA characterizes this Strategy as "part one in a series of strategies to help us re-envision how we use materials more broadly." As part of these broader considerations, the Strategy incorporates contemporary emphases on environmental justice and climate change. (I've recently written about state-level initiatives including "product stewardship" HERE and HERE). The remainder of this note summarizes this policy document.
How does EPA diagnose the state of recycling?
The Strategy includes a letter of introduction from EPA Administrator Regan, who offers the following summary of the status quo:
"Our current recycling system is at a crossroads and desperately needs creative energy to better serve the needs of the American people. Some are confused about what materials can be recycled. In many areas of the country, our recycling infrastructure is antiquated. Markets for recyclables vary greatly, and we have no standardized way to measure system performance. Living near recycling facilities also takes a toll on already overburdened communities when materials are not properly managed. Black, Latinx, Indigenous, and low-income communities continue to be disproportionately impacted by higher pollution levels, which result in adverse health and overall quality of life impacts. And, to top it off, according to eminent scientists on the International Resource Panel, natural resource extraction and processing make up half of all global greenhouse gas (GHG) emissions that drive the climate crisis."
Based on this analysis, the Strategy offers a "transformative vision" for the MSW management and recycling systems, including incorporation of broader environmental concerns.
What strategic objectives does the Strategy provide?
The Strategy presents five strategic objectives, intended to reach the stated goal of increasing the national recycling rate to 50% by 2030. The Strategy identifies specific actions under each intended to strengthen the U.S. recycling system; most are also accompanied by examples to be pursued. The goals are:
Improve markets for recycled commodities through market development, analysis, manufacturing, and research.
EPA intends to improve and increase markets for recyclable materials and recyclable products, including better integration of recycled materials into product and packaging designs. These efforts will counteract recent reductions in domestic and worldwide markets for recyclable materials. Actions will include
Promote market development for recycled materials –workshops and dialogues; stakeholder education (consumers, recyclers, manufacturers); support for regional market development entities; analysis of benefits of market development in rural areas; and community market development toolkits.

Produce analysis of different end markets, considering "recycled material consumption, resilience, environmental benefits and other relevant factors for decision makers."

Increase manufacturers' use of recycled material feedstocks in domestic markets –increasing awareness of regionally-available feedstocks; and planning to develop capacity to use domestically-generated recycled materials.

Increase demand for recycled materials through policies, programs, initiatives and incentives –strategies for materials with less-developed markets; addressing barriers to use of recycled content; messaging for buying sustainable materials with recycled content; dialogues with manufacturers and other stakeholders to identify policies, programs and incentives to promote greater use of recycled content; encouraging procurement policies targeting sustainable materials made with recycled content; and creating a "Demand Challenge" voluntary recognition program.

Continue to support research and development of technologies and products that expand market opportunities

Explore possible US ratification of the Basel Convention on the Control of Transboundary Movements of Hazardous Wastes and Their Disposal (which I wrote about HERE), and encourage environmentally sound management of scrap and recyclables traded with other countries.

Increase collection of recyclable materials and improve recycling infrastructure through analysis, funding, product design, and processing efficiencies.
EPA notes that domestic recycling infrastructure has not kept up with the expansion of the volumes of recyclables, nationwide and particularly in some geographic and commercial markets. Accordingly, the Strategy provides a focus on Investment and innovation "necessary to increase collection opportunities, improve sorting materials, increase the efficiency of materials processing infrastructure, increase the collection of materials and create a more resilient recycling system." Actions will include:
Improve understanding of available recycling infrastructure and needs – create a national map of existing infrastructure; conduct a needs assessment for domestic recycling infrastructure; conduct a national environmental justice assessment of non-hazardous solid waste management infrastructure; and use this information to improve recycling infrastructure

Increase both awareness and availability of public and private funding and incentives, and effective strategies to access the funding

Continue to fund research, development, demonstration and deployment of new recycling technologies and processes

Increase consideration of recoverability and sustainability in product design

Optimize processing efficiencies at materials recovery facilities – including by developing model audit and assessment guides

Increase collection of recyclable materials – through outreach; data and analyses; and incentives, policies and programs

Reduce contamination in the recycled materials stream through outreach and education to the public on the value of proper recycling.
The Strategy states that reducing contamination in recycled materials is necessary to improving the quality of secondary materials and their markets. Actions will include:
Enhance public education and outreach on the value of recycling, and how to recycle properly

Develop common recycling messaging

Identify and vet effective public education approaches about recycling

Enlist traditional and social media, governments, waste haulers and recycling facilities, and product manufacturers to disseminate messaging

Improve the consistency of labeling

Develop a plan to assist state and local governments with contamination issues

Ensure resources are available for these initiatives

Enhance policies and programs to support recyclability and recycling through strengthened federal and international coordination, analysis, research on product pricing, and sharing of best practices.
The Strategy notes that broad-based, mutually supporting initiatives will support recycling efforts. EPA summarizes actions related to each of these targets.
Standardize measurement and increase data collection through coordinated recycling definitions, measures, targets, and performance indicators.
This section notes that need for standardized definitions and methodologies, to allow reliable goal-setting, evaluation, and tracking of activities. It describes actions to be taken to ensure these are accomplished, and that information about the approaches and accomplishments are disseminated.
What additional areas of focus does the Strategy provide?
In addition to its these strategic objectives, the Strategy aims to support progress in three broad policy areas:
Increasing Equitable Access for Overburdened Communities

Reducing Climate Impacts of Materials Management

Managing Materials for a Circular Economy
What's next?
In announcing the Strategy, EPA has committed to spend "the next few months" collaborating with stakeholders to develop a plan to implement the Strategy. Then, "[over] the next few years, EPA will move forward to support a circular economy approach to materials management, which represents an important change in how the nation currently mines resources, makes them into products, and then disposes of them."
Self-assessment checklist
Does the organization produce and sell products that leave wastes after end users finish with them?
If so, has the organization evaluated the volumes of such wastes, and methods available for their management?
Has the organization assumed any post-use responsibilities for such wastes?
Has the organization evaluated whether changes in design or packaging might reduce post-consumer wastes?
Do the organization's activities include use of input materials that produce waste streams?
If so, has the organization identified wastes that are subject to specific recycling, recovery or stewardship programs applicable in one or more jurisdictions?
If so, has the organization evaluated its purchasing, to identify materials that produce these wastes?
If so, has the organization evaluated the suitability of available alternatives that would not produce wastes subject to these programs?
Has the organization established onsite collection of targeted materials, and delivery of those materials to available destinations (solid waste pick-up, retailer, etc.)?
Does the organization track legislative and regulatory processes in order to stay informed about possible changes in applicable waste management requirements, including EPA's continuing development and implementation of its new National Recycling Strategy?
Where can I go for more information?
- 2021 national Recycling Strategy
- "Recycling Strategy" webpage
- "Reduce, Reuse, Recycle" webpage
About the Author

Jon Elliott is President of Touchstone Environmental and has been a major contributor to STP's product range for over 30 years.

Mr. Elliott has a diverse educational background. In addition to his Juris Doctor (University of California, Boalt Hall School of Law, 1981), he holds a Master of Public Policy (Goldman School of Public Policy [GSPP], UC Berkeley, 1980), and a Bachelor of Science in Mechanical Engineering (Princeton University, 1977).

Mr. Elliott is active in professional and community organizations. In addition, he is a past chairman of the Board of Directors of the GSPP Alumni Association, and past member of the Executive Committee of the State Bar of California's Environmental Law Section (including past chair of its Legislative Committee).
You may contact Mr. Elliott directly at: tei@ix.netcom.com