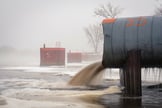 The Clean Water Act (CWA) requires the Environmental Protection Agency (EPA) to define "oil" and "hazardous substances", and includes requirements that EPA establish "procedures, methods, and equipment and other requirements for equipment to prevent discharges of oil and hazardous substances from vessels and from onshore facilities and offshore facilities, and to contain such discharges…." (33 USC § 1321(j)(1)(C)) Since 1973, EPA has required owners and operators of non-transportation-related onshore and offshore facilities to establish and implement Spill Prevention, Countermeasure and Control (SPCC) Plans if they manage more than threshold levels of oils (I summarized these requirements here).
EPA has never applied this CWA authority to create analogous requirements for facilities with CWA-defined hazardous substances. In July 2015, the Environmental Justice Health Alliance for Chemical Policy Reform, People Concerned About Chemical Safety, and the Natural Resources Defense Council (NRDC) filed a "citizen's suit" under CWA in federal District Court, claiming that EPA's failure to issue hazardous substance release prevention requirements violated a mandatory duty created by the CWA section cited above. EPA disagreed and defended the suit, but the parties signed an agreement, memorialized in a Consent Decree issued by the court in February 2016, in which EPA agreed to issue a notice of proposed rulemaking pertaining to the issuance of hazardous substance regulations, and to take a final action after notice and comment.
On September 3, 2019, EPA completed this process by issuing its final determination not to issue new requirements covering hazardous substance releases. EPA justifies this decision based on its review of existing requirements under other authority, and the relative rarity of such releases (citing 2,491 relevant release reports to the National Response Center during 2007-2016). The agency finds that new regulations would provide "only minimal incremental value."
How Did EPA Address the Issues?
The details of EPA's analysis appear in the agency's June 2018 proposal not to add requirements, which is now finalized. The analysis contains the following elements.
What onsite program elements would provide for spill prevention and response?
EPA reviewed existing SPCC Plan requirements for oil-storing facilities, as well as other spill prevention and response programs (see below) and identified the following as elements for a hazardous substance-storing facility:
Prevention provisions: safety information, hazard review, mechanical integrity, personnel training, incident investigations, and compliance audits

Containment provisions: secondary containment

Mitigation provisions: emergency response plan, and coordination with state and local responders

Which existing regulations did EPA review?
With the program elements in mind, EPA reviewed the following regulatory requirements, which are administered by EPA itself as well as other agencies:
National Pollution Discharge Elimination System (NPDES) Multi-Sector General Permit (MSGP) for Industrial Stormwater (CWA)

Accidental Release Prevention (ARP) Risk Management Prevention (RMP) program Rule (Clean Air Act )

SPCC Rule (CWA)

Pesticide management and disposal and Worker Protection Standard (Federal Insecticide, Fungicide and Rodenticide Act)

Generator and Treatment, Storage and Disposal Facility (TSDF) requirements (Resource Conservation and Recovery Act)

Requirements for Underground Storage Tanks (USTs)

Emergency Planning and Notification, and Hazardous Chemical Reporting (Emergency Planning and Community Right-to-Know Act)

Effluent guidelines for Pulp, Paper, and Paper Board (CWA, CAA.)

Occupational Safety and Health Administration (OSHA) Standards for Process Management (PSM), Hazardous Waste Operations and Emergency Response (HAZWOPER), Hazard Communication Standard (HCS/Hazcom), and Emergency Action Plans (EAPs)

Mine Safety and Health Administration (MSHA) Regulations

Department of Transportation (DOT) Pipeline and Hazardous Materials Safety Administration (PHMSA) Hazardous Materials Regulations

Department of Interior/Office of Surface Mining Reclamation and Enforcement (OSMRE) Surface Mining Control and Reclamation Act (SMCRA) Requirements
Readers who are familiar with these requirements will recognize that they apply to a wide variety of circumstances, which do not apply consistently to facilities that store reportable quantities of CWA-listed hazardous substances. For example, chemical product storage facilities will not necessarily have significant hazardous wastes, and facilities with aboveground storage may not also have USTs. On the other hand, EPA's notification does not address fire code requirements for hazardous materials storage applicable throughout the US. EPA did not attempt to link the universes of facilities subject to these requirements, except to note the applicability of these regulatory schemes to the 10 chemicals involved in the most reports to the National Response Center (without evaluating regulatory thresholds or quantities in reported releases).
What's Next?
As of this writing, the plaintiffs in the citizen suit have not stated whether they will take further action in their case, and no other entities have issued any statements about possible responses to EPA's regulatory decision. Absent appeals or litigation, the matter seems closed for the duration of President Trump's administration.
Self-Assessment Checklist
Does the organization have any facilities presently required to implement SPCC plans covering oils managed onsite?
Does the organization have any facilities that store CWA-listed hazardous substances managed onsite?
If so, has each facility developed and implemented release prevention and response measures, as part of compliance with the other regulations cited by EPA or for other reasons?
Where Can I Go For More Information?
Specialty Technical Publishers (STP) provides a variety of single-law and multi-law services, intended to facilitate clients' understanding of and compliance with requirements.
About the Author

Jon Elliott is President of Touchstone Environmental and has been a major contributor to STP's product range for over 30 years.

Mr. Elliott has a diverse educational background. In addition to his Juris Doctor (University of California, Boalt Hall School of Law, 1981), he holds a Master of Public Policy (Goldman School of Public Policy [GSPP], UC Berkeley, 1980), and a Bachelor of Science in Mechanical Engineering (Princeton University, 1977).

Mr. Elliott is active in professional and community organizations. In addition, he is a past chairman of the Board of Directors of the GSPP Alumni Association, and past member of the Executive Committee of the State Bar of California's Environmental Law Section (including past chair of its Legislative Committee).

You may contact Mr. Elliott directly at: tei@ix.netcom.com

photo credit: Mississippi WMO Stormwater Outfall "1NE" via photopin (license)