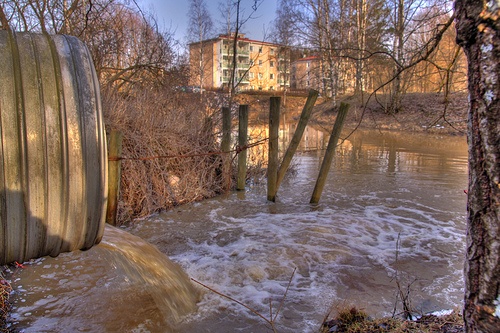 The Clean Water Act (CWA) provides detailed national requirements, under which the U.S. Environmental Protection Agency (EPA) and states cooperate to establish water quality goals, and administer planning and discharge permit programs to preserve and enhance water quality nationwide. To improve the efficiency of these massive efforts, EPA has launched a series of initiatives to provide for electronic reporting and data management. Effective December 21, EPA has adopted extensive revisions to CWA rules to require electronic reporting instead of paper reporting under a wide variety of CWA provisions. These rules provide facilities with deadlines after 12 months ("Phase 1") for high-priority discharger reports, and 5 years ("Phase 2") for other discharger requirements. They also provide a series of deadlines for state regulators to share and report information electronically, ranging from 9 months to 6 years from now. EPA emphasizes that these revisions do not increase the amount of information reported by various entities, and so asserts that entities' reporting burdens should actually diminish once they've managed their transition to the new methodologies. EPA also anticipates significant benefits from data sharing among agencies.
Which Permittees' Reports Must Become Electronic, And When?
EPA's revised rules require compliance reporting by regulated entities to become electronic, in two phases due one year and five years from now:
Reporting Requirements Effective in December 2016 (1 year):
One year from now, entities that are subject to two high priority compliance requirements will be required to submit associated reports electronically:
Discharge monitoring reports (DMRs), which can apply to major and non-major dischargers, and to individually permitted facilities and facilities covered by general permits.
Sewage Sludge/Biosolids Annual Program Reports, by facilities covered by an authorized National Pollutant Discharge Elimination System (NPDES) biosolids program (currently 42 of 50 states and all other tribal lands and territories).
EPA and authorized state programs will begin to share these data with each.
Reporting requirements effective in December 2020 (5 years):
The revised rules give authorized NPDES programs five years to begin electronically collecting, managing, and sharing the remaining NPDES information specified by EPA (in a new appendix A in 40 CFR part 127). This information includes:
General permit reports (e.g. Notice of Intent to be covered (NOI); Notice of Termination (NOT); No Exposure Certification (NEC); Low Erosivity Waiver and Other Waivers from Stormwater Controls (LEW)).

Sewage Sludge/Biosolids Annual Program Report (where the state is the authorized NPDES biosolids program).

All other remaining NPDES program reports (e.g., CAFO Annual Report, Pretreatment Program Annual Report).
Which Agency Reports Must Become Electronic, And When?
EPA oversees extensive water quality evaluation and planning efforts by state (and regional) agencies, as well as discharge permit programs delegated under the NPDES. EPA's latest revisions will now require agencies to make required reports to EPA under these programs electronically, and sets two sets of deadlines for doing so:

Reporting requirements effective in September 2016 (9 months):
The revised rules require authorized NPDES programs to begin to transmit the following data electronically to EPA, beginning in September 2016:
Basic facility and permit information for all permits (tied to EPA's existing Water Enforcement National Database (WEND)).
Other data necessary for implementation of Phase 1 data collection.
These requirements convert states' previously voluntary participation in WEND into a condition for maintaining NPDES delegation.

Reporting requirements effective in December 2016 (12 months):
One year from now, authorized NPDES programs must start electronically transmitting to EPA their state performance data, which includes information generated from the following:
Compliance monitoring (e.g., inspections)
Violation determinations
Enforcement actions
Implementation of this requirement will facilitate EPA's efforts to track agencies' regulatory and enforcement activities, and to produce national comparisons.

Reporting requirements effective in September 2020 (3 months before facilities' Phase 2 deadline):
EPA will require states to be ready to share electronic information due from regulated entities three months before the December 2020 "Phase 2" deadline discussed below.

Plan for managing electronic reporting due in December 2021 (6 years):
EPA will require states to an implementation plan for meeting requirements to share all Phase 2 data from regulated entities, one year after the facilities are required to submit data electronically.

Self Assessment Checklist
If your organization's activities involve routine discharges to waterways, from ongoing activities and/or stormwater runoff, consider the following checklist:

Do any of my organization's activities include routine wastewater discharges subject to water quality requirements (e.g., direct or indirect permit, local sewer ordinance)?
Directly to waterways?
To sewer systems (i.e., indirectly to waterways via sanitary sewers?
Are any of my organization's activities subject to rain or snow, which then produce runoff to storm sewer systems or waterways?

Does my organization comply with applicable CWA and/or state water quality requirements, including submission of compliance documents as required?
Paper copies?
Electronic copies?
Has my organization reviewed data management and document submission procedures and technologies, to determine whether any reporting now made in paper documents could be made electronically, by EPA's deadlines?

Is my organization tracking electronic reporting requirements under development by each of its water quality regulators, in anticipation of electronic reporting requirements?

Where Can I Go For More Information?


Specialty Technical Publishers (STP) provides a variety of single-law and multi-law services, intended to facilitate clients' understanding of and compliance with requirements. These include:
About the Author

Jon Elliott is President of Touchstone Environmental and has been a major contributor to STP's product range for over 25 years. He was involved in developing 12 existing products, including Environmental Compliance: A Simplified National Guide and The Complete Guide to Environmental Law.
Mr. Elliott has a diverse educational background. In addition to his Juris Doctor (University of California, Boalt Hall School of Law, 1981), he holds a Master of Public Policy (Goldman School of Public Policy [GSPP], UC Berkeley, 1980), and a Bachelor of Science in Mechanical Engineering (Princeton University, 1977).
Mr. Elliott is active in professional and community organizations. In addition, he is a past chairman of the Board of Directors of the GSPP Alumni Association, and past member of the Executive Committee of the State Bar of California's Environmental Law Section (including past chair of its Legislative Committee).
You may contact Mr. Elliott directly at: tei@ix.netcom.com.