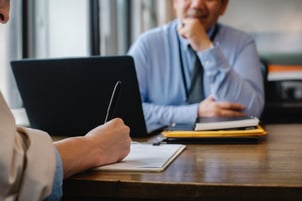 After an employer discharges an employee, the (ex) employee may be able to sue claiming that the discharge was unjustified or"wrongful," depending on the terms of any applicable employment contract andthe circumstances of the discharge. One complicated set of circumstances involve discharges that are "constructive" rather than explicit/actual. Whereas an employer may commit an actual breach by dismissing an employee without cause and without sufficient advance notice or severance pay, a constructive breach occurs when an employer forces the employee to accept a fundamental (or in some formulations, "substantial") change in the employment relationship or quit.
The situation is further complicated if it appears that the change was not created all at once, but instead through a series of cumulative acts. The Court of Appeal of Alberta recently considered such a situation, and decided that the employee's "silent acquiescence" to the employer's initial re-writing of the employment agreement delayed the date of constructive discharge and therefore reduced her recovery. (Kosteckyj v. Paramount Resources Ltd., 2022 ABCA 230).
What were the facts?
Olga Kosteckyj is a professional engineer, who worked for Paramount Resources Ltd. as of 2020; she worked from 2013 until 2017 for Apache Canada, Ltd. and joined Paramount when that company bought Apache. On March 27, 2020, Paramount announced that it would implement a "cost reduction program" effective April 1, 2020, including across-the-board reductions to salaries and benefits. For Kosteckyj, this meant a 10% base salary reduction (from $154,800 to $139,320), suspension of the employer's Registered Retirement Savings Plan (RRSP) contributions (previously 6% of her salary), delay to, or cancellation of, her bonus, and elimination of further access to seminars or training.
On April 22, 2020, Paramount terminated Kosteckyj without cause, as part of additional cost reduction measures, and paid her statutory termination pay of five weeks' salary.
What was argued after Kosteckyj sued Paramount?
In July 2020, Kosteckyj sued Paramount for wrongful dismissal, seeking damages equal to the value of the benefits she would have received had her employment lasted another twelve months based on her compensation package "[a]t the time of dismissal." She listed her salary and various benefits as they were before the April 1 changes imposed through the cost reduction program. In documentation filed in the case, she stated she had been terminated on April 22, but "constructively dismissed" on April 1. Paramount defended against her April 1 claims by asserting that no constructive dismissal had occurred, since Kosteckyj had never objected to the April 1 changes, and had continued working until April 22. The resolution of this disagreement affected whether any damages would be calculated based on her pre-April compensation package, or on the lower compensation imposed by Paramount on April 1.
What did the trial court decide?
A summary trial was held before the Court of Queen's Bench of Alberta. In evaluating whether constructive dismissal had occurred on April 1, the trial judge reviewed the test set forth in 2015 by the Supreme Court of Canada (in Potter v. New Brunswick Legal Aid Commission), which defines two alternative tests:
Whether a detrimental change to the employee's status occurred, significant enough that "a reasonable person in the same situation as the employee would have felt that the essential terms of the employment contract were being substantially changed."

Whether the employer's conduct, "when viewed in light of all the circumstances, would lead a reasonable person to conclude that the employer no longer intended to be bound by the terms of the contract."
The trial judge determined that the salary and benefit reductions imposed on April 1 were significant enough that Kosteckyj was constructively discharged as of that date. Interpreting her employment to span the years with Paramount and its predecessor Apache, the court determined that her tenure entitled her to severance for 9 months. The judge calculated what her earnings would have been at the pre-April terms, deducted the pay received between April 1 and 22, and awarded her $107,247.97. Paramount appealed.
What has the Court of Appeal decided?
The Court of Appeal evaluated whether Kosteckyl had been constructively discharged on April 1, or wrongfully dismissed on April 22. In analyzing the constructive discharge question, the Court of Appeal considered whether Kosteckyl's actions imply that she accepted the changes in her terms of employment effective April 1:
"The summary trial judge erred in holding that Ms. Kosteckyj proved that the altered employment terms were the product of a unilateral act on the part of Paramount Resources and that she did not consent to them. Ms. Kosteckyj never stated that she either refused to accept the changes Paramount Resources introduced on April 1, 2020, or had not made up her mind before April 22, 2020, the date Paramount Resources terminated her employment. The fact that she worked for three weeks doing the same tasks from the same office is clear evidence that she accepted the reduced level of compensation. The reasonable period to make up her mind – she was a healthy, knowledgeable and informed person – expired no more than ten business days after April 1, 2020."
Deciding she had waited too long to object—i.e., longer than the 10 days the court considered reasonable for an employee to evaluate options and raise objections—the Court of Appeal denied Kosteckyj's claims of constructive discharge. However, the court agreed she had been wrongfully dismissed as of April 22, and awarded her 9 months' severance, calculated from April 22 (and so not subject to the 3 weeks of offset applied by the trial court) at the compensation levels effective April 1 (after application of Paramount's cost reduction program), for a total of $97,190.56.
What happens now?
There is no indication that either Kosteckyj or Paramount will appeal this decision; if neither does, then the matter is closed between them. However, employers throughout Alberta, and perhaps throughout Canada, need to consider whether this caveat to the Supreme Court of Canada's Potter analysis will be applied broadly. If so, it will put explicit time pressure on employees to decide whether to accept (unilateral) changes in their terms of employment or declare themselves to have been constructively discharged.
Where can I go for more information?
Kosteckyj v. Paramount Resources Ltd:
– Court of Appeal decision (2022 ABCA 230 (CanLII)) – https:// www.canlii.org/en/ab/abca/doc/2 022/2022abca230/2022abca230. html?autocompleteStr=2022%20 ABCA%20230%20 &autocompletePos=1
– Court of Queen's Bench decision (2021 ABQB 225 (CanLII)) – https:// www.canlii.org/en/ab/abqb/doc/202 1/2021abqb225/2021abqb225.html
About the Author

Jon F. Elliott Esq., MPP, JD, is the author of over a dozen books and many articles, and has worked in public agencies, non-profit groups, and private businesses. He has an engineering degree from Princeton and his public policy graduate degree (MPP) and law degree (JD) are from the University of California, Berkeley.
For 25 years he has been the primary author of STP's Directors' and Officers' Liability publication, analyzing and explaining common law, statutory and regulatory provisions in the U.S. For nearly 20 years, he has also contributed extensively regarding Canadian requirements. He is also the primary author of STP's Workplace Violence Prevention publication, which offers detailed advice on policies and procedures, as well as compliance with Canadian and U.S. legal requirements. See www.stpub.com for a full bio of Jon Elliott.