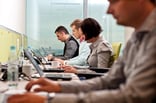 The Equal Employment Opportunity Commission (EEOC) administers and enforces most national anti-discrimination laws. As part of these responsibilities, EEOC issues formal regulations, and a host of less formal guidance documents – some directed to employers, some to employees, and/or some to the agency's own personnel. In August 2016, EEOC reissued EEOC Enforcement Guidance on Retaliation and Related Issues ("the Guidance"), describing its approach to situations where employees claim they've suffered retaliation for asserting rights against discrimination under the laws EEOC administers, or even just for questioning workplace rules and situations.
Differences in statutory language and related court decisions affect EEOC's authority under these laws, but the agency asserts consistent approaches to protecting current and would-be workers. Accordingly, the new guidance addresses retaliation under all of the following:
Title VII of the Civil Rights Act of 1964 (Title VII)

Age Discrimination in Employment Act (ADEA)

Americans with Disabilities Act (ADA)

Rehabilitation Act (Section 501)

Equal Pay Act (EPA)

Genetic Information Nondiscrimination Act (GINA).
The new guidance does not so much break new ground as compile and synthesize guidance from decades of enforcement actions and court cases since EEOC last issued such guidance in 1998 (in Section 8 of the agency's Enforcement Manual, which is replaced by the new guidance). With this new guidance in hand, this is a good time for employers to review these issues.
How Does EEOC Define Retaliation?
Although there are limited variations among the laws EEOC administers, the Guidance generally provides a 3-part test for whether retaliation has occurred:
1. Protected activity, either by:
a. "Participation" in an EEO process or
b. "Opposition" to discrimination in the workplace
2. Materially adverse action taken by the employer.
3. Requisite level of causal connection ["but for" test] between the protected activity and the materially adverse action.
EEOC also applies the same tests to determine whether prohibited "interference" with ADA rights has occurred.
What Does EEOC Consider Evidence of Retaliation?
The Guidance discusses facts that EEOC and courts may find to indicate that retaliation has occurred, grouping the facts as:
Suspicious timing - i.e., of changes in work-related duties or conditions, or of disciplinary actions.

Oral or written statements – by management employees or co-workers, or in employer-issued documents.

Comparative evidence.

Inconsistent or shifting explanations.

Other evidence that the employer's explanation was pretextual.
Most of the 70 pages in the Guidance discusses the three tests and these points of proof, with dozens of examples to illustrate the activities that do or do not meet these tests – most are drawn from actual cases handled administratively by EEOC or pursued in federal courts.
What Remedies May Be Available?
The Guidance reminds its readers that employees who prove that they suffered retaliation can be eligible for compensatory damages, may be eligible to receive additional punitive damages, and might also receive other additional compensation (such as reinstatement to a lost job or position).

Self-Evaluation Checklist
Does the organization:
Develop, disseminate, and enforce strong policies against discrimination?

Train managers and employees regularly about their rights and responsibilities under these laws?

Conduct employee surveys and review employment policies and practices to identify and correct any activities that may constitute discrimination?

Respond to discrimination complaints efficiently and effectively, including investigation and corrective actions, and new preventive measures as necessary?

Protect applicants and employees from retaliation?
Where Can I Get More Information?
Specialty Technical Publishers (STP) provides a variety of single-law and multi-law services, intended to facilitate clients' understanding of and compliance with requirements. These include:
About the Author

Jon Elliott is President of Touchstone Environmental and has been a major contributor to STP's product range for over 25 years. He was involved in developing 13 existing products, including Environmental Compliance: A Simplified National Guide and The Complete Guide to Environmental Law.
Mr. Elliott has a diverse educational background. In addition to his Juris Doctor (University of California, Boalt Hall School of Law, 1981), he holds a Master of Public Policy (Goldman School of Public Policy [GSPP], UC Berkeley, 1980), and a Bachelor of Science in Mechanical Engineering (Princeton University, 1977).
Mr. Elliott is active in professional and community organizations. In addition, he is a past chairman of the Board of Directors of the GSPP Alumni Association, and past member of the Executive Committee of the State Bar of California's Environmental Law Section (including past chair of its Legislative Committee).
You may contact Mr. Elliott directly at: tei@ix.netcom.com.