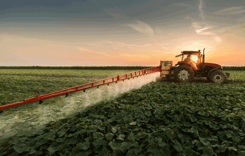 On June 17, the Ninth Circuit (federal) Court of Appeals issued an important ruling on national pesticide regulation, directed at the chemical glyphosate, which is the active ingredient in the ubiquitous weedkiller Roundup (originally marketed by Monsanto, which was bought by Bayer in 2018). The order remands to the Environmental Protection Agency (EPA) the agency's determination that glyphosate does not pose "any unreasonable risk to man or the environment," citing evidence that such risks may indeed be present. The case, Natural Resources Defense Council v. EPA, interprets and applies the Federal Insecticide, Fungicide and Rodenticide Act (FIFRA). This decision is the latest step in controversies dating to 2009, when EPA began its latest FIFRA hazard review and reregistration determination for glyphosate.
What is glyphosate and how is it used?
Glyphosate is a broad-spectrum weed killer. As summarized in the latest court decision:
"During its first two decades on the market, Roundup had limited utility to farmers because it killed all vegetation in an application area. But in the mid-1990s, Monsanto developed a "Roundup Ready" crop system, selling Roundup along with seeds genetically modified to tolerate glyphosate. The system allowed farmers to apply glyphosate over genetically modified crops, killing weeds but leaving the crops unharmed."
Roundup has been the highest-selling pesticide in the US. Although Monsanto genetically modified crops to resist glyphosate, other species remain potentially subject to harm, including not just unaltered plants but also bees and perhaps humans. In recent years, a series of lawsuits have involved claims that exposure to Roundup harmed the plaintiffs; on June 21 the US Supreme Court denied review of a decision in one such case assessing $25 million in damages against Monsanto in a case claiming that exposure to Roundup caused plaintiff's cancer (Hardeman v. Monsanto Company).
What's the recent regulatory and litigation history of Glyphosate?
EPA first registered glyphosate as a pesticide ingredient under FIFRA in 1974, and has conducted several formal reviews during the intervening decades. The current cycle began in 2009, when EPA commenced a (re)registration review. In 2015, EPA determined that glyphosate may pose certain risks to mammals and birds and may adversely affect terrestrial and aquatic plants, primarily from spray drift. At that time, EPA issued a draft human-health risk assessment and a paper about glyphosate's carcinogenic potential, concluding that glyphosate posed no serious human-health risks and should be classified as "not likely to be carcinogenic to humans."
In January 2020, EPA issued an Interim Registration Review Decision, which:
finalized the earlier draft human-health and ecological risk assessments;

presented a brief cost-benefit analysis concluding that the benefits of glyphosate use outweighed the potential ecological risks (i.e., to non-targeted plants and animals) when the pesticide is used according to label directions;

defined label changes for glyphosate products, as mitigation measures to further reduce potential ecological risks; and

announced EPA's plans to complete an assessment of glyphosate's effect on endangered and threatened species, pursuant to the Endangered Species Act ("ESA").
To reach these conclusions, EPA reviewed a variety of studies, including one in which the International Agency for Research on Cancer (IARC) concluded that glyphosate is a probable human carcinogen, and instead found that the chemical is neither carcinogenic nor an endocrine disruptor. EPA found minimal ecological risks to animals.
Two groups petitioned for review of EPA's Interim Decision: one led by the Rural Coalition, and the other by Natural Resources Defense Council ("NRDC"). Rural Coalition challenged EPA's conclusions on human health and insisted that EPA should have followed ESA's procedural requirements before issuing the Interim Decision. NRDC's challenged EPA's ecological risk assessment, cost-benefit analysis, and risk-mitigation requirements. The court consolidated the petitions for review, and allowed Monsanto to intervene as an interested party.
What has the Ninth Circuit decided?
The Ninth Circuit's June 2022 54 page decision provides analyzes FIFRA's statutory requirements and EPA policies, which it applies to EPA's actions and inactions involving glyphosate. Accordingly, the majority opinion:
Notes that the text of EPA's cancer review found it impossible to conclude whether or not glyphosate is a human carcinogen, inconsistent with the agency's conclusion that it "is unlikely" to be one

Finds that EPA mis-applied its own guidelines when review animal carcinogenicity studies

Accordingly finds EPA's regulatory determination regarding possible human carcinogenicity is not supported by substantial evidence, and therefore vacates it

Also finds that EPA did not comply with ESA procedural requirements for consultation with the US Fish and Wildlife Service and/or National Marine Fisheries Service

Accepts EPA's request to remand the ecological risk assessment for further action, ordering the agency to complete work by October 2022 (which is EPA's statutory deadline under FIFRA for re-registration review of pesticides first registered before 2007)
Now What?
Because of the statutory deadline in FIFRA, EPA must complete its review by October 2022. Assuming the agency meets this deadline, further regulatory clarity will appear soon – although litigation will certainly follow any determination that does not include significant additional restrictions or even revocation of registration.
Self-Assessment Checklist
Does the organization manufacture, sell, or use glyphosate or glyphosate-using pesticides such as roundup?
Where Do I Go For More Information?
About the Author

Jon Elliott is President of Touchstone Environmental and has been a major contributor to STP's product range for over 30 years.

Mr. Elliott has a diverse educational background. In addition to his Juris Doctor (University of California, Boalt Hall School of Law, 1981), he holds a Master of Public Policy (Goldman School of Public Policy [GSPP], UC Berkeley, 1980), and a Bachelor of Science in Mechanical Engineering (Princeton University, 1977).

Mr. Elliott is active in professional and community organizations. In addition, he is a past chairman of the Board of Directors of the GSPP Alumni Association, and past member of the Executive Committee of the State Bar of California's Environmental Law Section (including past chair of its Legislative Committee).
You may contact Mr. Elliott directly at: tei@ix.netcom.com