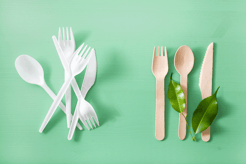 On June 20, 2022, the government of Canada published "Single-use Plastics Prohibition Regulations", which will ban the manufacture and importation of most single-use plastics effective December 20, 2022, with some delayed deadlines to December 20, 2023. Bans on sale will phase in between December 20, 2023 and December 20, 2025. These rules are an important part of national efforts to reduce the manufacture and use of plastics, in order to reduce both resources used to manufacture them, and pollution when they are disposed or discarded. These new regulations are the most far-reaching of global efforts to date (as a narrower example, I wrote about California's Microplastics Policy HERE). The remainder of this note summarizes the new Canadian regulations.
What items will be banned?
The regulations will ban six types of single-use plastics:
Checkout bags designed to carry purchased goods from a business (typically given to customers at the retail point of sale)

Cutlery, including knives, forks, spoons, sporks, and chopsticks

Foodservice ware designed for serving or transporting ready-to-consume food or beverages, consisting of:

clamshell containers, lidded containers, boxes, cups, plates, and bowls

that contain expanded polystyrene foam, extruded polystyrene foam, polyvinyl chloride, carbon black, or an oxodegradable plastic

Ring carriers that are flexible and designed to surround beverage containers in order to carry them together

Stir sticks designed to stir or mix beverages, or to prevent spilling from the container's lid

Straws, including straight drinking straws, and flexible straws (i.e., with a corrugated section that allows the straw to bend) packaged with beverage containers (juice boxes and pouches; other flexible straws may qualify for exclusions)
The regulations apply to any person who manufactures, imports or sells (including to provide free of charge) any of the listed items. However, the regulations do not apply to plastic manufactured items that are waste or that are transiting through Canada.
What are the deadlines for the bans?
The bans are phased in as follows, with bans on manufacture and importation followed by subsequent bans on sales in order to allow time to exhaust inventories:
December 20, 2022 – ban manufacture and importation for sale in Canada of checkout bags, cutlery, foodservice ware, stir sticks, (most) straws

June 20, 2023 - ban manufacture and importation for sale in Canada of ring carriers

December 20, 2023 – ban sale of checkout bags, cutlery, foodservice ware, stir sticks, (most) straws

June 20, 2024 – ban sale of ring carriers and flexible straws

December 20, 2025 – ban manufacture of all 6 item types for export
What happens now?
The government estimates that these bans will result in the "estimated elimination of over 1.3 million tonnes of hard-to-recycle plastic waste and more than 22,000 tonnes of plastic pollution, which is equivalent to over a million garbage bags full of litter." The new regulations will be administered by Environment and Climate Change Canada, applying its authority under the Canadian Environmental Protection Act. Firms in Canada must prepare to comply. Firms outside Canada (including the United States) that presently export these items into Canada or import them from Canada must also prepare to adjust their value chains as Canadian organizations curtail their activities.
Self-audit checklist
Does the organization produce or use any single-use plastic items that are used in Canada?
If so, is the organization preparing to comply with the new Single-use Plastics Prohibition Regulations

If so, has the organization investigated alternatives?
Where can I go for more information?
Environment and Climate Change Canada –
- "Plastic waste and pollution reduction" webpage
- "Single-use Plastics Prohibition Regulations" (SOR 2022-138)
About the Author

Jon Elliott is President of Touchstone Environmental and has been a major contributor to STP's product range for over 30 years.

Mr. Elliott has a diverse educational background. In addition to his Juris Doctor (University of California, Boalt Hall School of Law, 1981), he holds a Master of Public Policy (Goldman School of Public Policy [GSPP], UC Berkeley, 1980), and a Bachelor of Science in Mechanical Engineering (Princeton University, 1977).

Mr. Elliott is active in professional and community organizations. In addition, he is a past chairman of the Board of Directors of the GSPP Alumni Association, and past member of the Executive Committee of the State Bar of California's Environmental Law Section (including past chair of its Legislative Committee).
You may contact Mr. Elliott directly at: tei@ix.netcom.com