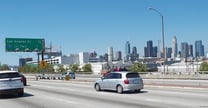 Since enacting AB 32 in 2006, California has pursued aggressive policies to reduce statewide greenhouse gas (GHG) emissions. Primary responsibilities are assigned to the California Air Resources Board (ARB), although other state agencies implement complementary policies within their areas of special jurisdiction. In addition to emissions control regulations, state law assigns ARB to develop a Scoping Plan that identifies the state's strategic goals, and compiles the many tactical approaches through individual regulatory and incentive programs. ARB issued the first Scoping Plan in 2008, with an update in 2014 and the latest update in 2017. The rest of this note describes changes in the latest Scoping Plan to reflect the state's ever-expanding GHG reduction goals.
What are California's Statewide GHG Goals?
Over a decade ago, AB 32 declared California's first goal, which was to reduce statewide emissions back to 1990 levels by 2020 – which ARB ultimately calculated to require reductions of nearly 28% below what "business as usual" emissions would have become without interventions (then reduced to 18% below after the Great Recession dented economic growth for several years). These reductions were to be achieved by
Adopting and enforcing dozens of specific policies to reduce emissions from categories of GHG emissions – power plants, vehicles, etc.

A "cap-and-trade" program requiring specified major source categories to achieve additional reductions.
The state's approach is to adopt specific requirements, determine the GHG reductions achieved by each, aggregate those specific reductions and compare them to the statewide emissions goals, and then require cap-and-trade participants to make additional reductions to bring total statewide emissions the rest of the way down to target levels.
Effective January 1, 2017, additional legislation has extended the 2020 goals to add a goal to reduce GHG emissions to 40% below 1990 levels by 2030 (I wrote about this legislation here). This builds on the 2020 goals, and roughly doubles the rate at which emissions must be reduced (compare 18% in notional reductions below calculated business-as-usual levels during 2010-2020, followed by 40% in actual reductions in the 10 years 2020-2030). California also has a not-yet-binding policy goal to reach 80% below 1990 levels by 2050 (or an additional 40% reduction during 2030-2050).
How Does the Scoping Plan Reflect These Goals?
● Initial 2008 Scoping Plan and 2014 Update
ARB's first Scoping Plan presented a broad array of regulatory and policy measures, including:
California Cap-and-Trade Program Linked to Western Climate Initiative Partner Jurisdictions

California Light-Duty Vehicle GHG standards

Energy Efficiency

Renewables Portfolio Standard

Low Carbon Fuel Standard

Regional Transportation

Goods Movement

Million Solar Roofs Program

Medium/Heavy-Duty Vehicles

Industrial Emissions Reductions

High Speed Rail

Green Building Strategy

High Global Warming Potential Gases

Recycling and Waste

Sustainable Forests

Water

Agriculture
The 2014 update summarized accomplishments in the first 5 years, and provided additional details about approaches taken and to-be-taken across economic sectors.
● December 2017 Update
As summarized in ARB's press release, the newly revised Scoping Plan emphasizes the following additional/expanded measures:
More Clean Cars and Trucks: The plan sets out far-reaching programs to incentivize the sale of millions of zero-emission vehicles, drive the deployment of zero-emission trucks, and shift to a cleaner system of handling freight statewide.

Increased Renewable Energy: California's electric utilities are ahead of schedule meeting the requirement that 33 percent of electricity come from renewable sources by 2020. The Scoping Plan guides utilities to 50 percent renewables, as required under SB 350.

Slashing Super-Pollutants: The plan calls for a significant cut in super-pollutants such as methane and HFC refrigerants, which are responsible for as much as 40 percent of global warming.

Cleaner Industry and Electricity: California's renewed cap-and-trade program extends the declining cap on emissions from utilities and industries and the carbon allowance auctions. The auctions will continue to fund investments in clean energy and efficiency, particularly in disadvantaged communities.

Cleaner Fuels: The Low Carbon Fuel Standard will drive further development of cleaner, renewable transportation fuels to replace fossil fuels.

Smart Community Planning: Local communities will continue developing plans which will further link transportation and housing policies to create sustainable communities.

Improved Agriculture and Forests: The Scoping Plan also outlines innovative programs to account for and reduce emissions from agriculture, as well as forests and other natural lands.
The revised Plan also ties these GHG initiative to related state priorities for environmental justice and community access, which are designed to ensure that the cost and benefits of emissions reductions are equitably distributed.
Self-Assessment Checklist
Does my organization conduct activities that emit GHGs (combustion, cement processing, transportation, etc.)
- Has the organization taken voluntary steps to reduce GHG emissions?
- Is the organization subject to regulatory requirements to reduce emissions?
Is the organization subject to California's cap-and-trade program?
- Did it sell or purchase allowances?
- Is it preparing to sell or purchase allowances in future auctions?
Where Can I Go For More Information?
Specialty Technical Publishers (STP) provides a variety of single-law and multi-law services, intended to facilitate clients' understanding of and compliance with requirements. These include:
About the Author

Jon Elliott is President of Touchstone Environmental and has been a major contributor to STP's product range for over 25 years. He was involved in developing 13 existing products, including Environmental Compliance: A Simplified National Guide and The Complete Guide to Environmental Law.

Mr. Elliott has a diverse educational background. In addition to his Juris Doctor (University of California, Boalt Hall School of Law, 1981), he holds a Master of Public Policy (Goldman School of Public Policy [GSPP], UC Berkeley, 1980), and a Bachelor of Science in Mechanical Engineering (Princeton University, 1977).

Mr. Elliott is active in professional and community organizations. In addition, he is a past chairman of the Board of Directors of the GSPP Alumni Association, and past member of the Executive Committee of the State Bar of California's Environmental Law Section (including past chair of its Legislative Committee).
You may contact Mr. Elliott directly at: tei@ix.netcom.com