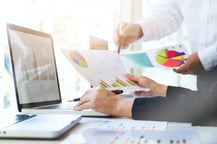 On May 28, the Biden Administration issued its budget proposal for federal Fiscal Year (FY) 2022 (October 1, 2021 through September 30, 2022). As anticipated based on statements from Mr. Biden while a candidate and since his inauguration, the proposal includes many dramatic changes from former president Trump's proposed budgets. The administration proposes a 21.6 % ($2 billion) increase in the budget for the Environmental Protection Agency (EPA) budget above EPA's adopted 2021 budget of $9.2 billion. Roughly 90 percent of this increase is related to climate controls and environmental justice, broadly defined.
This latest proposal contrasts with substantial cuts requested during every year of the Trump administration, including a proposed 26% cut in FY 2020 (which I wrote about HERE). The new priorities warrant attention, even though proposed budgets are never adopted without significant changes by Congress – note, for example, that EPA's budget has remained relatively constant since 2010, including not just the Trump years but also most of President Obama's tenure.
How is the budget request framed?
In its "Justification of Appropriation Estimates for the Committee on Appropriations" submitted for Congressional review, EPA emphasizes four programmatic and budgetary priorities it defines as cross-cutting:
Tackling the Climate Crisis through Science

Advancing Environmental Justice

Supporting State, Tribal and Local Partners

Expanding the Capacity of EPA
EPA proposes to add $2 billion and more than 1,000 employees.
What is being proposed?
Budget details are provided in the Congressional review document, and posted on the website for the White House's Office of Management and Budget (OMB). The following items summarize several comparisons of actual FY 2021 with proposed FY 2023, for program and budget items with substantial proposed increases
Office of Inspector General – increase from $44 million to $54 million. Increases would expand OIG staff and ability to audit EPA's own activities, and EPA contractors (including superfund cleanups).

Science and Technology, including EPA's Office of Research and Development – increase from $729.3 million to $829.9 million. These include expansion to programs called Air, Climate and Energy; Safe and Sustainable Water Resources; Sustainable and Healthy Communities; Health and Environmental Risk Assessment; homeland security Research Program; Chemical Safety for Sustainability; and Forensics Support (i.e, for enforcement).

Buildings and Facilities – increase from $33.8 million to $62.8 million. These expenditures cover EPA facilities, and the programs that plan and manage them.

State and Tribal Assistance Grants – increase from $4.3 billion to $5.1 billion. The largest portions of these expenditures are revolving fund support for capital improvements, particularly for infrastructure facilities related to the Safe Drinking Water Act and Clean Water Act. The proposal ties many of these to attempts to improve environmental justice, and to bolster resilience to anticipated climate change.

Superfund – increase from $1.2 billion to $1.5 billion. These funds cover federal response actions and cleanups and federal advance payments and reimbursements for state and local government actions.
The Justification document provides more than ninety pages of details.
Now What?
Since Democrats hold narrow control of the House of Representatives and Senate, there's some chance that EPA's budget will be expanded. The probability is enhanced by the Democrats' focus on climate change and environmental justice, and by arguments that a decade of flat budgets means sizeable inflation-adjusted reductions (the latest budget documents estimate an effective 27% decrease since 2010).
Self-Assessment Checklist
Does the organization operate facilities subject to permits issued by EPA or the state, under direct or delegated authority of federal environmental laws (Clean Air Act, Clean Water Act, Resource Conservation and Recovery Act (RCRA), etc.)?
Does the organization manufacture, import or distribute chemical substances subject to TSCA?
Is the organization subject to cleanup requirements under direct or delegated authority of federal environmental laws (Superfund, RCRA, etc.)?
Does the organization participate in EPA-sponsored voluntary programs subject to elimination?
Where Do I Go For More Information?
Information available via the Internet includes:
About the Author

Jon Elliott is President of Touchstone Environmental and has been a major contributor to STP's product range for over 30 years.

Mr. Elliott has a diverse educational background. In addition to his Juris Doctor (University of California, Boalt Hall School of Law, 1981), he holds a Master of Public Policy (Goldman School of Public Policy [GSPP], UC Berkeley, 1980), and a Bachelor of Science in Mechanical Engineering (Princeton University, 1977).

Mr. Elliott is active in professional and community organizations. In addition, he is a past chairman of the Board of Directors of the GSPP Alumni Association, and past member of the Executive Committee of the State Bar of California's Environmental Law Section (including past chair of its Legislative Committee).
You may contact Mr. Elliott directly at: tei@ix.netcom.com