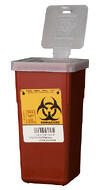 If your facility handles sufficient quantities of hazardous materials ("hazmat"), then federal laws and regulations—specifically the federal Emergency Planning and Community Right-to-Know Act of 1986 (EPCRA)—requires you to compile and submit an annual inventory of qualifying hazmats to state and local agencies. Although EPCRA allows for abbreviated reporting ("Tier 1") and full reporting ("Tier 2"), all states presently require Tier 2 reporting. Most agencies require facilities to use EPA's "Tier 2" reporting forms and/or "Tier2/Submit" software, but some states have promulgated their own variants. Inventory reports are due on March 1 for the preceding calendar year, so January is a great time to confirm that your facility has collected and stored the appropriate data.
Reporting Thresholds
Reporting thresholds vary, reflecting EPA's assessment of the hazards posed by a particular chemical:
For hazardous chemicals identified under EPCRA as an "extremely hazardous substance" (EHS), the lesser of 500 pounds or the chemical's threshold planning quantity (TPQ), is specified. TPQs range from 1 pound to 10,000 pounds, calculated on the amount of the listed EHS present in pure form or in a mixture.

For every other chemical for which the Occupational Safety and Health Administration (OSHA) "requires" employers to prepare and use a Material Safety Data Sheet (MSDS), the amount is 10,000 pounds. As I discussed in an earlier blog, OSHA is replacing the requirement for MSDSs with one for Safety Data Sheets during 2012 – 2015, but EPA's rules don't yet reflect this transition.

As a special exception, for "retail gas stations" the reporting thresholds are 75,000 gallons for gasoline and 100,000 gallons for diesel fuel.
Quantities to Report
Think of your inventory as a "most case scenario" – for each chemical your report, you must provide all of the following information:
Maximum amount onsite during the year

Average amount onsite, and

Number of days in the year the chemical was present onsite.
You can think of this information as helping to create a worst-case scenario for an incident involving that chemical, and a likely-case scenario.
Information to Report
Tier 2 reports require the following:
- Facility location and owner/operator name
- 24-hour emergency contact information (name, title, and phone)
Information about each chemical reported:
- Chemical name and chemical abstracts service (CAS) identifier
- Physical state, and inherent physical and/or health hazards
- Inventory quantities (annual maximum, annual average, and days onsite)
- Storage information: container type and location, and pressure and temperature
Certification of the truth and accuracy of the information, signed under penalty of perjury
Note that many states encourage additional information such as site plans, or even require it. Also, readers should be aware that EPA has adopted revisions to the details of Tier 2 reporting that become effective with reporting year 2013—so now in January 2013 you should be preparing to report 2012 information using the existing requirements, while also reviewing your data collection and reporting procedures for use this year to collect information you will report in 2014.
Where to Report
As I mentioned above, reports are submitted to state and/or local agencies, as required by your state. You do not send a copy to EPA, even though you probably use one of EPA's reporting formats.
Implementation Checklist:
With 2012 now behind us, your facility should be determining whether a Tier 2 report is due by March 1, 2013. Ask yourself the following questions:
Does my facility record onsite quantities of hazardous materials, including not just purchasing records but "snapshots" that reflect amounts onsite?

Do our records indicate that any hazardous chemical was onsite at any time during 2012 in quantities subject to Tier 2 reporting (see above)?

Does the facility maintain information about the onsite location, types of containment, and temperature and pressure of all storage and handling of each chemical that requires reporting?

Has the facility identified one or more 24-hour emergency contact personnel?

If my facility is subject to Tier 2 reporting, has the facility identified the appropriate state and/or local agencies to receive the report, and any additions or variations in information they require?
Where can I go for more information?
EPA has created a Tier 2 web page, which includes links to Tier2/Submit and forms, state-level contacts and reporting requirements, and additional information.

Most states also have EPCRA and/or Tier 2 webpages; EPA provides links on its web page.
About the Author

Jon Elliott is President of Touchstone Environmental and has been a major contributor to STP's product range for over 25 years. He was involved in developing 16 existing products, including Environmental Compliance: A Simplified National Guide, Greenhouse Gas Auditing of Supply Chains and The Complete Guide to Environmental Law.
Mr. Elliott has a diverse educational background. In addition to his Juris Doctor (University of California, Boalt Hall School of Law, 1981), he holds a Master of Public Policy (Goldman School of Public Policy [GSPP], UC Berkeley, 1980), and a Bachelor of Science in Mechanical Engineering (Princeton University, 1977).
Mr. Elliott is active in professional and community organizations. In addition, he is a past chairman of the Board of Directors of the GSPP Alumni Association, and past member of the Executive Committee of the State Bar of California's Environmental Law Section (including past chair of its Legislative Committee).
You may contact Mr. Elliott directly at: tei@ix.netcom.com.