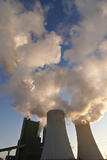 While we watch negotiators in Doha, Qatar continue to struggle to find international agreement on effective climate change minimization measures, it's useful to look at one part of the planet where aggressive actions are underway. No, not the U.S. federal government, which took time out of preparations for "fiscal cliff" negotiations to pass a law on November 27 empowering the Department of Transportation to prohibit U.S. airlines from participation in the European Union's Emissions Trading Scheme (Public Law No. 112-200). This month's prime example of action is California, which just held its first auction of greenhouse gas (GHG) emission allowances to inaugurate a statewide cap-and-trade program.
Reducing Statewide Emissions
California enacted comprehensive climate change legislation in 2006, namely the Global Warming Solutions Act (AB 32). AB 32 commits California to reduce statewide emissions to 1990 levels by 2020, and then to go on to reduce overall emissions by 80% by 2050. California's Air Resources Board (ARB) calculates this goal as a mandate to reduce total emissions by 22% (from projected business-as-usual emissions of 545 million metric tons of carbon dioxide equivalent (MMTCO2e) to 427). Note that this is a moving target, as ARB updates its projections of business-as-usual to respond to the continuing economic downturn (in 2008 ARB thought these emissions would be 596 MMTCO2e).
ARB is to accomplish as many of these required reductions as possible through regulations targeted to categories of stationary sources of GHG emissions, and to motor vehicles and their fuels. Beginning in 2007, ARB has adopted several dozen sets of rules, which it projects will achieve 57.2 MMTCO2e in reductions – leaving 22.8 MMTCO2e unaccounted for.
Cap-and-Trade Program
ARB has adopted a cap-and-trade program to achieve additional reductions for the following:
Operators of facilities in specific high-emission sectors (including cement plants, petroleum refineries and self-generation facilities), with facility-wide emissions more than 25,000 tons of CO2 equivalent (TCO2e) per year from combustion and process emissions.

First deliverers of electricity.

Voluntary opt-in entities.

Suppliers of natural gas, fuels and CO2 (beginning in 2015).
This program covers about 350 businesses (including 600 facilities), which ARB calculates produce 85% of the state's GHG emissions. ARB has allocated emission allowances based on 2012 emissions, declining through 2020 (2% per year in phase 2013-14 and 3% per year thereafter). Detailed rules are used to assign emissions to sectors and individual entities. Most allowances (including those to electric utilities) are initially free, although more become subject to competitive auctions over time. The rules also allow regulated entities to create or acquire offsets (up to 8% of their compliance obligation), which can be met from within the regulated community or from outsiders that meet conditions to opt-in. As of this writing, ARB has adopted offset protocols that may be used to generate ARB offset credits by U.S. forest and urban forest projects, livestock projects and ozone depleting substances projects.
First Auction Deemed a Success
ARB held the state's first GHG emission allowance auction on November 14, 2012. Bidders offered varying prices for available allowances, and ARB planned to calculate the minimum price necessary to sell all the offered allowances. In this first auction, 23,126,100 allowances (each representing 1 TCO2e) were offered and sold for 2013 ("2013 vintage"), for $10.09 per allowance – just above the $10 minimum price (reserve price) set for the auction. In addition, 5,576,000 of the 39,450,000 offered 2015 vintage allowances were sold, for the $10 reserve price.
ARB deemed this first auction a success, and is preparing for another auction next quarter. Meanwhile, ARB and the state Legislature are discussing available uses for money raised through these auctions, beginning with this month's $280 million. Broader debates continue about whether cap-and-trade is economically beneficial or not. California continues to encourage other jurisdictions to join together in a larger cap-and-trade program although, as of this writing, only Quebec has agreed to do so.
Unless you work in an entity subject to cap-and-trade in California, there's nothing you have to do at the moment. But if this program works, additional states and provinces might join up, and/or participate in the narrower Regional Greenhouse Gas Initiative (RGGI) program through which nine northeastern states administer a cap-and-trade program covering fossil-fuel-fired electricity generators. Eventually, the federal government might establish such a program (the House of Representatives approved a bill with cap-and-trade in 2009, but the Senate took no such action and national politics changed after the 2010 election). In addition, environmental activists and entrepreneurs are at work around the world designing potential offset projects, for international, national and sub-national programs.
Implementation Checklist
Is your organization subject to California's cap-and-trade program, beginning in 2013 (Phase 1) or 2015 (Phase 2)?
- Did it sell or purchase allowances?
- Is it preparing to sell or purchase allowances in future auctions?
Is your organization outside California, but in a sector subject to California's program?
- Has it considered effects on its market and competitors?
Is your organization considering investing in projects that might qualify to sell offsets to entities in California or other jurisdictions?
Where can I go for more information?
A growing number of governmental and non-governmental organizations are involved in the development and implementation of emission calculation, limitation and trading efforts, including cap-and-trade. Governmental organizations include:
Western Climate Initiative (forum where California, Quebecand other states and provinces plan for GHG-reducing programs, including cap-and-trade)
About the Author

Jon Elliott is President of Touchstone Environmental and has been a major contributor to STP's product range for over 25 years. He was involved in developing 16 existing products, including Environmental Compliance: A Simplified National Guide, Greenhouse Gas Auditing of Supply Chains and The Complete Guide to Environmental Law.
Mr. Elliott has a diverse educational background. In addition to his Juris Doctor (University of California, Boalt Hall School of Law, 1981), he holds a Master of Public Policy (Goldman School of Public Policy [GSPP], UC Berkeley, 1980), and a Bachelor of Science in Mechanical Engineering (Princeton University, 1977).
Mr. Elliott is active in professional and community organizations. In addition, he is a past chairman of the Board of Directors of the GSPP Alumni Association, and past member of the Executive Committee of the State Bar of California's Environmental Law Section (including past chair of its Legislative Committee).
You may contact Mr. Elliott directly at: tei@ix.netcom.com.