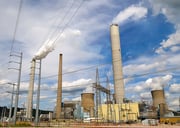 If you're contemplating significant changes at a facility that's regulated as a "major source" under the Clean Air Act (CAA), you'd better figure out whether those changes will "modify" the source enough to trigger significant pre-construction review and permitting by the US Environmental Protection Agency (EPA) or its state or local delegee. The likely answer to questions like yours has changed with CAA amendments and regulations over the decades. EPA has just changed them again, after ending a decade long year delay of a regulatory "interpretation" published in the last week of George W. Bush's presidency, and stayed by the Obama-era EPA throughout his presidency, and now reaffirmed and activated by the Trump-era EPA.
What's the Issue?
For nearly 50 years the Clean Air Act (CAA) has required most "major" new sources of air pollutants to obtain pre-construction permits so that regulators can review proposals and define important equipment and operational standards before ground is broken. Separate programs apply to sources in areas that haven't attained national ambient air quality standards – Non-attainment New Source Review (NNSR or just NSR) – and sources in areas that are in attainment – Prevention of Serious Deterioration (PSD). Once a source is operating – including those already in operation when CAA was first enacted in 1970 – operating permits tend to take the basic configuration as a given, and to focus more on operations, monitoring and record-keeping.
EPA has long recognized that complicated source facilities may be revamped over time, and has attempted to address whether or not changes at a particular facility may "modify" as source in ways that justify another round of pre-construction review and permitting. EPA has also recognized that entities have an incentive to game the regulatory system by breaking up big projects and presenting them as though they were multiple small projects too small to trigger re-permitting. Until 2009, however, EPA had never formalized a standard approach to these situations, instead opting to maximize its own flexibility.
What Policy Was Announced in 2009 … And Became Effective in 2018?
EPA reviews whether a project requires NSR/PSD pre-construction review in two phases:
Aggregation – grouping together contemporaneous/recent physical and/or operational changes, into one "project" in order to review associated emissions increases and decreases.

Netting – calculating whether the net increases and decreases from the unitary "project" meet or exceed the applicable NSR/PSD threshold.
In its 2009 notice, EPA set aside a proposed rule change from 2006, and instead promulgated the following guidance to case-by-case aggregation efforts:
"This action retains the current rule text for aggregation and interprets that rule text to mean that sources and permitting authorities should combine emissions when activities are 'substantially related.' It also adopts a rebuttable presumption that activities at a plant can be presumed not to be substantially related if they occur three or more years apart."
The 2009 notice included extensive discussion of what "substantially related" might mean in practice, including consideration of types and degrees of technical and economic relationships/interdependence among activities that might be "nominally independent."
In 2010, EPA responded to a petition from the National Resources Defense Council by staying the 2009 changes and initiating a reconsideration. Nothing changed for the next 8 years, until in November 2018 EPA announced the completion of its reconsideration and confirmed the 2009 policy effective November 15.
Now What?
Unlike many recent EPA actions attempting to overturn Obama-era determinations without adequate procedural and analytical support (I've discussed examples here and here), this decision reaffirms one made a decade ago, so the administrative hurdles are easy to leap. I therefore expect this policy will be in effect, and that owners and operators of major sources of air pollutants will need to apply it when applying to modify their sources.
Self-Assessment Checklist
Does the organization operate any activities subject to a major source air permit under CAA?
Is the organization planning to modify any of these sources?
If so, has the organization analyzed how EPA's new aggregation policy affects these plans?
Where Do I Go For More Information?
Information available via the Internet includes:
Specialty Technical Publishers (STP) provides a variety of single-law and multi-law services, intended to facilitate clients' understanding of and compliance with requirements.
About the Author
Jon Elliott is President of Touchstone Environmental and has been a major contributor to STP's product range for over 25 years.

Mr. Elliott has a diverse educational background. In addition to his Juris Doctor (University of California, Boalt Hall School of Law, 1981), he holds a Master of Public Policy (Goldman School of Public Policy [GSPP], UC Berkeley, 1980), and a Bachelor of Science in Mechanical Engineering (Princeton University, 1977).

Mr. Elliott is active in professional and community organizations. In addition, he is a past chairman of the Board of Directors of the GSPP Alumni Association, and past member of the Executive Committee of the State Bar of California's Environmental Law Section (including past chair of its Legislative Committee).
You may contact Mr. Elliott directly at: tei@ix.netcom.com