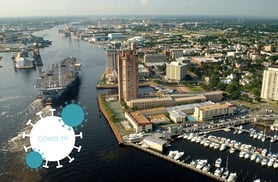 In recent months, worker protection and public health agencies have issued increasingly stringent and detailed guidelines for employers to follow to reduce worker exposures to COVID-19. I've written about a number of these, including HERE and HERE. Over the same months, many workplaces have also been affected by state and local government mandates designed to protect public health in places the public (at least previously) frequent – these include temporary closures of many types of organizations, and restrictions such as masks at others.
Now, Virginia has become the first US state to adopt an occupational safety and health standard for COVID-19 protective measures, to be administered by the Virginia Department of Labor and Industry's (DOLI's) Virginia Occupational Safety and Health (VOSH) Program. The new "Emergency Temporary Standard" was adopted on July 15, and becomes effective upon publication later in the month. (I'll post a link in the Comment section below when this happens). It will remain in force for 6 months unless the Governor's COVID-related state of emergency expires, or the a permanent standard supersedes this one. This Standard is intended to "supplement and enhance" other VOSH requirements.
What exposure hazard levels determine how these requirements apply?
The new Standard applies to all workplaces in Virginia that are subject to VOSH requirements. It sets requirements based on four levels of exposure hazard, which employers are to assess, addressing "all risks and all modes of transmission including airborne transmission, as well as transmission by asymptomatic and presymptomatic individuals," associated with job tasks and the types of hazards encountered. These levels are:
"Very high" exposure risk hazards or job tasks are those in places of employment with high potential for employee exposure to known or suspected sources of the COVID virus (e.g., laboratory samples) or persons known or suspected to be infected with the virus. These include during specific medical, postmortem, or laboratory procedures that generate aerosols, collect or handle specimens from known or suspected infected individuals, and autopsies of known or suspected individuals

"High" exposure risk hazards or job tasks are those in places of employment with high potential for employee exposure inside six feet with known or suspected sources of the COVID virus, or persons known or suspected to be infected, that are not classified as "very high" exposure risk. These include healthcare provision, first responder or medical transport, or mortuary services to known or suspected infected individuals.

"Medium" exposure risk involves "more than minimal occupational contact inside six feet" with other employees, other individuals or the public who are not known or suspected to be infected … but may be. These include most other workplaces, including those with contact with the public.

"Lower" exposure risk" involves workplaces that can avoid contact within 6 feet, or "minimize occupational contact through the implementation of engineering, administrative and work practice controls." These include:
"Installation of floor to ceiling physical barriers constructed of impermeable material and not subject to unintentional displacement (e.g., such as clear plastic walls at convenience stores behind which only one employee is working at any one time);

"Telecommuting;

"Staggered work shifts that allow employees to maintain physical distancing from other employees, other persons, and the general public;

"Delivering services remotely by phone, audio, video, mail, package delivery, curbside pickup or delivery, etc., that allows employees to maintain physical distancing from other employees, other persons, and the general public;

"Mandatory physical distancing of employees from other employees, other persons, and the general public; and

"Employee use of face coverings for contact inside six feet of coworkers, customers, or other persons is not an acceptable administrative or work practice control to achieve minimal occupational contact. However, when it is necessary for brief contact with others inside the 6 feet distance a face covering is required."
What mandatory requirements apply to all employers?
The Standard sets out detailed compliance requirements for employers:
Exposure assessment and determination, notification, and employee access to records
Employers are to do all of the following:
Assess their workplace for COVID hazards, and classify each job according to the four risk levels above

Inform employees how to self-monitor for signs and symptoms of COVID

Do not rely on serologic tests for antibodies to make decisions about returning employees

Develop and implement procedures for employees to report COVID-like symptoms

Do not allow employees with known or suspected COVID infections to work

Administer medical leave policies that meet applicable requirements, and inform employees of the policies

Explain the requirements to subcontractors and temporary personnel providers, and direct them to ensure that none of their employees with known or suspected COVID infections work at the employer's facilities.

To the extent permitted by privacy laws, establish systems to receive reports of positive COVID tests present onsite within the 14 days - preceding the positive test, and provide notice of such tests to potentially exposed employees (including contract and temporary employees), the building owner and other tenants, and (within 24 hours) Virginia DOLI and Department of Health

Ensure employees' access to their own exposure and medical records
Employers are to do both of the following:
Develop and implement policies and procedures for employees known or suspected to be infected with COVID to return to work, using a symptom- or test-based strategy as appropriate. A policy involving consultation with appropriate healthcare professionals is deemed compliance

Develop and implement policies and procedures for asymptomatic employees known to be infected with COVID to return to work, using a time- or test-based strategy as appropriate. A policy involving consultation with appropriate healthcare professionals is deemed compliance
Physical distancing on the job
Employers generally must require physical distancing while on the job working or on paid breaks. These include policies and procedures that
Use verbal announcement, signs or visual cues to promote physical distancing

Decrease worksite density by restricting access to the site or its work areas

Compliance with any applicable Virginia executive order or public health emergency order constitutes compliance

If multiple employees share a vehicle, they must be provided with appropriate respiratory protection and personal protective equipment (PPE).
Access to common areas, breakrooms, and lunchrooms
These areas are to be closed, or subjected to signs and/or occupancy limits. Employees must be required to clean and disinfect their immediate areas before leaving, or the employer must schedule cleaning and disinfection "at regular intervals throughout the day." Employers should generally make hand washing facilities and/or hand sanitizer available
Application of general principles and requirements
Several provisions incorporate deference to other laws, regulations and principles. These include:
Compliance with any applicable Virginia executive order or public health emergency order

Do not require respiratory protection or procedures that would be contrary to an individual employee's health and safety

Requests can be made to DOLI for waivers from mask, respiratory or PPE requirements for religious reasons
Sanitation and disinfection
The Standard references and supplements general sanitation requirements:

Provide employees who interact with other persons with supplies to immediately clean and disinfect surfaces contacted during the interaction where there are potential COVID exposures

Clean and disinfect any area of the workplace where someone known or suspected to have been infected was present, before allowing other employees access. Where possible, wait 24 hours before doing so.

Clean and disinfect common spaces, including bathrooms, frequently touched surfaces and doors, and shared tools, equipment, workspaces and vehicles "frequently" – at least at the end of each shift

Keep cleaning and disinfectant products "readily available to employees" to accomplish these tasks

Comply with manufacturer's instructions, and other VOSH sanitation and hazard communication requirements

Provide employees "easy, frequent access, and permission to use soap and water, and hand sanitizer where feasible, for the duration of work."

Provide measures to prevent cross-contamination across workspaces
The Standard presents the typical OSH agency preference for engineering, work practice and administrative controls. Where these are not feasible, this Standard requires appropriate PPE be provided and properly used.
How are requirements tailored based on hazard levels?
Consistent with the general approaches set forth above, the Standard provides very detailed technical specifications for compliance measures for very high, high, and medium hazard levels. Each set includes:
Engineering controls

Administrative and work practice controls

PPE
What constitutes an Infectious Disease Preparedness and Response Plan?
Plans are required for employers with very high and high exposure hazards, and for employers with eleven or more employees with medium exposure hazards:
Plans (and training requirements described next) only apply to employees with very high, high, or medium exposures

Employer must designate at least one person responsible for implementing the Plan
Each Plan must include the following:
Identify name(s) or title(s) of person(s) responsible for implementing the Plan

Provide for employee involvement in Plan development and implementation

Consider and address the level(s) of COVID hazards of employees and job tasks (the Standard provides details)

Consider contingency plans for situations that may arise, such as increased rates of absenteeism, needs for physical distancing, defining and maintaining essential operations, and possible supply chain disruptions

Identify basic infection prevention measures to be implemented

Provide for prompt identification and isolation of known or suspected infections

Address infection preparedness and response with outside businesses (such as contractors)

Identify mandatory and nonmandatory guidelines to be followed (e.g., "Centers for Disease Control and Prevention (CDC)" and Virginia)
What training is required?
Employers with very high, high, or medium exposures must provide training to all employees at the workplace, to enable all employees to identify COVID hazards and symptoms. Training must include the following:
Requirements of this Standard

Any guidelines (e.g., CDC, Virginia) the employer is complying with in lieu of specific requirements of this Standard

Characteristics and methods of transmission of the COVID virus

Signs and symptoms of COVID disease

Risk factors for severe COVID illness with underlying health conditions

Awareness of potential transmission by pre-symptomatic and asymptomatic people

Safe and healthy work practices (physical distancing, disinfection, etc.)

PPE

Applicable anti-discrimination provisions – including the Standard's prohibition against employer discrimination against employees who exercise their rights under the Standard and/or provide their own PPE
Trainings can be tailored to provide less detailed information to employees who are only subject to low exposure hazards. Employers must prepare written training certifications to verify compliance, and maintain training records. Retraining may be necessary if COVID understanding or requirements change, the employer's Plan or procedures change, or if an individual employee demonstrates his or her failure to understand and follow requirements.
Which alternative (safe harbor) means are available to demonstrate compliance?
The Standard also allows employers to demonstrate compliance by complying with the following alternatives:
Actual compliance with applicable CDC guidelines, if at least as protective (I discuss the CDC's interim guidelines in the first of my earlier blogs linked above).

If a public or private institution of higher learning, certification by the State Council of Higher Education of Virginia of the institution's reopening plan, and compliance with its provisions.
Additionally, this compliance will provide evidence of the employer's good faith in any subsequent state enforcement proceeding.
What's next?
The Standard takes effect for employers in Virginia when published in a Richmond paper of general circulation, and remains in effect until cancelled or superseded. Employers elsewhere should consider the detailed approaches provided in the Standard, recognizing that CDC and other guidelines are proliferating, and that other jurisdictions are considering their own requirements.
Self-Assessment Checklist
Has the organization assessed its operations for COVID exposure risks to employees, and determined the levels of exposure hazard created by each job?
If so, has the organization implemented information and precautionary measures, based on CDC guidelines, Occupational Safety and Health Administration (OSHA) guidelines, the Virginia COVID Standard, or other sources?
Has the organization prepared a COVID infectious disease preparedness and response plan for each workplace?
If so, does each plan contain relevant elements, including:
Information about COVID hazards

Means of COVID transmission

Means to protect against exposures (engineering, work practice, administrative, PPE), including changes in pre-COVID practices

Provisions for prompt reporting of known or suspected infections, and contingency plans for effective responses to such reporting

Information and training to ensure that employees understand this information and can (and will) follow prescribed practices

Means to ensure effective implementation and tracking
Where Can I Go For More Information?
About the Author

Jon Elliott is President of Touchstone Environmental and has been a major contributor to STP's product range for over 30 years.

Mr. Elliott has a diverse educational background. In addition to his Juris Doctor (University of California, Boalt Hall School of Law, 1981), he holds a Master of Public Policy (Goldman School of Public Policy [GSPP], UC Berkeley, 1980), and a Bachelor of Science in Mechanical Engineering (Princeton University, 1977).

Mr. Elliott is active in professional and community organizations. In addition, he is a past chairman of the Board of Directors of the GSPP Alumni Association, and past member of the Executive Committee of the State Bar of California's Environmental Law Section (including past chair of its Legislative Committee).
You may contact Mr. Elliott directly at: tei@ix.netcom.com