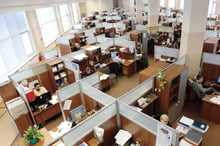 North American employers are required to verify new employees' identities and eligibility to work in the country. In the United States, employers' inquiries must confirm eligibility to work in the U.S. when an employee is actually being hired (not just applying), using Form I-9 (Employment Eligibility Verification), which is issued and administered by the U.S. Citizenship and Immigration Services (USCIS) unit of the federal Department of Homeland Security (DHS). USCIS has revised the I-9 form – the new form is dated October 21, 2019 but was only formally published on January 31, 2020. The new version includes minor changes from the preceding one (which was dated July 17, 2017 and set to expire August 31, 2019 but subject to extended viability by USCIS pending approval of the newest version).
What Does Form I-9 Require?
The revised I-9 updates information requirements slightly, updating national references for Eswatini (formerly Swaziland) and North Macedonia (formerly Macedonia). The Form itself continues to consist of three major sections, which provide for the following information:
Section 1 – Employee Information and Attestation

Employee name, address, date of birth, email and telephone contact

Employee attestation of eligibility (U.S.citizen or eligible non-citizen national, permanent resident, or alien authorized to work)

Employee acknowledgement of criminal penalties for false information

Employee signature and date of signing

Name and contact information of translators or preparers, if any, who prepared the information in this Section.
Section 2 – Employer or Authorized Representative Review and Verification

Employee name from Section 1

Documents reviewed [Form I-9 provides three complementary lists, and specifies permissible combinations of documents]

Employer/representative name and contact information

Employer/representative attestation under penalty of perjury that identified documents were reviewed and believed to be genuine.
Section 3 – Reverification and Rehires

Employee name (including new name if applicable) and date of rehire

Documents reviewed to reverify eligibility

Employer/representative attestation under penalty of perjury that identified documents were reviewed and believed to be genuine.
USCIS has also made conforming revisions to its instructions for Form I-9. In addition, the following instructional materials intended to help employers comply:
Clarified who can act as an authorized representative on behalf of an employer

Updated USCIS website addresses

Provided acceptable document clarifications

Updated the process for requesting the paper Form I–9

Updated the DHS Privacy Notice
Now What?
Beginning January 31, 2020, employers can use the new (dated 10/21/19) form, or can continue to use the prior (dated 7/17/17) form. Beginning April 30, 2020 the newest version must be used. Readers should not that on March 20, DHS temporarily suspended the requirement that employers physically review the documents related to I-9 presentation, as part of nationwide efforts to reduce the spread of coronavirus.
Violations of Form I-9 requirements are subject to prosecution by DHS' Immigration and Customs Enforcement (ICE). Employees are subject to criminal prosecution under the Immigration Reform and Control Act (IRCA) in addition to the perjury charges alluded to on the form. Employers can be subject to civil prosecution under IRCA for knowing violations, and criminal prosecution for more extensive "pattern and practice" violations. Readers should note that prosecutions are tipped overwhelmingly toward employees. For example, during the twelve months ending in March 2019, ICE prosecuted 11 employers (in 7 cases), compared with 85,727 individuals prosecuted for illegal entry, 34,617 prosecuted for illegal re-entry, and 4,733 prosecuted for illegally bringing in or harboring immigrants.
Implementation Checklist
Has the organization established procedures to ensure that each new hire is eligible to work in the United States, using USCIS Form I-9?

Does the organization ensure that each new hire completes Form I-9?

Does the organization provide new hires the opportunity to use translators or prepares to assist in completing Form I-9, if necessary?

Does the organization provide training to ensure that personnel who review and verify forms for completeness ensure that they follow procedures that ensure the organization's compliance with USCIS requirements, and also ensure against possible discrimination against prospective employees?
Does the organization use DHS' "E-Verify" system?
Because required to do so by applicable state law and/or contractual obligations?
Has the organization begun to use the latest revised Form I-9 (rev. 10/21/19)?

If so, has the organization ensured that previous revisions of the Form and guidance are no longer readily available for potential (mis)use by personnel involved in hiring?
Where Can I Go For More Information?
STP Compliance EHS provides a variety of single-law and multi-law services, intended to facilitate clients' understanding of and compliance with requirements.
About the Author

Jon Elliott is President of Touchstone Environmental and has been a major contributor to STP's product range for over 30 years.

Mr. Elliott has a diverse educational background. In addition to his Juris Doctor (University of California, Boalt Hall School of Law, 1981), he holds a Master of Public Policy (Goldman School of Public Policy [GSPP], UC Berkeley, 1980), and a Bachelor of Science in Mechanical Engineering (Princeton University, 1977).

Mr. Elliott is active in professional and community organizations. In addition, he is a past chairman of the Board of Directors of the GSPP Alumni Association, and past member of the Executive Committee of the State Bar of California's Environmental Law Section (including past chair of its Legislative Committee).
You may contact Mr. Elliott directly at: tei@ix.netcom.com
Image by David Mark from Pixabay